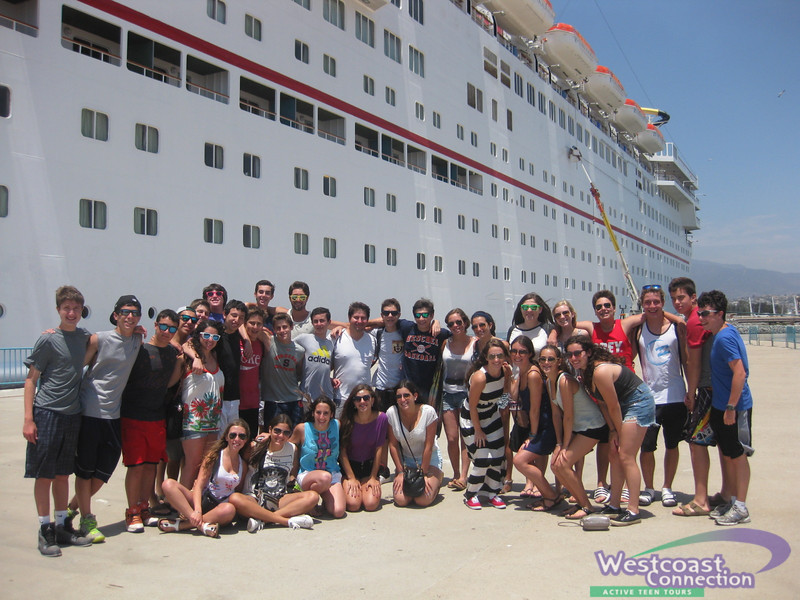 Day 27 started off with a lot of excitement as we could not wait to board the Carnival Inspiration cruise. To get us in the cruisin' mood, we listened to songs like "Kokomo" and "Island in the Sun." On board, the ship had games like shuffleboard and mini golf, as well as many comedy shows and karaoke. Zach S., Alec B., Joseph and Matt B. quickly found corn hole (a game) near the pool and enjoyed playing no matter what time of day. Alec B. and Spencer succeeded as the undefeated champions. Club O2 was the popular place to be at night. Will, Sydney T. and Jack J. enjoyed dancing the night away.
Snorkeling, kayaking and seeing the sites at Catalina Island were some moments that we will never forget. We saw different kinds of fish and algae in our flippers and goggles. Lauren, Jordan, Emily and Maddie tried some chocolate covered frozen bananas and Courtney, Lindsey, Amanda, Hayley S. and Hannah V. bought some funny sunglasses at Catalina. For dinner, everyone got dressed up in their fancy clothes in the Mardi Gras room. At each dinner, the ship offered a 'didja ever have?' option. Mitchell and Sam were not afraid to try new cuisine. The food that some trip members tasted included escargot and alligator fritters!
At night, everybody could not wait to get to the karaoke club. Countless groups of trip members were brave enough to get on stage and sing for everyone. Matt D., Alec S., Max, Spencer, Zach B. and Jarett performed their favorite Backstreet Boys song, "I Want it That Way" as they have in many cities prior to the cruise. Even the staff went up to perform a song!
On the third day of the cruise we went to Ensenada, Mexico, our third country together! We had a chance to sleep in before getting off the boat, which Sydney M. and Jolie were very excited about. The Jolly Ranchers, Justin L., Vanessa, Hannah S., Lauren, Sarah, Ben C. and Jack B. were so psyched to explore together. Through this experience in Mexico, we were able to learn about a new culture and appreciate how lucky we all are. The best purchase from Ensenada was Zach M.'s sombrero.
The waiters entertained us with their dance to "Gangham Style" at dinner. We waived our napkins in the air to cheer them on and Allie and some other trip members joined in on the dance. The event of the evening was the Mexican Fiesta dance party on the Lido deck. There was a long conga line around the pool with over 100 people! We danced The Macarena and The Cupid Shuffle.
During our day at sea, we played more corn hole, relaxed, enjoyed ice cream and hung out with new friends. We were so sad that it was the last night on our cruise, but Liv and Becky were excited to go to Club O2 to dance one more night.
Once we disembarked, we were off to San Diego and headed to Seaport Village and to ice skate. Brian, Scott, Ben C., Ben T., Matt B. and Joseph were thrilled to be on the ice. They helped teach some of their friends how to skate, and had a great time showing off their skills. The San Diego Zoo and surfing are sure to be a blast! We are shocked at how fast time has flown by on our trip and are not ready to leave one another!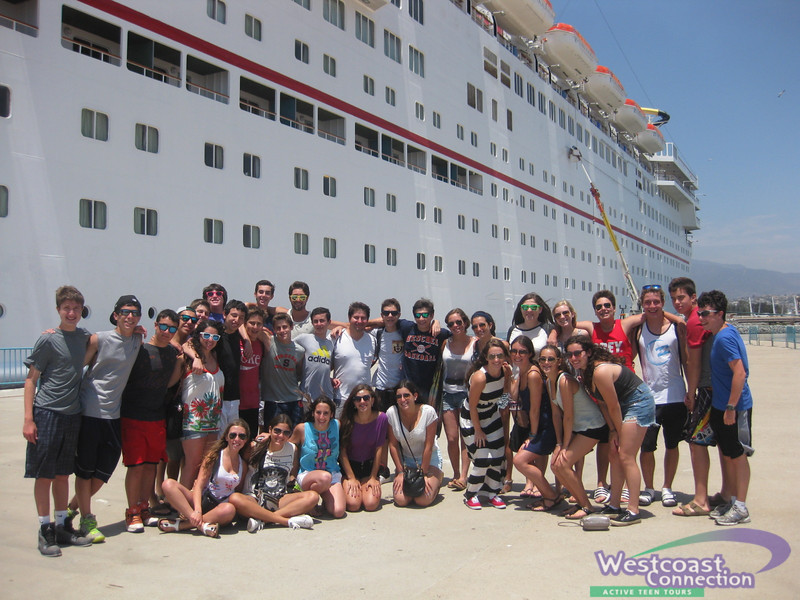 Over and out,
American Voyageur Staff