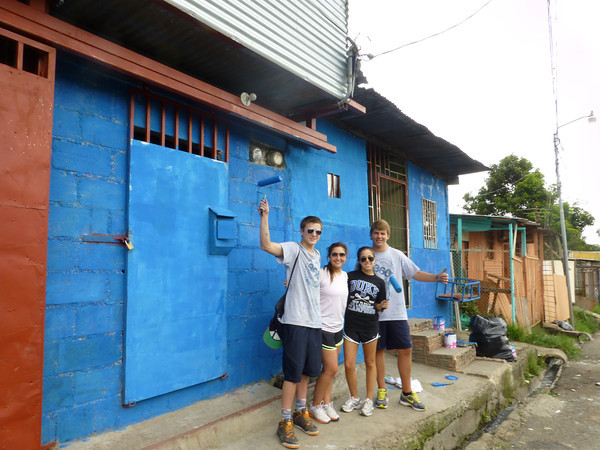 Hello again from CRJ!
We are loving the Pura Vida life style in Costa Rica!
We don't know what you have all been up to for the past fews days, but we have painted 18 houses!! We also put down a new cement floor, created bottle gardens for the community and had  the chance to play with the local children and that was just our daytime activities!
Coltrane, Ryan and Jared were our cement-flooring champions, digging right in to the hard work and finishing in no time.  Parker, Matt, Allie and India all worked diligently on painting multiple houses. The whole group agreed that they had great painting stamina and that Matt's height helped out a lot! Annie and Alex also were painting masters and always willing to give a hand where needed.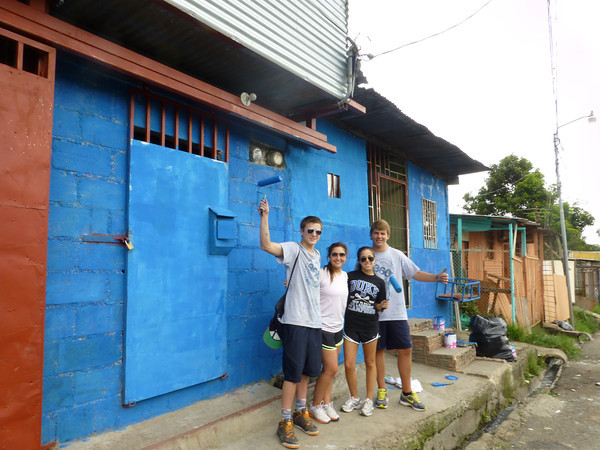 In the afternoons, Ali K. and Lauren were constantly kept busy playing tag and reading books with the children! They also loved coloring with Emilie and Sabrina.  We are all sad our time helping out at the Humanitarian Foundation has come to an end because we loved meeting the people and working with the children.
We didn't forget our promise about letting you know how Latin dancing went! We found out that our instructor was the first male belly dancer in all of South America and he sure did have some great moves! Lindsey impressed us all with some moves of her own and showed them off again at putt putt where we all enjoyed jamming to some Michael Jackson.
Karaoke Night was also a big hit! Jenna and Alyssa belted out some Backstreet Boy tunes which they knew because they listen to "oldies" (this made the trip leaders feel old!).  Matt and Jared serenaded us with their favorite song "Ain't no Mountain High Enough" and all the guys showed off their dancing skills to the Macarena!
We just made it to the Eco lodge and are so excited to go zip lining, hike to the waterfall, and enjoy the relaxing mud baths tomorrow.
Pura Vida!
The Westcoast Blogger