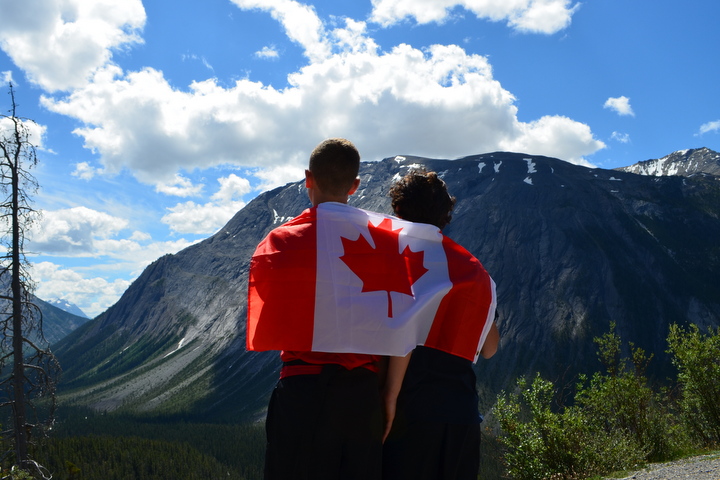 Hi again!
It's been a few days since we last wrote, but it feels like we have already fit in a lifetime of activities.
We left Calgary bright and early and headed towards Banff. We stopped on the way to go whitewater rafting. What a way to spend Canada Day, EH? We arrived at Chinook Rafting, got suited up in our wetsuits, lifejackets, helmets and booties and made our way down the Horseshoe Canyon – braving 3 intense rapids. Our international guides, from Ireland, Australia and New Zealand were super energetic and made the experience that much more memorable. Jackie and Sebastian were spotted taking the front seat in the rafts. One rapid we stopped in SOAKED us! We worked up quite the appetite, so we were thrilled to have a picnic by the water. Jacob had the biggest turkey wrap we have ever seen!! At the end of the day, we arrived at our campsite in Banff; with the beautiful mountains and crisp air surrounding us. We learned how to pitch tents and hung out around the campsite, playing a few games and getting to know each other even better.  After our stir fry dinner, we played a competitive round of "get to know your staff" and a few funny rounds of the Dating Game. In "get to know your staff" trip members had to guess which 5 facts belonged to each of the staff members, including "my first language is french", "I love cheeseburgers", "I have 2 dogs" and "I lived in Tel Aviv for 6 months". Josh, Max M. and Ryan B. were seen strategizing while Dana and Natasha ran around trying to find the answers.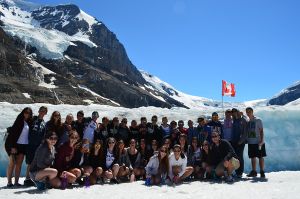 The following day, we headed out to the Columbian Icefields. We took a giant snow-coach onto the Athabasca glacier. What a thrilling ride! The wheels on the coach were as tall as some of us, including Ryan M. Once we got to the top of the glacier, we had some time to take pictures and taste the delicious glacier water. With some great selfies, (Jer snuck in a few with some tourists) and full waterbottles, we headed back down the mountain and onwards towards Peyto Lake. It is a lake that is shaped like the head of a dog, although some of us feel it looked more like a wolf or coyote. We spent that evening in Banff, exploring the beautiful town and playing the trade up game. Each group started with a plastic fork and had to see what they could trade it for. We were shocked to see groups coming back with crazy things, such as candy apples, gift cards, a Santa hat, maple fudge and even some Second Cup coffee beans. We ended the night with some delicious ice cream at the campsite. The winners of the competition were Maya M., Sydney, Dana, Jenna and Jackie (You go, girls!).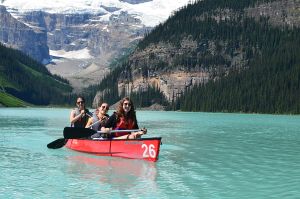 We spent the next day by the beautiful Lake Louise. In the morning, we canoed on the sparkling blue water and took in the breathtaking view of the mountains. Some of us are still convinced it was a backdrop – that's how beautiful it was! Jill G., Bailey and Jamie took in the view, while Taylor, Jill L. and Maya paddled competitively. In the afternoon, we did a hike all the way up to the Teahouse. That evening, we enjoyed a barbeque of steak, salmon and chicken at the campground and then relaxed, after our long day, at the Upper Hot Springs Pool.
Our next destination was the Okanagan Valley.  We arrived at our campsite in the afternoon, set up our tents and then enjoyed the facilities. Some of us played tennis, while others enjoyed a rather intense game of pickup football. Andrew ran faster than the speed of light, while David worked on distracting the other team and Dylan did victory dances. It was so fun that even our trip leader Noah and trip director, Derek, joined in. We loved our taco night dinner and then spent the evening playing games, such as camouflage (a new and improved version of hide-and-seek) and "people to people".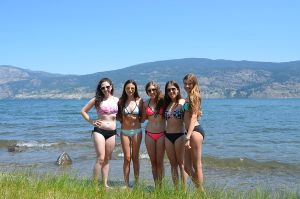 On the following morning, we relaxed while tubing along a lazy river, Kerri spotted some ducks, some geese and even an otter! Then, we hung out at the beautiful Spirit Summerland beach, soaking in the rays, playing volleyball and soccer, swimming. We have had the best time here and are so excited to see what Vancouver has in store for us.
Until then!
The Westcoast Blogger
Interest in learning more? Explore our Canadian student travel programs and start planning your next adventure with Westcoast Connection!