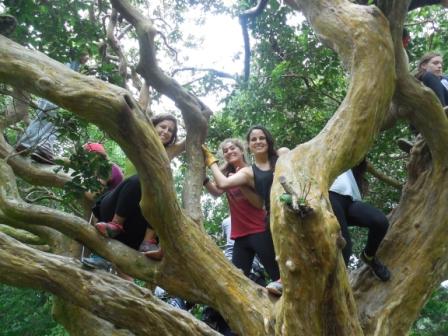 Hello friends and families!
On Tuesday morning we went to a local family`s coffee plantation called "Life in Monteverde" where we did our community service. We had an orientation with one of the owners of the plantation and also got to enjoy the great taste of fresh coffee, plantains and homemade goat cheese. Guillermo, the owner of the plantation, talked about the sustainability and biodiversity of the 42 acres of farmland. Immediately when we arrived, he sent everyone out into the fields to find 20 different leaves and then explained the importance of biodiversity in the area. Guillermo had an interesting fact to share: although it is a very small country (the size of West Virginia) Costa Rica has 5% of the planet's biodiversity. We learned to appreciate how to preserve this important element by buying organic food and supporting local farmers.
That night, we went into town to a local restaurant where we had a meal and then danced the night away. Sarah B. and Lauren T. showed everyone their fun dance to `Cotton-Eyed Joe` which was really entertaining and a lot of girls joined in! Sonya and Jamie taught everyone how to `Dougie.` When the local salsa music came on, Lauren L. and Simone tried it for the first time and danced extremely well. Alex also showed Noah how to salsa dance and they had a lot of fun twirling the night away.
On Wednesday, we went back to the same farm to help out. Our first task was planting trees.  Noah, Eli, Jeremy, Asher and Steve dug two holes in the ground for each girl that carried the baby trees to plant. Everyone had a good time enjoying the beautiful views and adding to a greener Costa Rica! Our next chore was to plant corn seeds in the organic vegetable garden. Carrie used the shovel to dig holes for the corn kernels to be placed into. Sarah B. Drew the lines for the rows of corn to be planted. Sammie, Lauren T. and Eli worked as a team to plant seeds. Next, we went to a beautiful climbing tree. It was Lauren L.'s first time climbing a tree ever! We were all very proud of her. Isabelle, Noah and Maura all enjoyed the swings that hung from the huge branches. Jeremy climbed extremely high in the tree, but was very careful. It was a very rewarding experience for the whole group.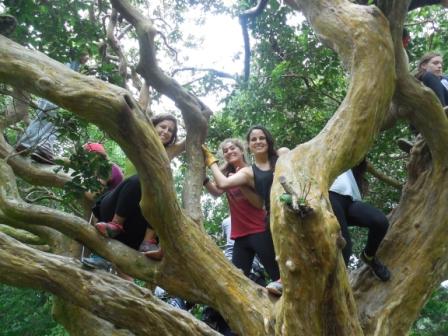 On Wednesday night we split into a girl group and a boy group to have a special bonding time. The boys, Eli, Asher, Jeremy, Steve, Noah and Evan chilled by the pool while the girls discussed the trip and became closer by sharing stories from their home lives. Each girl shared a moment where they had felt insecure and then said what they thought their greatest strength and weakness was. After, the two groups combined for an exciting movie night!
On Thursday morning we went on a beautiful hike in the Monteverde Cloud Forest. Noah had a lot of energy and enthusiasm and led the group through a rustic path. The experienced guide pointed out many interesting millipedes and stick bugs and we were able to enjoy a pretty view of the forest. After the hike we went to the beautiful town of Santa Elena where we got to split into groups and chose the restaurant where we wanted to eat. Then we got to walk around and do some shopping. In the afternoon we had our last day of Spanish classes. We said goodbye to our amazing teachers and we headed back to the hotel where we played an awesome game called Mafia.  Isabelle was the narrator and everybody else was sitting down in a circle. The townspeople did not do as well as the mafia members (Asher, Simone and Sonya) because all three of them were left over at the end and won. In the next game, the townspeople won very easily because of Asher's awesome detective skills.
Friday morning was our last community service activity! We went to a street in town with plastic bags and gloves to collect trash. We split up and competed to see who could come back with the most! Steve was the final king of the day, so technically he will be king forever! He gave us an awesome speech in Spanish using everything he had learned the past three weeks in class. Long live King Steve!
After lunch, it was time to play soccer! We went to an indoor turf field for two hours of competition and fun. Leah and Simone were the captains of the two teams, "Steve's Army" and "Freaka-Freaka." Steve's Army won, but it was a very close and exciting game. Alex, Jamie, Noah and Jeremy scored most of the points for team Freaka-Freaka. On Steve's Army, Eli was an unstoppable goalie! After relaxing from the soccer game, we had a group skit night. Everyone went into groups of six and put on hilarious presentations of our experiences in Costa Rica. Samantha S. had quite a memorable impersonation of our bus driver that everyone enjoyed!
Saturday morning we travelled back to San Jose and we had a beautiful banquet and then we left for the airport unfortunately we had to say our goodbyes.
Hope to see you all soon! Hopefully we will see you next year on another wonderful adventure with Westcoast/360°!
!Pura vida amigos y familia!
El martes fuimos a visitar una plantación de café, llamada "Life en Monteverde"(vida en Monteverde) que pertenecía a una familia local. Es en este lugar donde hicimos el servicio comunitario. Primeramente, tuvimos una orientación con uno de los dueños de la plantación. Después tuvimos la oportunidad de probar y disfrutar el sabor rico del café, plátanos y queso (todas hechas allí en la plantación). Guillermo, el dueño de la plantación, nos habló de la importancia de la sostenibilidad y biodiversidad de las 25 hectáreas de la hacienda. Inmediatamente después de que llegamos en la hacienda, Guillermo mando a los chicos en las plantaciones con la misión de encontrar 20 plantas diferentes. Después el dueño nos explicó más en detalles sobre la importancia de la biodiversidad en esa región. También nos enseñó algo muy importante: aunque Costa Rica es un país muy pequeño (el mismo tamaño que Virginia de oeste), tiene 5%  de la biodiversidad global. Comprando comida orgánica y sosteniendo los campesinos y agricultores podemos entender y apreciar más  la biodiversidad.
Esa noche fuimos en la ciudad donde comimos en un restaurante local y disfrutamos de una discoteca. Nos hemos divertido mucho bailando y aprendiendo salsa. Sarah B. y Lauren T. enseñaron a los otros chicos cómo bailar en la canción "Cotton-Eyed Joe". Nos divertimos mucho y muchas de las chicas se juntaron a Sarah y Lauren para aprender el baile. Sonya y Jamie enseñaron a los otros chicos como hacer el "Dougie". Cuando el Dj cambio la música y puso salsa, Lauren L. y Simone bailaron salsa para la primera vez en sus vidas. Alex enseñó a Noah cómo bailar salsa y todos los miraban porque eran muy buenos bailarinas.
El miércoles fuimos a la misma finca para ayudar a Guillermo. Empezamos plantando árboles.  Noah, Eli, Jeremy, Asher y Steve hacían el trabajo de hombres para que las chicas puedan plantar los árboles. Todos los chicos lo pasaron muy bien disfrutando de las montañas verdes y sintiéndose mejor de haber ayudado a Guillermo, agregando de esta manera a los magníficos paisajes de Monteverde. Más tarde, fuimos a plantar maíz en el jardín orgánico de Guillermo. Carrie manejó los utensilios para preparar la tierra para que las chicas puedan plantear las semillas.  Sarah B. trazó las líneas que separan y delimitan las plantas.  Sammie, Lauren T. y Eli trabajaron en equipo para plantar las semillas de maíz. Después fuimos a ver un magnifico árbol. Los chicos se subieron en el árbol y fue la primera vez en su vida cuando Lauren Lee subió en un árbol! Todos estábamos tan orgullosos de ella.  Isabelle, Noah y Maura disfrutaron de la naturaleza. Jeremy subió mucho en el árbol. ¡Estaba tan lejos de todos los demás! Fue una experiencia muy Buena para los chicos.
El miércoles en la noche nos separamos en dos grupos para poder sentir aún más el espíritu familia. Había el grupo de las chicas y el grupo de los chicos. Los muchachos Eli, Asher, Jeremy, Steve, Noah y Evan estuvieron en el jacuzzi platicando sobre varias cosas mientras que las chicas hablaron sobre el viaje y tuvieron la oportunidad de profundizar las amistades. Ellas compartieron momentos donde se sintieron inseguras y también hablemos sobre los puntos más fuertes y débiles de cada una. Después, Los grupos se juntaron para ver unas películas muy interesantes.
El jueves por la mañana, hicimos una caminata muy larga en la selva nublosa de Monteverde. Noah era muy energético y entusiasmado y guido el grupo en un camino muy rustico que había encontrado. El guía era muy experimentado y nos mostró muchos insectos interesantes. El paisaje era hermosísimo. Después de la caminata fuimos en el hermoso pueblo de Santa Helena donde nos separamos en grupos y los chicos tuvieron la oportunidad de escoger donde les gustaría comer. Después tuvimos tiempo libre para visitar la ciudad y hacer unas compras.  Por la tarde tuvimos nuestras clases de español. Nos despedimos de los profesores y fuimos al hotel donde jugamos Mafia. Isabelle fue la narradora y se quedó en el centro y los otros chicos se sentaron en el círculo. En el primer juego los chicos del pueblo no hicieron un buen trabajo y la mafia ( Asher, Simone y Sonya) ganaron. En el próximo juego, la gente del pueblo (los otros chicos) ganaron fácilmente gracias a nuestro magnifico detetivo Asher.
El viernes en la mañana fue nuestro último día de servicio comunitario. Fuimos en una calle en la ciudad y recojamos basura. Tuvimos bolsas de plásticos y guantes para poder recoger la basura. Nos separamos en grupos e hicimos una competición para ver quien regresa con más basura. ¡El rey del día fue Steve y fue el último rey de este viaje entonces podríamos decir que será el rey para siempre! Steve nos dio un discurso muy interesante en español y uso todo lo que había aprendido en las clases de español de los últimos tres semanas. ¡Viva el rey Steve!
Despues del almuerzo fuimos a jugar futbol. Tuvimos dos horas de competición y entretenimiento.  Leah y Simone fueron los capitanes de los dos equipos "La armada de Steve" y "Freaka-Freaka". "La armada de Steve" ganó pero con muchas dificultades.  Alex, Jamie, Noah y Jeremy marcaron para "Freaka-Freaka". ¡En el lado de "Armada de Steve" Eli fue un increíble defensor! Después del futbol, relajamos en el jacuzzi y depues organizamos un espectáculo. Todos nos separamos en grupos de seis e hicimos magníficas presentaciones sobre nuestras experiencias en Costa Rica. Samantha S. tuvo una memorable personación de nuestro fabuloso chofer de autobús.
El sábado en la mañana viajamos a San Jose y tuvimos un estupendo banquete. Desagradecidamente después de la fiesta, fuimos al aeropuerto donde nos despedimos de nuestros amigos.
Hasta pronto! Esperemos verlos de nuevo el próximo ano en otra aventura con Westcoast!
The Westcoast Blogger