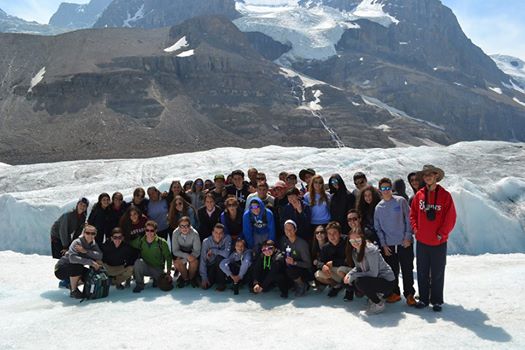 Last we left off, we were enjoying Vancouver, a city that few of us knew was so beautiful. We left this urban gem and enjoyed a scenic ride through British Columbia as lakes and mountains flanked either side of the road as we headed to the Okanagan Valley. The aesthetic beauty of Canada's most western province has truly spoiled us. It seems like there's a can't-miss photo-op every 30 seconds.
This ride was special not only for the sights but the sounds. We have a morning CD that we play every day including songs such as "Wake Me Up Before You Go Go" by Wham!, "Summer" by Calvin Harris and "Ain't No Mountain High Enough" by Marvin Gaye and Tammi Terrell. On this ride we officially adopted a new song to the mix: "Hooked On A Feeling" by Blue Suede. The Trip members get into it every time it's played – seriously into it. Every time there's a break in the music before the chorus for two loud bangs on a drum, the entire bus drums in unison on the side of the overhead compartments. It sounds something like this: "I-I-I-I-I'm [POOM POOM] hooked on a feeling" and everyone belts out the chorus. Nathan tried to describe what exactly makes the song so magical. He said, "If I had to use adjectives to describe it: energy, camaraderie, enthusiasm, passion and excitement."
We arrived at the campsite in the late afternoon. Trip Members set up tents and enjoyed campsite activities like basketball, Frisbee and relaxing at a man-made lakeside beach.
The following day we enjoyed a great day of water and adventure. Previously, Trip Members have played more conventional sports like basketball and volleyball. Today we delved into extreme sports. We arrived at Okanagan Lake in the early afternoon and the weather could not have been more perfect. The sun shone bright in a clear blue sky and looked like Fourth of July sparklers when it reflected off the water. The group took turns water skiing, wake boarding and/or banana boating and swam in the lake while they waited for the boats to return.
After a morning of excitement we took it easy in the afternoon by taking a lazy river tube ride. This was no chlorinated circle in a water park – we floated for close to two hours down the Okanagan River. Trip Members held hands to make chains and tube caravans and enjoyed watching ducklings swim by. The day was completed with a game of five-pin bowling.
It seems like each place is flying by. We packed up our campsite at the lovely Okanagan Valley this morning and set out on our journey east to Banff. The Rocky Mountains enveloped the road east and induced gasps of wonder and excitement throughout the bus. Everywhere we looked it felt like we were traveling through a Bob Ross painting. We enjoyed naps, music and movies, and arrived at the campsite where we met our new campsite manager, Carl, who planned an outstanding dinner for us. Trip Members had a choice of steak, chicken and salmon to go with salad, boiled potatoes, creamed corn and a selection of dinner rolls. That evening we enjoyed foursquare, jump roping and catch phrase, among other campsite games before bed.
At last was the day many were looking forward to since enrolling or this trip: Lake Louise, one of the most gorgeous sights in Canada. It did not disappoint! In groups of threes, we took canoes out into the lake and, grazing our hands along the surface, felt the icy-cold glacial water. Later, we hiked 3.4 kilometers up to Lake Agnes and rested at the famous Lake Agnes teahouse. Trip Members can now say they drank tea above the clouds. We were exhausted from the hike but rallied to explore downtown Banff, a charming town bustling with restaurants, ski and souvenir shops. We enjoyed free time with friends and took part in a scavenger hunt.
It's tough to top yesterday's adventurous activities but we came pretty close today. We set out early this morning and drove through the Columbia Ice Fields to the Athabasca Glacier. Trip Members walked onto the ice and marveled at its size and blue tint. They were also able to drink the crisp, refreshing water from a stream running the center. During the drive back we stopped for lunch at Peyto Lake, another glacial lake with unbelievably blue water. We soon found out this lake is also special in that it's shaped like a canine.
In the evening we visited the Banff Hot Springs, essentially a naturally heated hot tub. Though more modern than what we expected, the hot water helped everyone relax, a nice change of pace from the morning's icy activities.
As beautiful as Banff is, we had to say goodbye this morning and drive to Calgary. We watched "Cool Runnings" (which is based on the Jamaican bobsled team during the 1988 Calgary Olympics) during the ride to get in the spirit.
We arrived in the mid afternoon and enjoyed some free time to grab lunch and explore shops selling cowboy garb. We then volunteered by painting picnic tables in a park – it was very rewarding when locals marveled and thanked us.
After checking into the dorms at the University of Calgary, we enjoyed a banquet at Jack Astor's. With full bellies, we returned to the dorms and had some farewells to those with us for 17 days. We held paper plate awards and everyone wrapped yarn around their wrists and tossed the ball to someone who had a positive effect on them during the trip thus far. The result was a colorful web of yarn connecting everyone together.
We are having a blast!
Sincerely,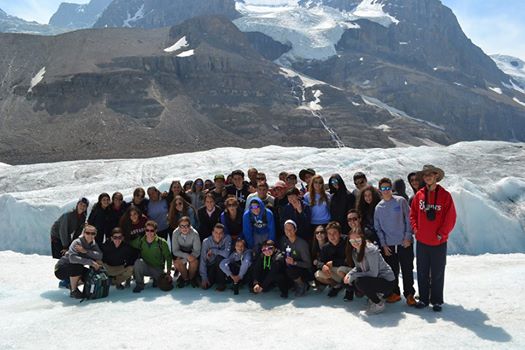 The Westcoast Blogger