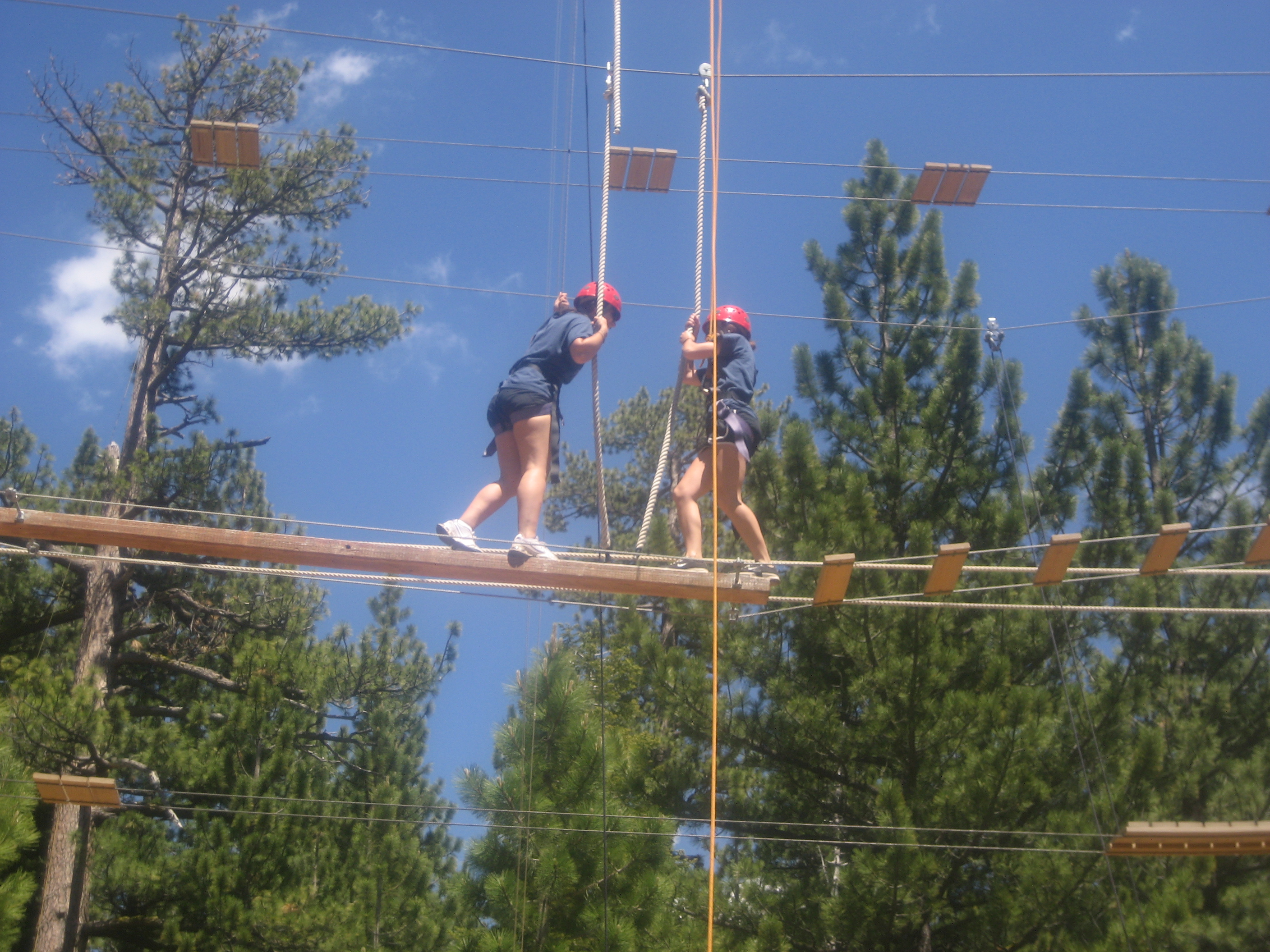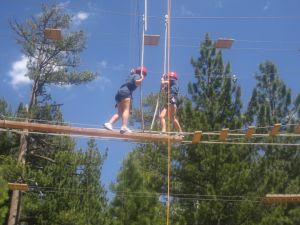 Each day seems to keep getting better!!! We can't believe we forgot to mention the incredible time we had white water rafting on the Snake River in Wyoming prior to arriving at our campsite in Utah. The boat that contained mostly girls ran incredibly smoothly and it seemed as if they were all experienced rafters. Jessie put her strong paddling skills on display and motivated the rest of the girls on the raft to paddle hard in order to overcome the rapids. The following day we went to a water park and an amusement park where we had a blast and explored different roller coasters.
After our time in Utah, we hit the open road and headed for Winnemucca, Nevada where we all did our laundry together. Jon learned the ropes extremely quickly and before you could blink an eye, he was helping everyone with their laundry. Before we knew it, it was time to hit the road again and head towards beautiful Lake Tahoe, which borders Nevada and California.
Our first stop was at the ropes course where Julia courageously and confidently conquered the rope and wood panel bridge at a rapid pace. Becca T was also one of the ropes course all-stars, as she impressed everyone with her climbing skills on the climbing tree. After a fun afternoon testing our balance, we arrived at our campsite in Lake Tahoe where we played games and relaxed in preparation for what the following day had in store.
In the morning we headed to the beach at Lake Tahoe (on the California side) where the group had their choice to either water ski, wakeboard, or go tubing. It was Drew's first time ever going water skiing, and he was able to get up on his first try and stay up for quite a while! Undoubtedly, that is something very challenging for a first-time water skier and he is definitely a natural – good job! Later that afternoon, the group had the opportunity to go on a giant sailboat on the Nevada side of Lake Tahoe where we relaxed and soaked up the sun after an adventurous and action-packed day.
At night we had a talent show where Josh S wowed the crowd by singing the night away. The group unanimously agreed that his most popular hit was Bohemian Rhapsody. Also, Sydney O, Julia, and Jessie performed a song that they wrote about the staff which was comical and very creative. The next day, we made our way to San Francisco.  Our first stop after checking into our hotel was AT&T Park to see the San Francisco Giants take on the New York Mets. It was particularly interesting considering we had Mets fans on our trip such as Josh G who was decked out in Mets attire to cheer on his home team.
The following day we went to Alcatraz where the group had the opportunity to learn about and tour the former maximum-security prison. Later that night, on the bus back from dinner in China Town, the trip member of the day awards were handed out to Reid and Josh K. Other award winners who preceded these two includes Josh G, Brooke, and Ryan K. We have one more night in San Francisco before we head south to Ventura, California where we will be camping. You will be hearing from us soon!!
Your Staff,
Stacy, Jill, Brandon, Amanda, Jack, Elise
The Westcoast Blogger