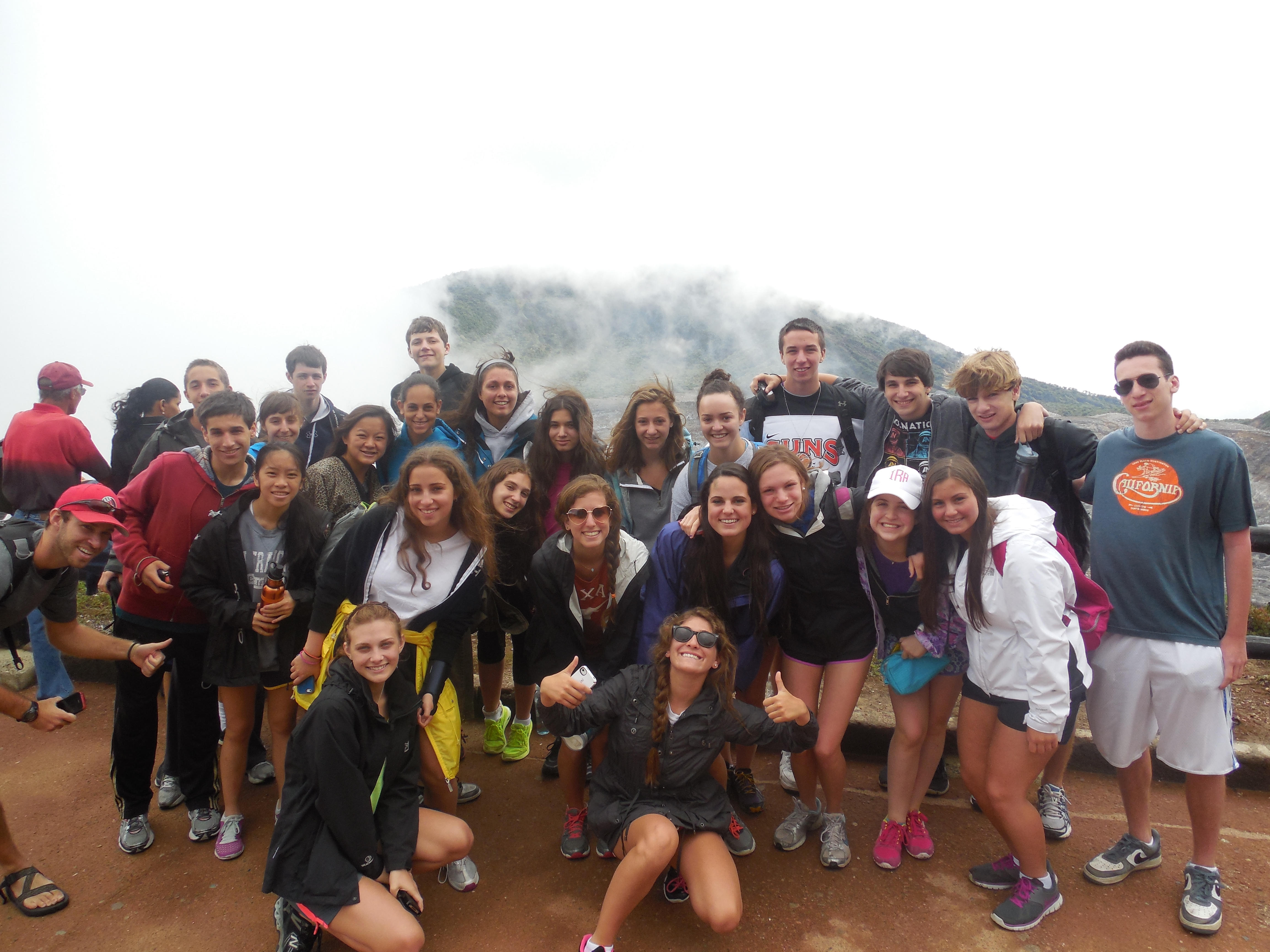 Hello from Costa Rica!!!
We absolutely love the Pura Vida lifestyle in Costa Rica!
We are wondering what everyone back home has been doing for the past 4 days.  For our part it's been busy!  On Monday, right after we picked the trip members up from the airport, we went to the Spanish language school and everyone took a written and oral test in Spanish. We also had our first local meal and everyone loved it. Everybody tried a different flavor of natural juices which are served with each Costa Rican meal. Sarah B tried the guanábano juice and she absolutely loved it.
We did whitewater rafting on Tuesday and we had an amazing time. We went 18 miles down the Pacuare river and each boat paddled so well that we navigated the rapids safely and swiftly! Noah took the lead on his boat and he guided his group through a few of the rapids. It was awesome….simplemente fabuloso. Lauren L and Sam S were the captains of another raft. When the water was calm, we were able to jump out of the boat and float down the river.  Once we got to the hotel and had free time, Jacob S, Rachel A, Natalie C and a bunch of others had a great time relaxing by the pool and hot tub.
On day 3 here in Costa Rica, the self-proclaimed "Costa Fricas" (freak-as) are still having a great time on their endless adventures. Last night we played a game called Formations where 3 teams of 9 competed to create specific things with their bodies. Rachel A did extremely well and helped her team win with her hilarious baby impression when she acted like she was jumping on a trampoline made of humans. Sonya used her dance skills for the ballet impersonation.
Our Wednesday morning, our adventure consisted of hiking to one of the active volcanoes in the area, at Poas national park. Chris C and Steve M did really well on the hike, led the group through the trails, and had an absolute blast. We had a great tour guide named Jonny who knew everything about Costa Rica and every single piece of its wildlife that we came across. After lunch, Jonny led Lauren T, Sarah B, Zoe, Gracie and Sarah A through a beautiful garden, informing them about all the different flowers. Everyone really appreciated all of his fun facts and jokes.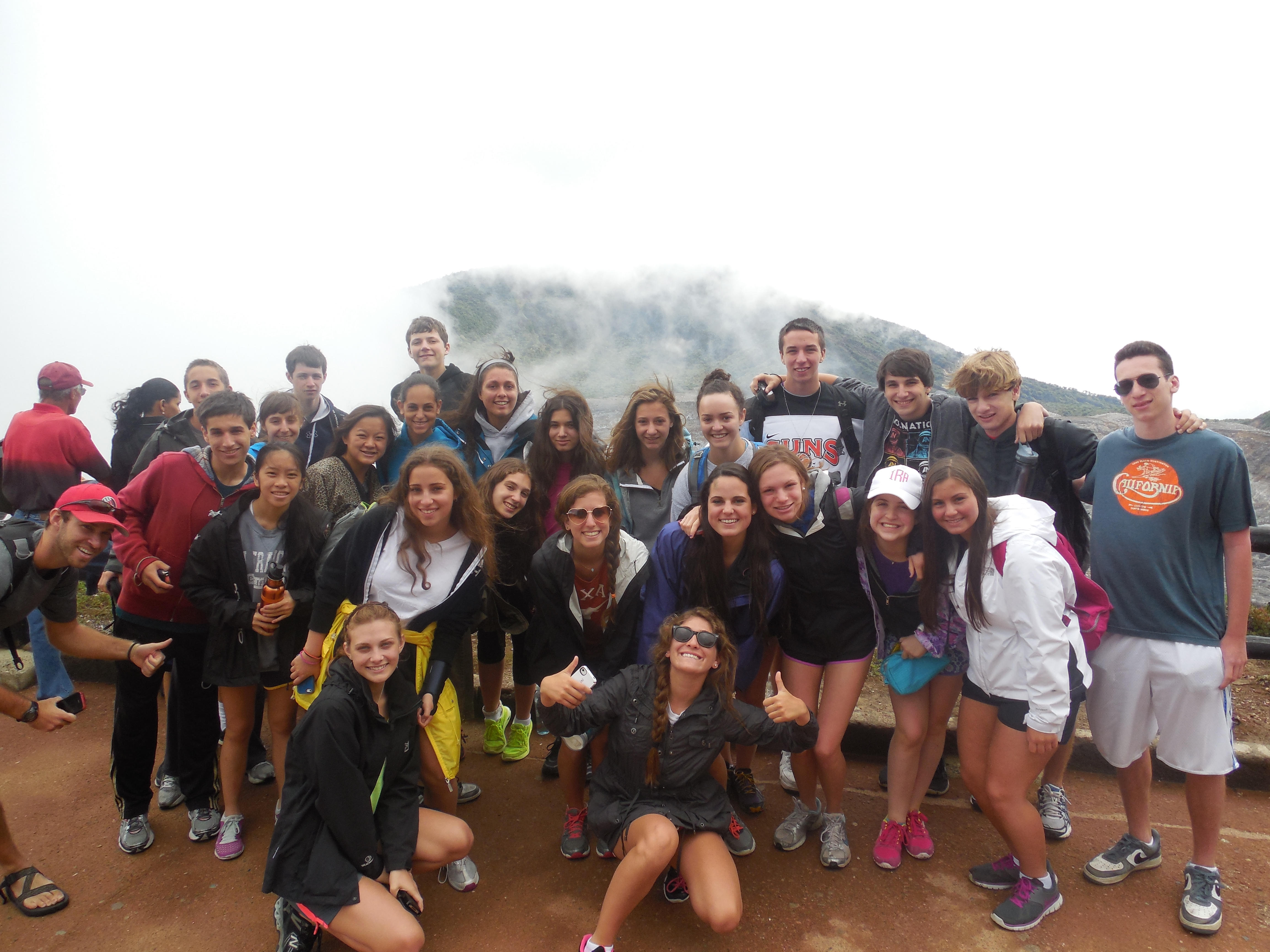 Yesterday was the first day of Spanish classes! In order to prepare, Natalie C, Asher, Jeremy, Sam S and Jacob enjoyed a Spanish-only lunch with Alex and our guide. Although it is only day 4, we are all enthusiastic and well on our way to becoming Spanish pros!
Hola desde Costa Rica!
Nos estamos preguntando que hicieron ustedes en los últimos 4 días. El lunes, justo después de recoger los niños del aeropuerto, fuimos a la escuela donde todo los chicos tuvieron un examen escrito y oral en Español.  También tuvimos nuestro premier almuerzo costarricense y todo el mundo disfrutó. Cada uno de los chicos probaron un sabor diferente de jugos naturales que se sirvan con cada comida y todo los chicos fueron súper encantados. Sarah B probó el jugo de guanábano y simplemente le encantó.
Hicimos rafting en el agua y nos divertimos mucho. Fuimos 30 km sobre la Riviera Pacuare  y estábamos pedaleando tan bueno que nunca flipamos. Noah tomo el control de su barco y guidó su grupo a través de algunos rápidos. Fue extraordinario…simplemente fabuloso. Lauren L and Sam estuvieron capitanes para otro grupo de chicos. Fuimos capaces de saltar del barco y flotear en la Riviera (cuando el agua estaba calma).  Cuando llegamos al hotel los chicos tuvieron tiempo libre y Jacob, Rachel A, Natalie C y muchos  otros chicos disfrutaron al máximo y relajaron en la piscina y el jacuzzi.
Ya estamos en el día 3 de nuestro viaje aquí en Costa Rica y los chicos se proclamaron "Costa Fricas" (por los  más locos). Todos se divierten mucho con las aventuras continuas que hacemos cada día. El lunes por la noche estuvimos jugando un juego que se llama "Formaciones" y 3 equipos de 9 chicos competieron para crear cosas específicas usando sus cuerpos. Rachel trabajó muy duro y lo hizo muy bien. Además ella ayudó y trajo su grupo hacia la victoria. Sus fantásticos impresiones de niña (imitando un bebe) y cuando ella saltó como si saltara en una tremolina hecha de los cuerpos de los otros chicos. Sonya uso sus habilidades para bailar un balet.
Nuestra premier aventura de miércoles fue haciendo una caminada sobre uno de los volcanes activos de San Juan, llamado el volcán Poas. Chris y Steve fueron los mejores en la caminada y guidaron el grupo. Todo el mundo se divirtió mucho.  Nuestro guía para el tour se llamaba Jonny y él sabía todo sobre Costa Rica y sobre la fauna y flora de este magnífico país. Después de haber almorzado,  Jonny guío Lauren T, Sarah B, Zoe, Gracie y Sarah A a través de un magnifico jardín. También informó a los chicos sobre las diferentes especias de flores que se encontraban allí. Todos los chicos estuvieron súper encantados y contentos con Johnny porque era muy chistoso y conocía muy bien sobre la fauna y flora costarricense,
Ayer fue nuestro premier día de clases en español! Para poder prepararse mejor para las clases, Natalie, Asher, Jeremy, Sam y Jacob escogieron de disfrutar con Alex y nuestro guía un almuerzo donde nada más se hablaba en español. Aunque somos nada más en el día 4 de nuestro viaje, todos somos muy entusiasmados y en el camino de ser los mejores en el español.
The Westcoast Blogger