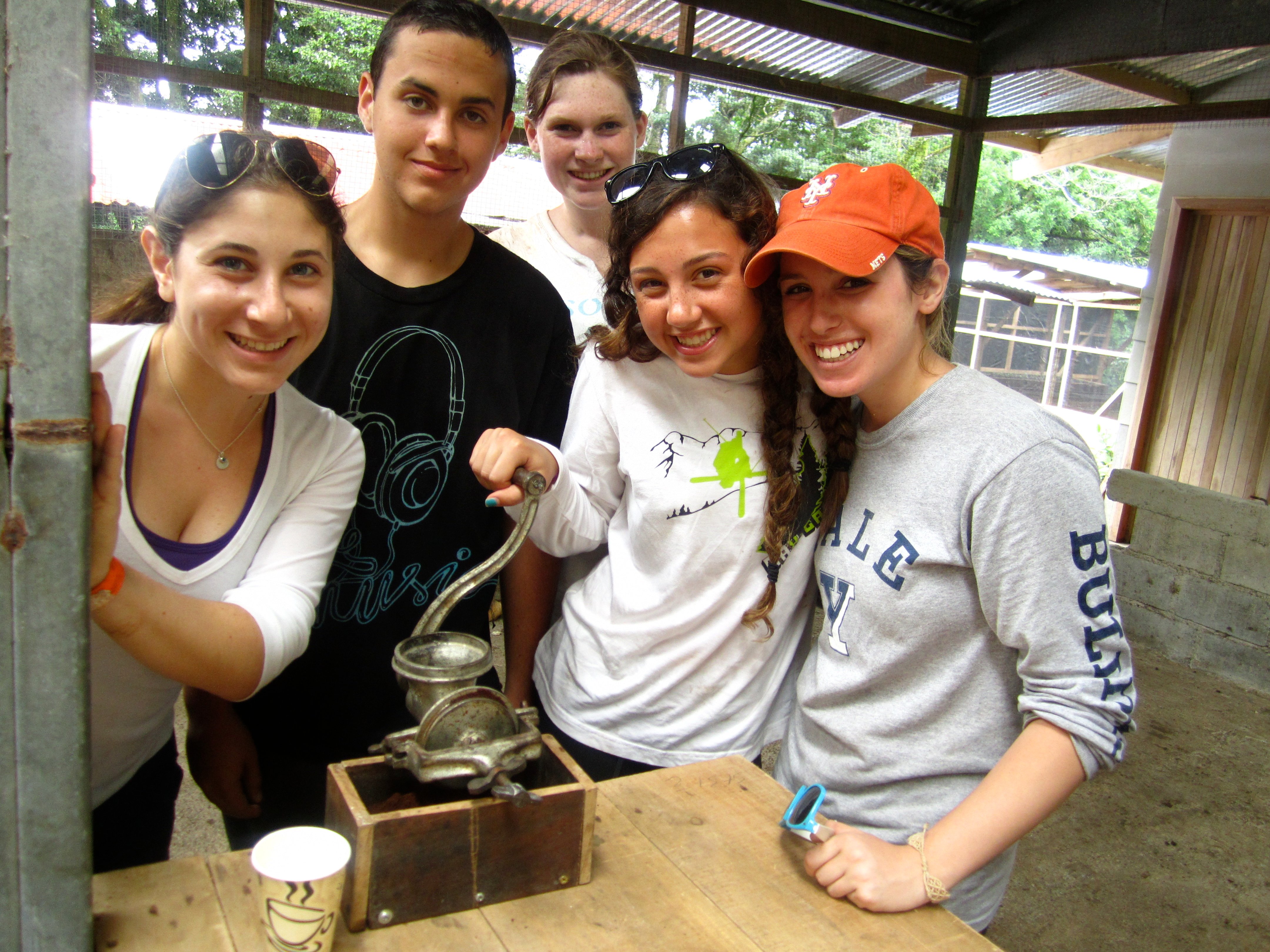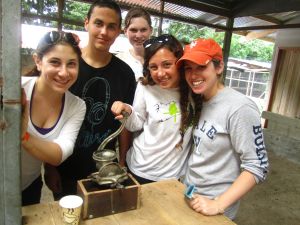 Greetings Families!
Sadly, our trip is coming to a close.  It's been a fun-filled, action-packed adventure and we're sad that it has to end.  The last few days have been a good balance of rewarding community service and exciting waterfall rapelling. 
We completed our last two days of community service on Sunday and Monday.  On Sunday, the trip members organized and supervised a sports/camp day for 25 youth from La Carpio, the low income town we have worked with repeatedly throughout the summer.  We started the day with arts & crafts and soccer on the grass.  Alyssa and Alexia set up a shady spot to color and draw with the kids.  For the latter half of the morning, we all jumped in the pool!  The youth at the camp rarely have the opportunity to go swimming and this was the highlight of the day.  Many of the younger kids were still learning the basics of swimming and Jamie and Marlee were a great support, each holding onto at least two kids the whole time.  At the end of the day, the kids each made a thank you card for our trip members. Our group also had a fair amount of donations for the kids to each go home with. Donations such as: pencils, crayons, hats, mini soccer balls, and sandals left each and every kid with something to bring home along with their huge smiles!!
The following day, we went back to La Carpio for our final day of service.  In the morning, half of our group worked on constructing cement floors in homes near the community's river.  Jeremy and Michael worked especially hard to carry buckets of sand or rocks down the path to the homes.  Next, the sand and rocks were mixed with cement to create concrete.  The mixture was then spread and leveled to create a new floor inside the home.  Sam and Kayla were lucky enough to run into several kids from Sunday's sport camp and play with them once again. Meanwhile, the other half of our group helped out at a preschool, where we also saw several kids from the sports camp as well.  Our trip members were quick to jump right in and read books, paint pictures and play games with the preschoolers. It was the perfect way to spend our last day doing service in this beautiful country, knowing we are making a true difference. 
For our last day, we went rapelling down a 100 foot waterfall.  Jillian, Maya and Corey were a little wary of the height at first, but overcame their worries and climbed right down.  About halfway down the falls our guides safely stopped us for a quick dip under the water. At the last 10 ft, we undid one of our ropes and jumped into the refreshing water below.  We finished the morning with a nice picnic lunch in the park.
In the evening we got together for one last meal as a group in our hotel's dining room. A flurry of pictures were being taken during and after the meal as each trip member wanted to make sure they had a lasting memory of the occasion. It has been a great summer in Costa Rica, and we have had lots of compliments along the way about how hard our group has worked in all of our community service projects. We are truly proud of their accomplishments on this trip, and feel fortunate to have had such a great group of young adults.  A big thank you to all of you for making this trip spectacular.
 From your Costa Rica Community Service team, Travis and Hilary
The Westcoast Blogger