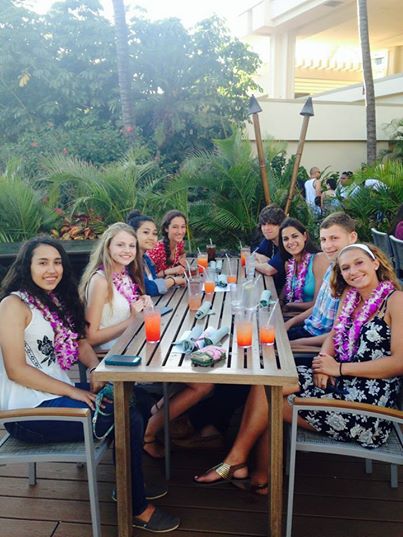 Aloha!
We have been working and playing hard the past three days. Our community service day with Eco Maui was a real treat for all of us, and we all had an opportunity to try something new with our guides for the day – Ray and Uti. Dani clicked with Uti right away, as both of them speak German, and they were quickly chatting away in their native tongues. Our job for the day was to build a dam to restore a waterfall to help the underwater ecosystem flourish. Jordan searched in the stream to help find smaller rocks that everyone was able to carry. Jackson was more than happy to pitch in by carrying some of the heavier rocks to the higher parts of the dam that most of the group couldn't reach. Everyone felt very satisfied and accomplished when the job was done. Uti rewarded us with some delicious local snacks of pineapple, coconut candy, sugarcane, and banana bread.
After our bellies were full, we went on a nature walk to a nearby waterfall, which we all had an opportunity to swim in. On the way to the waterfall, Jesse, Sara, and Melissa connected with the nature and history of the land by using a natural 'shampoo' from a plant that squeezes out a ginger-scented liquid that ancient Hawaiian natives used to clean their hair. Madi was very adventurous during the walk, and swam at every opportunity she had on the way to the waterfall. After the waterfall, it was time to say goodbye to Eco Maui, and Ray, who had been with us for the past two day. Everyone was sad to see him go, as the group really connected with and learned a lot from him.
After a delicious dinner at a nearby local restaurant, the entire group got some energy out by having a dance party to some of our favorite tunes. It was great to see everyone having a blast, coming out of their shells, and bonding together as a family. Lucy and Jesse, in particular, had a great time dancing and singing along to the music.
 The next day was July 1 – Canada Day! Although Marie-Geo is our only Canadian in the group, we still tried to incorporate the day by teaching the Americans some facts about their northern neighbors. We were all very excited for another day on the beach where most of us had the chance to try surfing for the first time. Everyone went out and gave it their best shot, and most of us were able to stand on our surfboards by the end of the surfing lesson! Sara, and Mary-Christina both did amazing during the surfing lesson, and were able to remain standing for much longer than they anticipated. We were all famished after our surfing lesson, and a group of us tried out some yummy local fish tacos and shaved ice near the beach during our lunchtime. We then introduced our camp competition teams – the Maui Militia with captains Melissa and Nick, and the Oahu Blues with captains Alec and Madi.
We're excited to see who comes out on top!
Speak to you soon,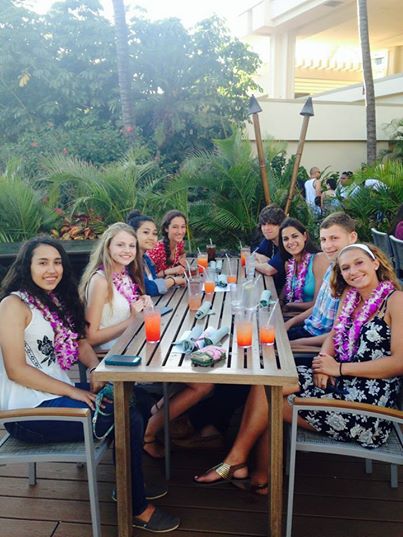 The Westcoast Blogger