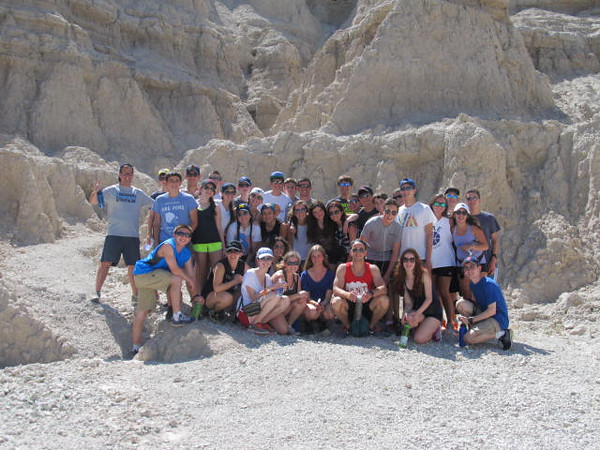 Welcome Back US Explorer Parents!
Our four incredible days in Utah have come to an end as we are off to our next destination – Las Vegas!
We arrived in beautiful Park City, Utah in the late afternoon on Wednesday and we had the opportunity to relax and enjoy the indoor/outdoor pool at our hotel before dinner. We ate at the gorgeous Silver Star Café overlooking the mountains. The diverse menu offered various organic meats, fresh fish, and many other options. As this luxurious dinner came to an end, we all headed into town to walk around Main Street. Roots,  was by far the most popular destination for trip members. Jared, Valerie, Ben and Sydney L have all been proudly sporting their Roots wear ever since! After getting the chance to explore the town of Park City, trip members were treated to some delicious Java Cow ice cream! It was the perfect way for everyone to come together for the end of a great day.
We woke up the next morning prepared for a busy fun-filled day. Trip members headed to the base of the ski hill and were first in line to experience the thrill of the Alpine Coaster. This adventure resembled a bobsled run without the snow, and those who rode it had control of their speed throughout the ride. Lily had the time of her life on the ride! Next on our agenda was Lagoon-A-Beach Water Park and  Amusement Park. It was a gorgeous day and trip members got to play in the water or challenge themselves to new heights! Syndey L was proud of winning her unicorn and Julia S loved her neon pink gorilla! We all had a blast flying down the water slides with tubes and speeding down the roller coasters! Upon returning to the hotel, we all came together for a pool party! Daniel, David T, and Ethan loved the sauna, and Julia G, Matt A and Jacob spent their time hanging out in the jacuzzi!
After two great days in Park City, we were now off to Kanab, Utah! On the way, we played a game in which trip members had to guess which interesting fact belonged to which person! We were all amazed to find out Jon is double-jointed and Matt A met Lebron James! Upon arriving to Kanab, we put our cowboy hats back on and ate lunch at Ruby's Cowboy Buffet. This was a perfect meal to prepare for a beautiful hike throughout Bryce Canyon. David F and Ethan showed off their adventurous ways by helping lead the group and finding some of the best views throughout the hike. There were many places to stop to take gorgeous photos! We then arrived at the campsite and set up tents and had dinner. To end of our night, we played a fantastic game that everyone loved! We had a blast auctioning off items in order to create a device to capture an egg without it breaking. Lainie's group loved chanting "Leaf in cup!" in hopes that their device worked. However, Aidan and Greg's group created a bag filled with toilet paper, which kept the egg safe as it was dropped from a tree. We finished off our long day sitting around the campfire hanging out and cooking smores. We also celebrated our trip leader Phil's birthday with a chocolate cake that David T had fun shmearing all over Phil's face!
Trip members woke up with excitement since we were headed to the world famous Grand Canyon! It was a magnificent sight and Jared took advantage of the mind-blowing photo opportunities. We spent the morning admiring the beautiful sights and did a hike along the North Rim of the canyon. After a picnic lunch at the canyon, we headed over to the Coral Pink Sand Dunes State Park. This was such a magnificent sight to see these mountains of pink-orange sand. We were even able to roll down the dunes! Michael, Taylor, and Matt Z had a blast flying down these hills while covered in sand.  We then returned to the campsite to cook one of the best diners yet – stir fry! Max was an onion chopping wiz and Taylor did great cutting the peppers! After this delicious dinner, we all gathered around the campfire and sang songs and shared campfire traditions. Jared led the group in the "Campfire Song," and Valerie and Julia S led the group singing Oasis' "Wonderwall." It was a fantastic way to end our time here in Utah.
Our time in Small Town, USA has come to an end as we venture off to Fabulous Las Vegas!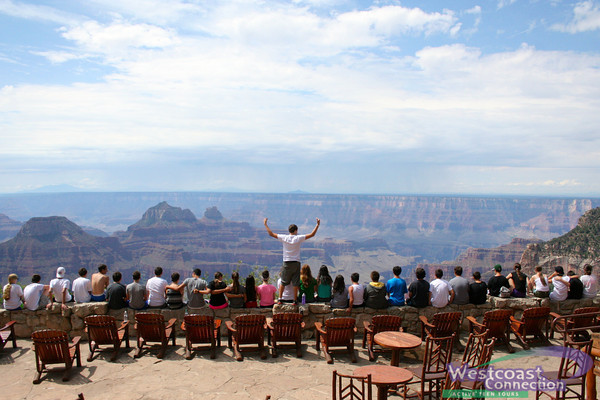 See you soon!
Lauren, Larissa, Phil, Jessica, Ryan