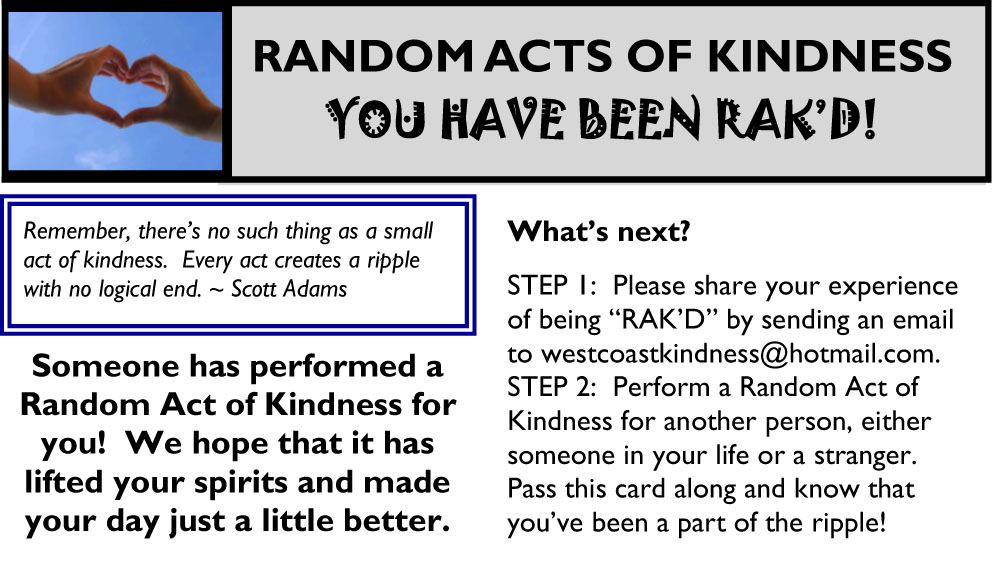 A story from our Hawaii Community Service Trip Director Matt.  Enjoy!
The Westcoast Blogger
So at the beginning of our trip Trip Leader Bethany started a little ongoing game within our group. We were all sitting in the hotel playing get to know you games (or something like that) when a hotel clerk came over to our group and asked for Matt L., one of the travelers. He thought he had done something wrong or had to change rooms but the hotel clerk handed him a pen with a frog on it along with a small card and said "you've been RAK-ed".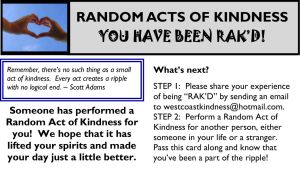 He read the card which said "Perform a Random Act of Kindness for another person, either someone in your life or a stranger. Pass this card along and know that you've been a part of the ripple!"
The whole group had a good laugh and they couldn't figure out why a hotel clerk had given this to them (although Bethany set it all up).
So now it was Matt's turn to pass along the "random act of kindness"…
The program lasted for a little bit, but then it somehow this turned into a dinner celebration, where at every dinner the person with the RAK card would secretly order dessert for another TM and we'd all sing happy birthday and have a good laugh.
When we were in Kihei we had a kayak/snorkel adventure day…. We had a great time seeing sea turtles and fish. Our guide showed us a really nice house along the beach and said that this was where Clint Eastwood would vacation. I had joked around and said we should go play "Nikki Nikki 9 door" on him…. But our guide said it's very rare that he comes here.
Soooooooo…. That night we went out to a restaurant called "Stella Blues". When we got there we were pleasantly surprised by how nice it was and we could tell it was going to be a great night. We were having a great time. About halfway through a few of the boys called my name and motioned toward a gentleman and his family sitting in the corner about two tables away from us. The boys laughed and said "hey…he kinda looks like Clint". As the night went on I glanced over several more times thinking…. "hmmm… that actually DOES look like Clint Eastwood".
This caused a bit of a buzz at our table and a mad rush for the bathroom which just happened to be past Clint's table!
Eventually the boys called over the server and asked if it was him… "Yea, of course it's him", replied the server. "He comes here all of the time. Do you want to meet him?" Zach was the fist to step up and volunteer! So the server brought Zach to the table and introduced him to "our boy" Clint! Zach spent abou t five minutes with Clint chatting with his wife and daughters about who we were and what we were doing in Hawaii. He also managed to get a quick photo too.When Zach came back to our table we had the great idea of RAK-ing Clint Eastwood!! So… we called the server over again and ordered dessert to Clint's table and sent the RAK card along with it.
I think we ordered a banana split….or something similar. (Apparently this is what Clint always got. As per the recommendation from our server).
We had all finished our dinner by that time and were just about to leave… Clint gave our group a smile and wave as we headed out excitedly!
"Go ahead… Make my day…" Yup… Sure did Clint!