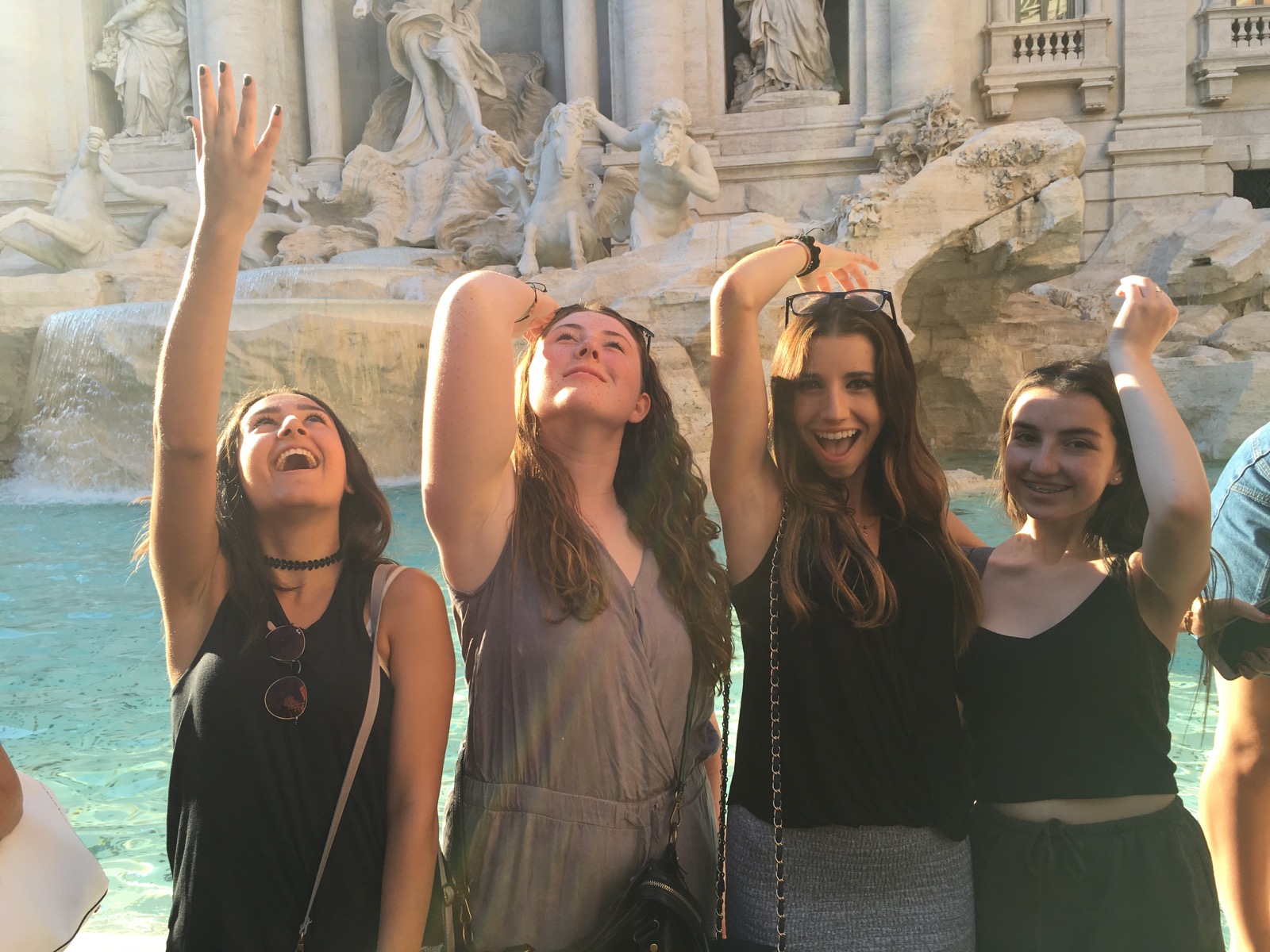 Buonasera! The sun is now setting on trip 50B but we sure didn't let that stop us from enjoying the final hours.
The last leg began with a pit-stop in Pompeii where we toured the ancient settlement in the shadow of Mount Vesuvius. Highlights included portions of rock where you can still see the ash from the eruption, a petrified dog and child, and two amphitheaters where we sat where Romans sat thousands of years ago. We learned that the first two rows were reserved for the highest ranking citizens. Amazing how some things never change, even over millennia.  
We arrived in Roma with Hillary Duff's "What Dreams Are Made Of" as our soundtrack (The Lizzie McGuire Movie takes place in Rome). Many of our TMs fantasized about living out the film's plot which begins at the Trevi Fountain. None of us were whisked away on a Vespa by a dreamy Italian, unfortunately, but we all threw coins into the fountain which means we're guaranteed to return to this beautiful country. Maybe next time someone will be confused for an international pop star.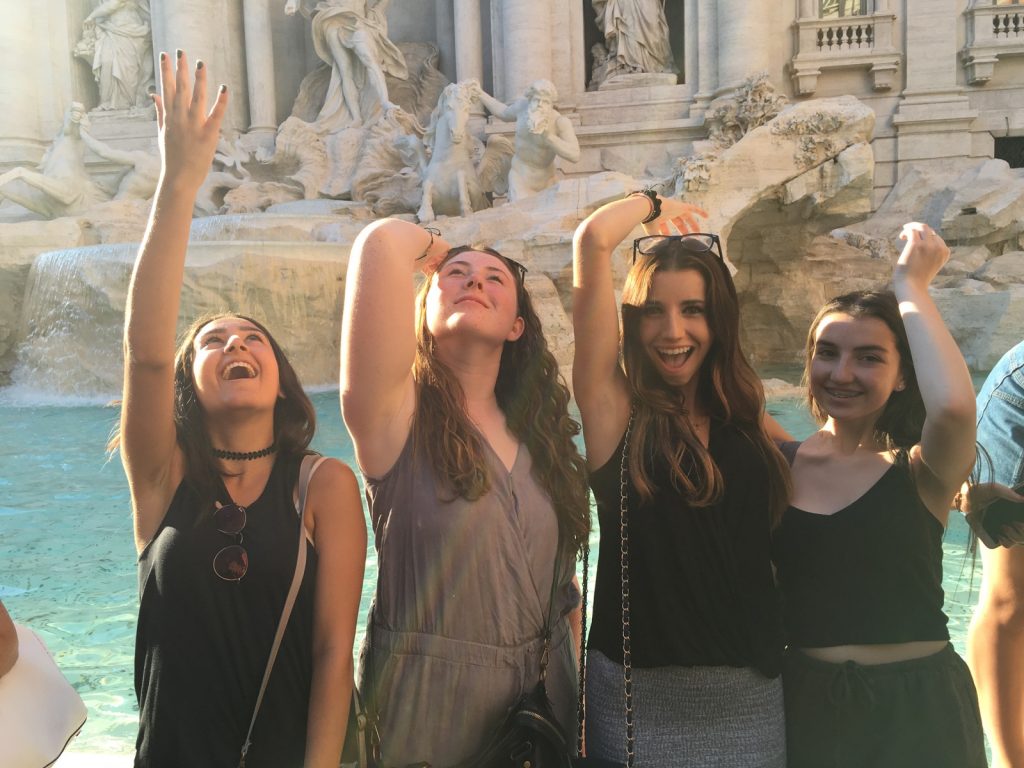 The group had a great time competing in a photo scavenger hunt at the Piazza del Popolo, frantically trying to find doppelgangers of people on our trip, posing with mannequins, and proposing to strangers. Some time for relaxation and exploration at the Villa Borghese Gardens was the perfect follow up.
The history nerds go their fix at the Colosseum and in Vatican City, especially at the Sistine Chapel. There's no photography allowed but the movie Good Will Hunting got it right – actually being there and looking up at that beautiful ceiling is an experience no book can provide.     
Our final group dinner we dressed in togas and enjoyed a fabulous feast while being serenaded by a singer named Barbara, accompanied by her partner Marcello on accordion. We clapped along to the beat of traditional Italian songs and danced with them in between courses.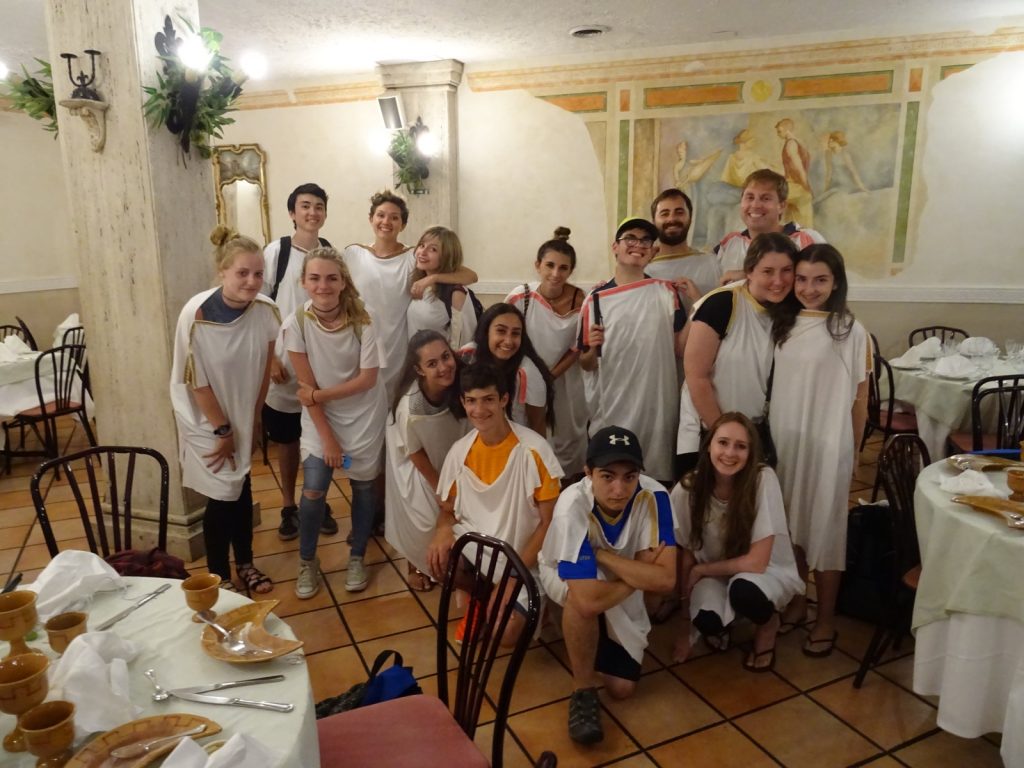 Later that night back at the hotel patio, we passed around a ball of yarn, wrapped it around our wrists, and told our favorite moments from the trip. By the end we had a web as colorful as the memories that came flooding back. While the yarn would have made nice bracelets the staff felt that the material didn't quite reflect the quality of bonds that have formed during these past sixteen days so we stepped it up a notch. Each TM received leather bracelets engraved with our trip's favorite phrase, "ciao meow." We may never have the entire group together again in one location which made this final night that much more special. Hopefully these keepsakes will remind them that by no means are we saying goodbye. For now, it's just ciao meow.
The Westcoast Blogger   
If this sounds like an adventure you'd like to be a part of, explore our Westcoast Connection 16-day program for student travel to Italy!