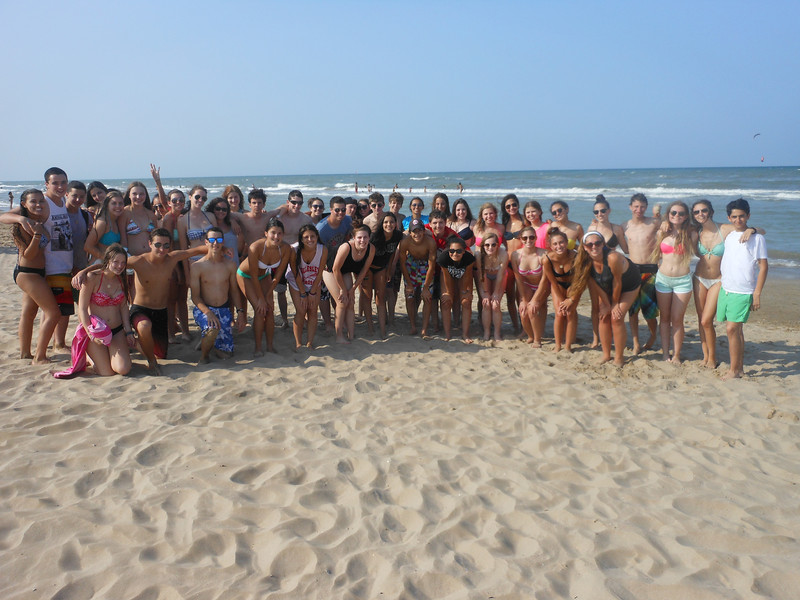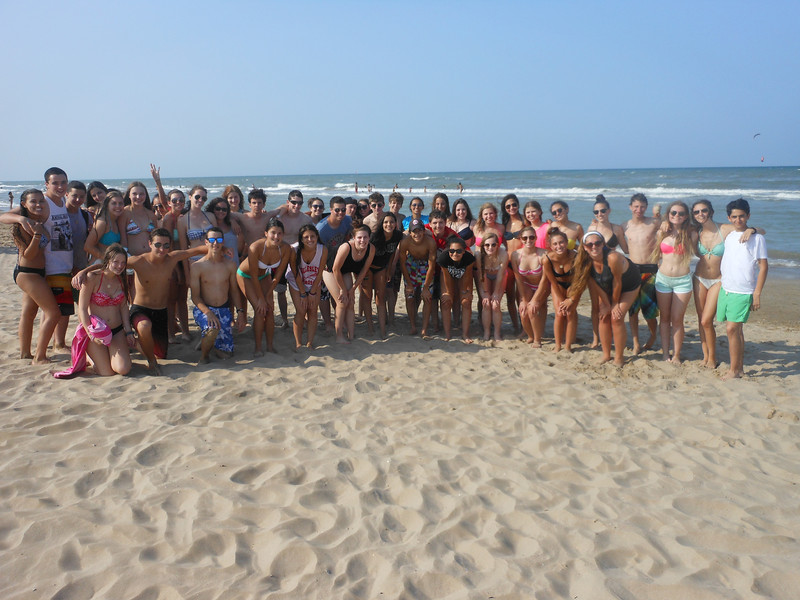 Ciao! Hello from Italy! We have finally started our Italian adventure with the cities of Venice and Rimini. We started off with a true Italian dinner feast that included delicious pasta and pizza. We were able to walk around the different piazzas and some of the trip members embraced the Italian culture buy purchasing masquerade masks and wearing them around the for remainder of the night.
Brianna G. couldn't decide which she liked better, Venice by day or by night. "Both were two of the most beautiful experiences I've ever had." During the day we got to visit many markets, one which had some of the most delicious peaches we had ever tasted. It was so cool how we got to weave in and out of the streets and we always ended up in another beautiful piazza. Nick has been our resident photographer who already has taken more than 3,000 pictures. He intends on making a ton of albums when he gets back, but loves taking pictures of the architecture and culture of each country we visit. The private demonstration at the Murano glass factory was unbelievable. The glass maestro, which you need a minimum of 15 years experience to become, showed us the two different ways to create glass items. The most impressive was the horse, which he made in less than 1 minute! From there we explored San Marco Square and ended the day with gondola rides. One couple had just got engaged on one of the gondolas before us! Nicole enjoyed the gondola ride because it was "cool to see the city by boat which was different from touring by foot," while Michael enjoyed talking to the gondolier who all had funny stories  and personalities. Hedi and Isabel T. said their last night in Venice was amazing because "eight of us girls had dinner and talked about everything. It was a great bonding experience as well as a tasteful dinner."
Just when the trip members thought the day was coming to an end, color war broke! We are very proud to say that our trip is the FIRST trip ever in Europe to do a color war and wow was it a success. Four teams competed in various activities over two days and only one team got to claim victory. Griffin loved how to trip leaders pranked the trip members in the breakout. He though it was really funny to see everyone's reactions. Lauren B., one of the color war captains, was so psyched to lead her team and participate in the games. Color war commenced the next day with our first game of Pass It Up on the bus. The trip leaders would call out an item and each time had to find that item, pass it to the back row and then up to the front. The first team to get it up to the front won, which was the green team! We also played pummel the pig, volleyball, and completed an apache relay, where some trip members had to eat a quarter of a watermelon with no hands! Everyone had a great time, but Spencer really liked the song and skit section where each team had to make a cheer and perform a skit about our trip. She also liked when her team, the green team, won! Aside from color war, we got to relax on the beach and take in some rays, with sunscreen on of course. Throughout out time in Italy, we are on a mission to find the best Gelateria. Everywhere we stop, it is imperative that we at least taste test and report back to find the best spot. After a fun evening of mini –golf, we took the trip members out for gelato to a biological Gelateria, where Molly may have fulfilled her quest to find the best mint chocolate chip gelato.
As we continue onto Rome, we look forward to experiencing more of the authentic Italian culture and of course the food!
– The Westcoast Blogger