Out of the wilderness and into some wild adventures! We spent six nights in Chiang Mai after leaving Mae Salak and it was packed full of exciting adventures each day. Upon arriving in Chiang Mai we settled into our rooms and then had the privilege of running into the other Thailand Westcoast Connection trip! The trip members had a great time swapping their favorite stories from their trips thus far.
We couldn't visit for long though, because we had a Thai cooking class to get to. At our cooking class, each trip member made a traditional Thai four-course meal of Tom Yum Soup for an appetizer, green curry for the first entrée, Pad Thai for the second entrée, and a coconut banana baked treat for dessert. In order to help everyone understand each step of the recipe, Mason, Ellie, Rylee, and Lila each assisted the head chef during the demonstration portion of the course.
After the class was completed, each trip member received a culinary certificate and a cookbook. Becca was named "Best Chef" and was also awarded an apron as a prize. It was a very fun class and it was good to see how to prepare the food that everyone has been eating for the past two and a half weeks.
The following two days in Chiang Mai were spent at a local kindergarten through sixth grade elementary school. Our service at this school was split in to halves. The first half of each day was spent in the classroom helping to improve the students' English skills, while the second half of each day was spent organizing and playing active games out on the soccer field and gym equipment. Immediately after the teaching portion of the service began, every trip member realized the difficulty of overcoming such a large language barrier. This language barrier was still a challenge during the active games portion of service. By the second day however, the trip members really started overcoming these challenges by using a lot of nonverbal communication, modeling behavior, and explaining tasks in simple terms that the students were able to better understand. As everyone was loading in the vans to leave after our second day of service it was truly evident how much our time meant to each one of the students at the school.  Jacob, Sophia, Shellie, and Jenna almost had to be pulled away because so many of the students wanted to spend just a few more moments with them before we had to leave.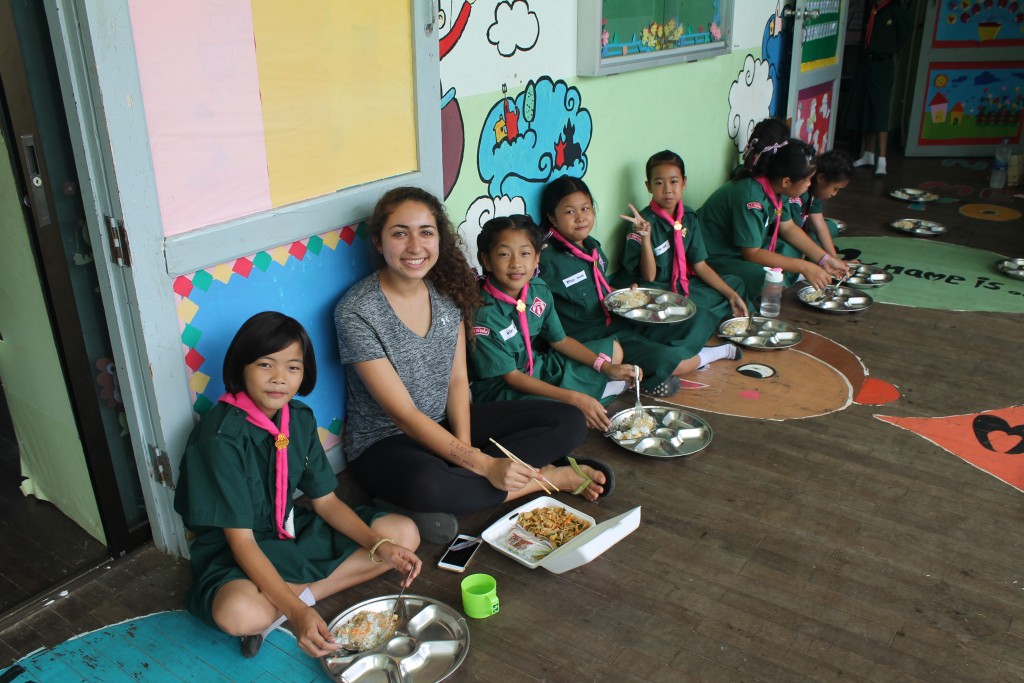 For the next day's adventure we put the chalkboards away and put on our zip lining gear! Our zip lining course had thirty five platforms to complete, which included traditional zip lines, different obstacles to climb and cross, and the most exciting of all, four rappelling free falls! After about two hours of countless screams of excitement and adrenaline-filled Go Pro videos, we had completed the course, and created a lot of great memories. It was Kara C.'s first time ziplining, and she was great at it!
Later that evening we got the chance to do a little shopping at a local market and were able to watch Thailand's national sport, Thai Boxing.  It was an action packed day, only to be matched by the next day's activity of being elephant caregivers for a day! Everyone woke up nice and early so that we could head to Patara Elephant Farm. As caregivers, the trip members had the responsibility to make sure the elephants were well fed, healthy, sleeping well, and cleaned up. The trip members analyzed the streams of tears that continuously run down the elephant's faces. They also had to make sure that the elephants were sweating above each of their toenails. An elephant that is sleeping well sleeps on each side of their body for forty five minute increments throughout the night, so in order for the trip members to see if the elephants were sleeping well, they needed to make sure that the elephants were evenly dirty on each of their sides. To ensure that the elephant's diet was healthy the trip members needed to study the poop of their elephant. Touching it was optional… an option that no trip member chose! And last but not least in order to make sure that the elephant was clean, the trip members had to give a bath to each elephant. Everyone walked their elephant to a pond on the property and hopped in the water with them to scrub down the elephant's back, sides, and face until there was no more dirt on them.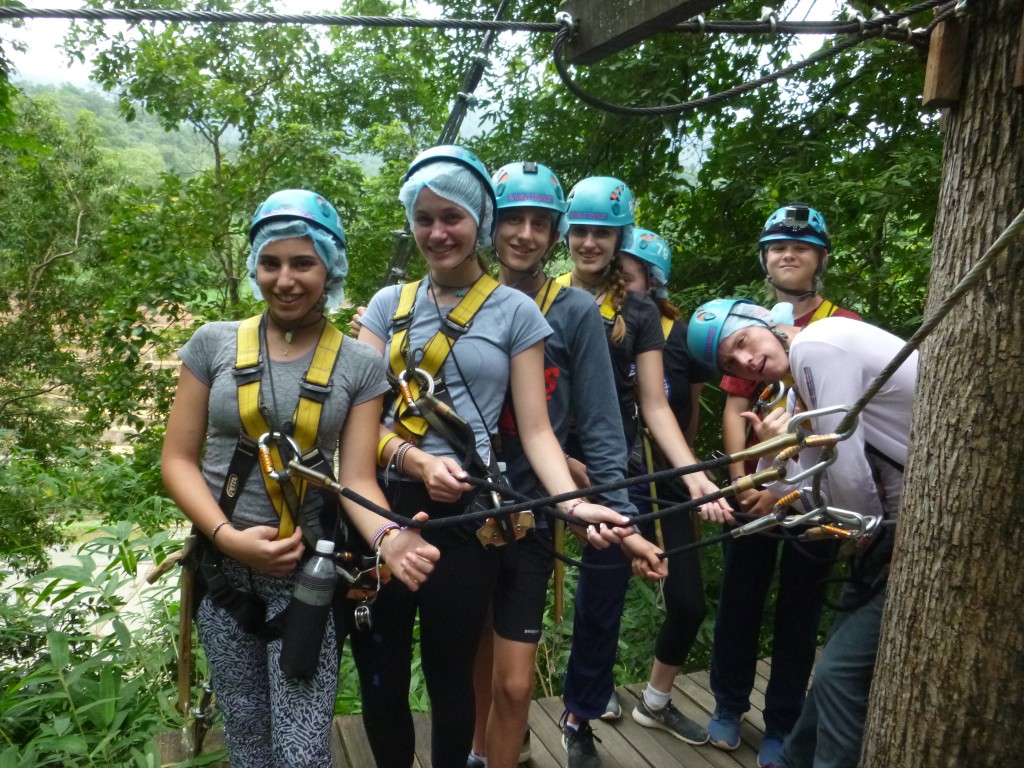 After giving baths it was getting close to lunchtime, so everyone hopped on their elephants and rode them to our picnic lunch, located in a beautiful valley. Though we didn't have to do any real heavy lifting throughout the day, the excitement and responsibility of being an elephant caregiver for the day took the energy out of everyone, so a nice relaxing evening going out to eat and then heading back to the hotel to play some games was just what everyone needed. Our relaxing evening came in handy the next day when, after visiting the beautiful Wat Doi Suthep Temple, which is located atop a mountain near Chiang Mai, everyone prepared themselves for a Thai Kick Boxing class! At the kick boxing class the trip members learned the basics of Thailand's national sport and had the chance to spar with expert Thai Kick Boxers. It was a great two days for Samantha B., our resident elephant lover and martial artist!
The stay in Chiang Mai was super eventful and went by in the blink of an eye. It is hard to believe that this was the longest stop in one city for the whole trip. Chiang Mai was also the last city we will visit in the northern region of Thailand. The mountains, jungles, rivers, and all of the people that we have met in Northern Thailand have been absolutely unforgettable, but we are also eagerly anticipating our stay in the sun on the beaches of Krabi!
The Westcoast Blogger
Do you want to be part of this community service program? Check out our Thailand trips for students and get ready for the experience of a lifetime with Westcoast Connection.