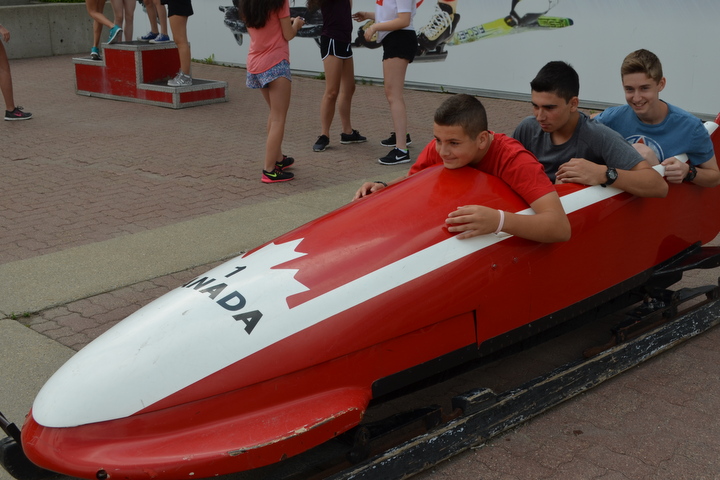 Hello from the Adventurer!
What an amazing first couple of days it has been! We cannot believe it was only Monday morning that we started our journey. Our past two days in Calgary have been filled with "ice breaker" games, exhilarating activities and a little taste of college life by staying in the University of Calgary dorms.
After saying our goodbyes to our families in Montreal and Toronto, the entire Adventurer family met up in the Calgary airport and hit the road. We met our amazing bus driver, Bill, who has a bobble head on his dashboard that looks exactly like him. Upon our arrival in the dorms, we played a bunch of great games. After a competitive showdown between Max M. and Taylor, Max was named the winner of our hilarious game of "Bang Splat" and we found out that Jamie likes Jogging, David likes Drumming and Tyler likes Tying knots (see what we did there?!).
Our action-packed day continued on with two intense games of laser tag. In the first game, it was each man/woman for him/herself. Matthew came in first place, closely followed by Dylan. For the second game, we divided the group into two teams – red vs. green. Like a scene straight out of Mission Impossible, Natasha and Alyssa darted to avoid lasers as Adam snuck around corners and crawled through obstacles. Everyone put in a strong effort, but in the end, the red team was victorious – with Jordan coming in first place and Ryan B. coming in second. We worked up quite the appetite and devoured a delicious meal at Jack Astor's. We ended our first day getting to know each other a bit better and hanging out at the dorms.
This morning, we enjoyed a delicious breakfast at the University of Calgary dorms. En route to Canada Olympic Park, we admired the skyline of downtown Calgary and learned tons of interesting facts about the city from one of our trip leaders, Noah. Did you know that excluding Toronto, Calgary has the tallest building in Canada? We didn't! (Thanks Noah!). Before heading up to the Olympic bobsleighing track (yes, bobsleighing), Jason showed us his moves, leading the way in the "Ride the Pony" game and we all got a good laugh playing "Ninja", another game that Zach suggested we play. With the help of a professional, we bobsleighed down the Olympic track three at a time. Ryan M. was cool, calm and collected and Oliver and Jackie were both spotted taking the front seat. What an adrenaline rush! The best time was 48 seconds, but everyone had a blast! Afterwards, we enjoyed our lunch there and were lucky enough to see some hockey players from the WHL and AHL practicing. We finished up our time at Canada Olympic Park with a fun round of mini golf.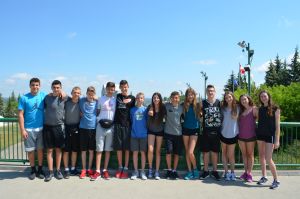 This evening, we had dinner at Boston Pizza. Jacob was spotted trying all kinds of chicken wings – he hasn't decided on his favorite yet, so we'll have to report back. We finished up our day at the Southland Leisure Centre. Sydnee and a few of her friends enjoyed the wave pool, while Bailey, Maya and Kerri went down the waterslide.
We are now wrapping up our time in Calgary and we are happy to say it was an amazing first stop! We are so excited about our Canada day plans – rafting and camping in Banff. Can't wait to see what the next 38 days have in store for us.
Talk to you soon!
The Westcoast Blogger
Interest in learning more? Explore our Canadian student travel programs and start planning your next adventure with Westcoast Connection!