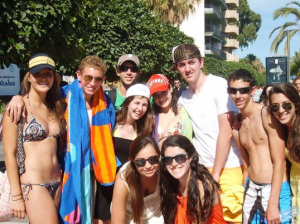 Hola de Espectacular Español!
The Westcoast Blogger
As the weekend comes to a close, we cannot help but look back and reflect on all of the cool experiences we have had in this one week that many people don't get to have in a lifetime. It makes us smile just thinking about some of our first bidet experiences, chasing a peacock through a castle where the royal family once vacationed, row boating on a pristine pond in Madrid's Retiro Park (a personal favorite of Arden S.), walking through the Royal Palace in Madrid (which JB B. and Candace S. loved), or climbing 35 flights of ramps to the top of a castle to see out over all of Seville (most of us thought it was 10 to 15 ramps before we started the climb, but it was well worth it. Spencer K. showed his chivalry and strength by
carrying Kate C. up about 25 of the ramps because her foot was bothering her).  
 
On Thursday, we finished our week of classes in Madrid and headed for Seville. We had dinner at VIPS, where we all sang happy birthday to Sarah D. in Spanish and the waiter brought her multiple desserts, which called for another singing of happy birthday in Spanish. What a great way to celebrate her Sweet 16!  
Friday was pretty busy as we started off by touring a bull fighting ring, stepping foot in the same room where the toreros (bullfighters) pray before a bullfight. During lunch, while the counselors Rob and Steve were sitting at the group meeting spot, two newscasters approached them and asked what they like to do to stay cool on the hot days in Seville. When we got back to the bus, our bus driver Maximo told us he was eating lunch with some friends when he saw them on the news. How crazy is that!?! 
Upon returning to the hotel, we got to cool off in our hotel's rooftop pool. One of the traditional Sevilliano ways to keep cool is to purchase a hand fan, which Kayla K., Nicole  K., Savannah R., and Sammy G. all bought. The fans come with instructions of how it can be held and waved in different ways to convey different meanings. The girls had fun learning the fan language.
On Saturday night, we went to a flamenco show after taking some lessons. The show was amazing and with the musical and dance talent in our group, we could have put on a good show ourselves. Stanton S. just bought a guitar and has impressed us with his tunes on the bus. Spencer K.'s voice has crazy range and he has some mad beat boxing skills, which everyone keeps asking him to do. Finally, we have some really experienced dancers on our trip, with Tori W. and Julia G. having a combined 20+ years of experience. Julia was personally complimented about her dancing by the flamenco dance instructor. Later that night, we got to visit a local disco, where we were "bailando a la musica" (dancing to the music) and impressing the Spaniards with our newly learned dance moves.
The beach in Marbella has been a trip favorite for a lot of the group. Some of the girls that really enjoy shopping at the local tiendas are Dare R., Kristin D., Amy G., Jenna B., Elizabeth G., Kate C., and Ricki G.. With the hot sand and cold water, it made for a beautiful day at the beach. Matt W., Lindsey L., Ariel S., Tori W., and Rachel G. relaxed in the sun on the beach and got a chance to cruise the boardwalk. Sam W. and Kristen P. spent the a lot of time in the water.. All in all, it's been an amazing trip up to this point.
Adios!
Spanish Spectacular Trip 55