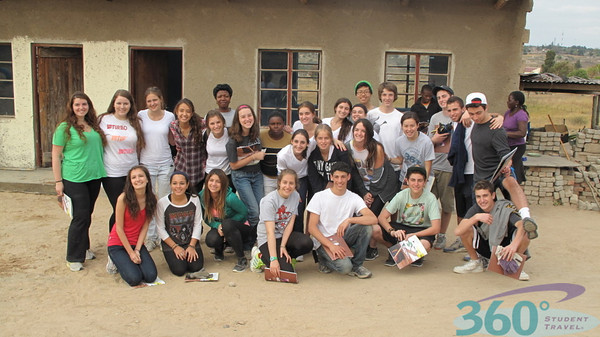 Time for a recap on the past week in Kruger National Park and our extreme school makeover project…
The morning after the last blog, our crew awoke early to catch a glimpse of the Big 5 on safari. Tamzen quickly proclaimed that every time you spot an animal you must declare, "Well spotted" with a British accent. Soon enough, we were pretending to be on an old-fashioned game drive and we spotted giraffes, zebras, elephants, rhinos, impala, a leopard and the very rare white lion.
From our safari, we made our way over to meet some of South Africa's creepy crawlers at the Khamai Reptile House. We were greeted by two very curious parakeets who became quick friends with trip member Ben.
Our guide Prince also introduced us to a friendly 6 foot long python that Perry, Athena, Sarah E., Michala, Mia, Cody and Nikki all took turns cuddling. We made our way around the museum learning about all the different kinds of reptiles that live in these areas before meeting some furry locals that caused quite the ruckus amongst trip members. Yellow haired monkeys climbed from tree to tree to jump around on our backs and pose for photos with Riley, Stevie and other excited trip members.
The following three days were spent on our "adopt a school" project in the rural area of Acornhoek. Trip members were divided into teams of five to build keyhole shaped garden beds to plant an eco garden so the school can feed its students and become self-sustaining by selling surplus produce. Trip members Nick, Sarah S., Matt C., Laura, Zac and Maggie were recognized for their tireless work throughout the entire project. The teams had to use cement and bricks to shape the garden, fill it with soil, and weave a basket to place new compost, paint and finally plant the vegetables. Once the garden was complete we erected a fence by hand around the entire area to protect the garden from local goats who like to get their "munch on" on all the school's fresh vegetables. By the end of project the entire area had been transformed! Our service partner Cornee, CEO of Children's Eco Training, was at a loss for words and proclaimed that she's never met such a hard-working and determined group of teens. She has even asked us to write an article for their magazine which will be written by budding author Matt A.!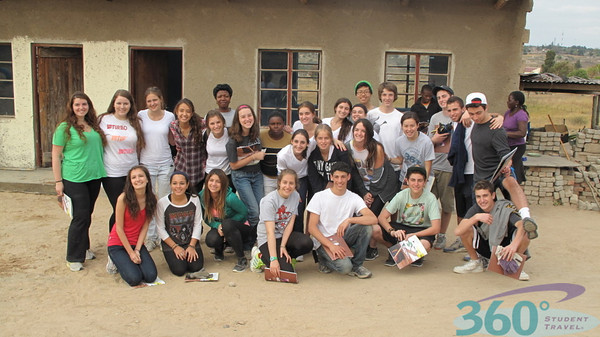 Through our work at the school, we discovered that one of the local team leaders, Arnold, a 15 year old boy, was in a very desperate situation. Over the past three days our trip had become close with Arnold and considered him a friend but knew nothing about his situation at home. Arnold is taking care of his four younger brothers and sister all alone in a tiny shack with no running water, windows or lock on the front door. He sleeps on a thin twin mattress with all his siblings and takes care of their every need. His mom works on a farm far away and can only return once every two weeks. They rarely have enough money for food or basic necessities we take for granted.
Although not the only person in this dire situation, he is by far the most in need of all the students at this particular school. Upon hearing this, our trip members banded together and pledged to make life easier for Arnold and his siblings. So after our day of service, we pulled up to a grocery store and bought new blankets, pillows, pots and pans, and enough non-perishable food to last him up to two months.
We planned to donate all our items to him the following day, our last day of the service project, but Arnold had a different plan in-store, he invited everyone over to his house so we could meet his siblings.
It was an eye-opening experience for us, including the staff, who held back tears as we struggled to fit even half the trip into his tiny two-room home. Arnold was so taken aback by our generosity he could barely speak. He thanked us over and over and embraced everyone individually. Hannah spoke on behalf of the group by telling Arnold that he's taught us far more than we could ever give him in return.
After our visit with Arnold, we drove back to put some finishing touches on the school and then stretch for our soccer rematch against the students at the school who kicked our butts last week. After a pep talk and developing a strategy, team WCC/360 was ready! Ben, Max, Zac, Alex, Nick, Sean, Matt A., Matt C., Laura, and Maggie took to the field and played a close game that was won in a shoot out 2-1 WCC/360! We celebrated by handing out candy to all the students and having a massive dance party in-front of the freshly revealed school to the African tunes blasting out from driver William's bus speakers!
Tears of joy flowed as we embraced each and every student about 100 times before loading up the bus for the last time in Kruger to head back to Johannesburg. But not before meeting the infamous hippo Jessica, riding some elephants and making a pit stop at Soccer city, location of the last World Cup!
We work hard so we can play hard. Changing the world one project at a time!
The Westcoast Blogger
Check out our 13-day and 25-day trips for a unique student travel to South Africa with wildlife, scenic landscapes, and cultural experience.