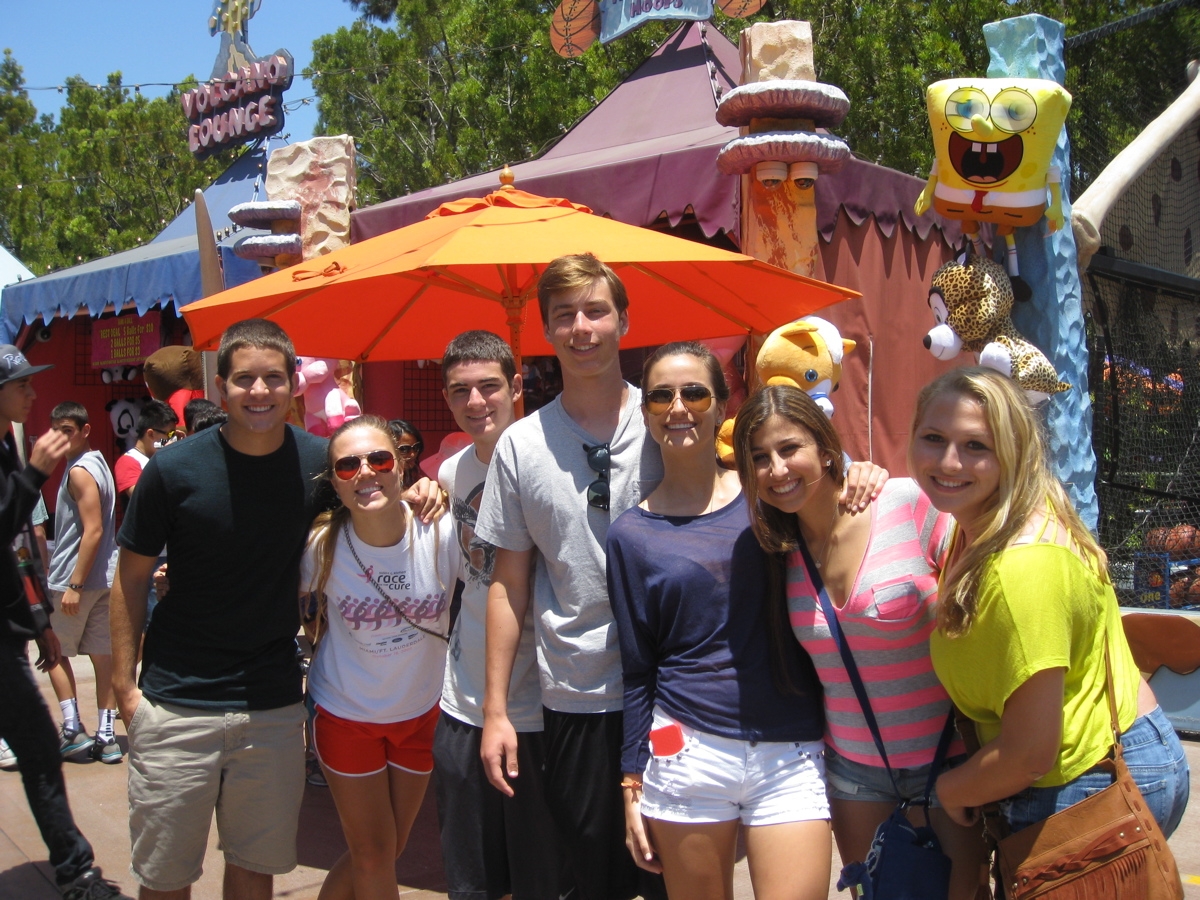 Hi!
So on day 6 of this crazy adventure of ours we found ourselves in Ventura, California. We had a cool new campground, and immediately we began exploring the field beside our campsite and the rest of what it had to offer – pool, courts etc..
We arrived in the late afternoon at Ventura and already had so much in store for our energetic and excited trip members. Our first night in Ventura was July 4th, Independence Day, which we celebrated by going to a live band that was performing near the main building on the Ventura Campgrounds. Julia C., Alice, Jacob D., Josh D., and Maddy all busted a move while the band played several classic rock songs. Everybody went to sleep that night tuckered out and pumped for the next day!
On day 7 at the Ventura Campground, Sam S. and Brett did some really cool somersault tricks on the field to demonstrate what they might do for a talent show, while Emma and Jensen did some aerobic workouts with other campers in order to remain in peak physical condition! We also got more of an opportunity to fully meet our two new campsite managers Cody and Sebastian, who helped us out while we were enjoying our stay in the Ventura.
At our 'laundry party-, there was a dance party when somebody played music from portable speakers and their phone in which mostly everybody joined. Congrats to Jake (first time) and Mailah who were all stars of the fluff and fold!!! We then headed back to the campground where an impromptu water balloon fight at the campsite broke out, where Andrew and Emilie got pretty splashed, but got their fair share of people wet as well.
Cooking was a lot of fun as people became more experienced with the procedures –  Julia S. and Lisa really rocked the grill as we made chicken. Jensen was also extremely helpful ensuring that we always had a clean and respectful environment.
The next day, day 8, we made our way to LA, where our first stop was Universal Studios. Before this activity, our trip was delightfully shocked to see Justin Bieber stopped on the highway (check out the news and you will see the story!!). There were definitely many shrieks of excitement let out on the bus at that time, and many even tweeted about it!
At Universal Studios we all had a blast riding the many awesome rides, and going on the many cool 4D adventures, such as Transformers and Shrek. Jacob B. particularly loved Transformers, while Amanda had a terrifyingly awesome time in the haunted house. We also took a tram altogether that explored the history and technology that went into Universal Studios, and the actors they've worked with. Maude and Sarah particularly enjoyed it, despite getting sprayed with a little water from the likes of Jaws and a collapsing subway tunnel!
We ended the day in the best way possible, with our first birthday celebration for Michael at Hard Rock Café. Everybody sang and we all cheered for him (technically his birthday is not until today, but we felt we might as well get the party started with everyone at the Hard Rock singing happy bday!). Everybody had a great time on City Walk and in Universal Studios, and I'm sure many will be itching to return in the near future.
Hope everything is going as well for you as it is for us!
All the best,
The Westcoast Blogger