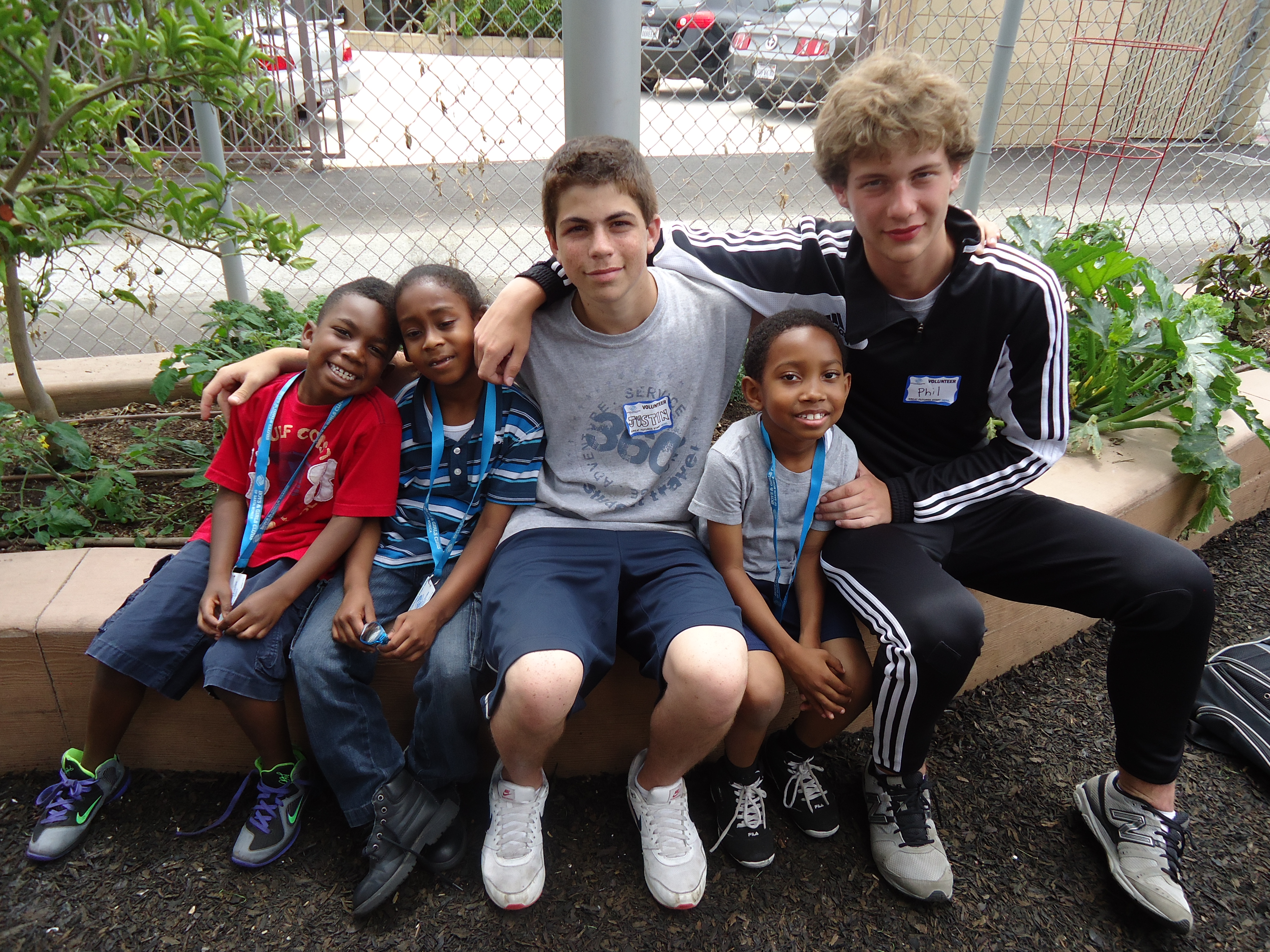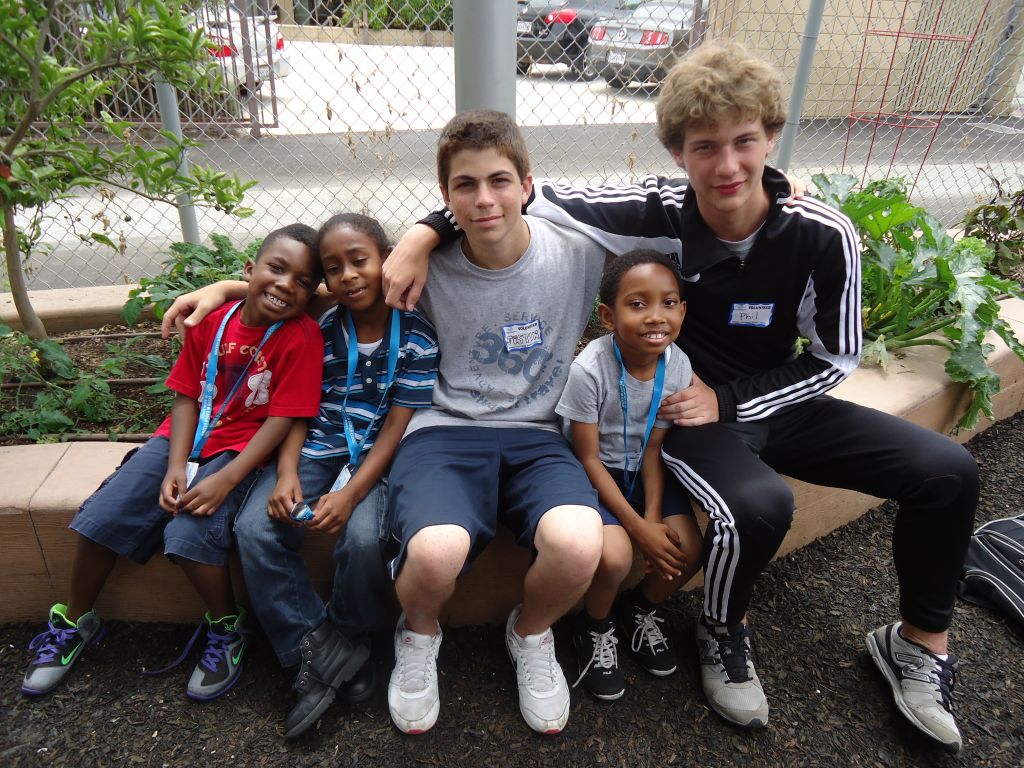 Another update from California Community Service:
Happy Independence Day Everyone!
Today we began celebrating Independence Day with a trip to Venice Beach! Some of the group is from Canada and this is their first time being in the United States for the celebrations. There were lots of people on the beach and even more people on the sidewalk. There are so many shops and vendors around and there was a large body building competition going on at Muscle Beach with some incredible muscular people around. Beth, Sarah and Dana got hair wraps, and Jess got a nice star Henna (fake) tattoo on her hand. Sam, Philipp and Ellen were the only three to brave the slightly cooler weather and go in the waves, but they had a blast body surfing and trying to catch the perfect wave. While chilling on the beach, Chelsea had eyes like a hawk and was looking out for any possible animals in the water.
Yesterday night we had a different beach experience down at the Santa Monica Pier. The group had time to go down 3rd Street Promenade and check out the shops and have some dinner. Following that we went to the pier where everyone had the chance to go on the Ferris wheel for beautiful night time views. It was Hannah and Mallory's first time on a Ferris wheel which was awesome to get to do it in such a beautiful place and with a wonderful group. It was actually quite thrilling going backwards at times because when you were going over the ocean it felt like you were going into oblivion!
So far we have completed two most memorable and rewarding days of community service. We are volunteering at the Boys and Girls Club in Santa Monica, a club that gets on average 600 kids a day! The group gets to divide themselves into the age group that they want to work with and then they rotate with that group to different activities that include arts and crafts, the gym, playground, basketball courts, learning center, games room and tech room. It is so rewarding to see the kids' faces light up with the joy simply of having one of our group members take the time to get to know them, give them attention and love. Many of the members of our group really realized how privileged they are and to really appreciate the little things in life. They saw how little things that you do for a person can really make a huge difference and put a smile on a kids face: words of encouragement, giving a high five, playing catch or helping them build a volcano. All of the kids at the club asked our group if we are returning the following day because they have bonded so much and can't wait to play with our group again. On the first day Justin quickly found his place with the eight year olds and developed quite the following. Everywhere they went they were looking for Justin and couldn't wait to spend time with him, hold his hand, play tag with him. Sam and Stone showed the teacher in them. Sam taught kids how to play basketball and the kids really looked up to him. Stone taught ping pong ball, and the kids made sure at the end of the day that he would be coming back tomorrow to play with them. Mallory believed in one child who thought they could not jump rope, and with her encouragement the kid found enough confidence to try it and was successful! Sarah, Morgan, Beth, Sydni and Dana took leadership initiative and had groups of children playing small group circle games that they absolutely loved!
On Day two at the Boys and Girls Club we asked the group what some of their favorite moments of the day were. Here are some to share with you:
Justin: When my new friends didn't want me to leave.
Beth: Talking to a little boy who I saw was shy and was left out and he was eyeing the Frisbee and I asked if he wanted to play and his face just lit up. I just talked to him and played with him and it made his day.
Morgan: Playing and organizing games with a group of kids and watching them smile and have fun.
Mark: One kid hit a buzzer beater in basketball and his team went nuts. They still lost by 10 but it was sick.
Mallory: My favorite moment was when a shy kid started to come out of his shell and gained confidence to finally go out and participate.
Sarah: The girl I helped yesterday who was having a bad time felt much more comfortable being there and was much more involved in the activities. She was making friends and was much more confident.
Hannah: As the kids watched us leave the building for lunch, one yelled from the window, "Are you leaving? Please come back!" It made me realize what an impact we all had.
Jess: When boys were talking to me about wanting to be professional basketball players when they grow up.
Dana: Speaking Hebrew to a Jewish boy.
Stone: Playing tag with a little boy and making his day!
Anna: When I walked in this morning a lot of the kids remembered my name and were excited to see me.
Till next time, friends and family!
The Westcoast Blogger