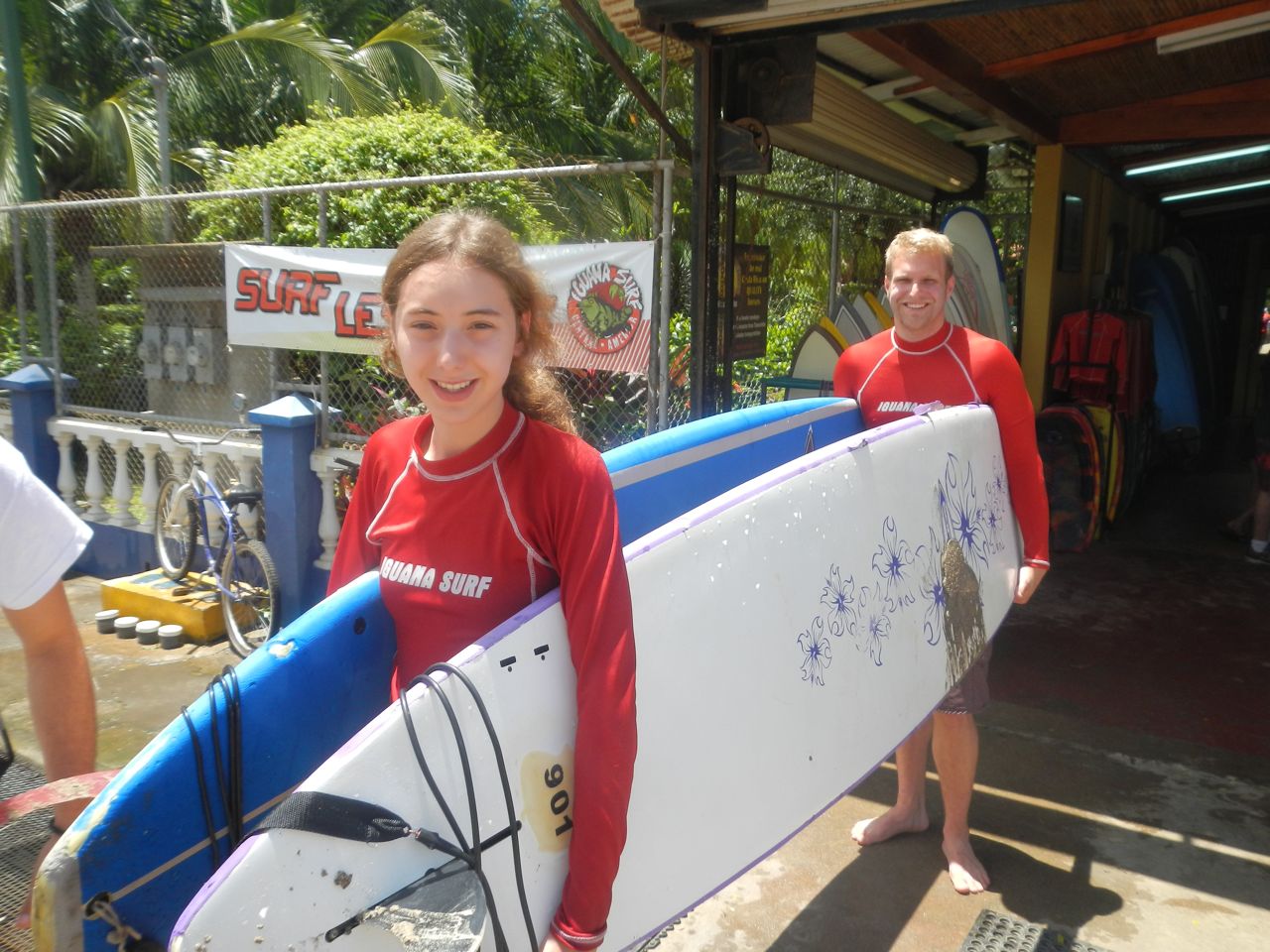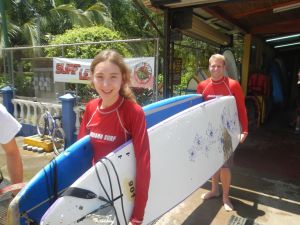 Greetings again to our friends and family,
Trip members and staff are in disbelief that it is already Day 11 of our 14-day adventure in Costa Rica. However, we have been making the most of the last couple of days as we come into the home stretch of our trip.
Tuesday, July 10 was our first full day here at Playa Flamingo here in Guanacaste. We wasted absolutely no time upon our arrival to the Pacific shore, as everyone got up bright and early to head the beach to take the boat out for a day of sailing, watching the waves, and snorkeling amongst the tropical fish. Trip members lathered themselves in sunscreen and hit the boat deck with their towels on the boat deck to soak up the rays during our transit out to sea, and we even saw turtles swimming alongside our boat greeting us for our arrival in their waters. At our snorkeling destination, everyone suited up with flippers, goggles, and noodle floats see the underwater tropical world off the coast of Costa Rica. Many trip members even bravely took turns holding an octopus that had joined the boat's passengers while we were in the water!
After snorkeling, we headed back inland to CPI where they began their first day of Spanish classes in this region of the country. All the students are hard at work practicing their written and oral Spanish, and they have all taken great strides in even using their Spanish outside the classroom! We are all very proud of their efforts and progress. For their determination, all the trip members were treated to a gelato for an after-dinner dessert. Even after the packed day, all the trip members had enough energy to play a game before bed called "Mafia", where the citizens of a town need to figure out who amongst themselves are mafia members removed players from the game. Brandon, Marissa, Brittany, and Taylor – who used their sly skills to outwit the rest of the townspeople – were unable to be identified and brought to jail as the mafia members of the town.
After a long day full of snorkeling, academics, ice cream, and games, the trip members hit the hay early in order to rebuild their energy for a morning of surf lessons at the Iguana Surf School in the coastal town of Tamarindo. Only a handful of trip members had ever surfed before in their lives, but this did not discourage anyone. Those who had surfed before got the opportunity to perfect their skills while the rest bravely paddled out in the Pacific waters to learn how to paddle, pop up, and catch a wave in toward the shore. Every single trip member was able to catch at least one successful wave, and we all returned back to shore even better surfers than before thanks to our wonderful surf instructors. After surfing, we rewarded our physical exertion with a lunch in Tamarindo and some time to go souvenir shopping whilst exploring the small coastal town. Afterward, we headed back to CPI for yet another afternoon of language lessons, which was followed by dinner, group games, and bed.
Not to worry, even amongst all the fun and adventurous activities, we have not lost sight of the community service aspect of the trip. Thursday, July 11 we all got up bright and early to head to the local elementary school – Escuela Huacas in Santa Cruz, Guanacaste. Ashley and Leslie took to touching up the tip of the school; Austin and Tamara repainted the gates at the entrance; Sam, Brandon, Jay, Cassidy, Aria, and Taylor spent the morning sanding down and staining students' desks; and Marissa, Brittany, Lauren, and Ilana repainted walls that were in need of some care. Students of la Escuela Huacas are currently on their mid-term vacation for two weeks and have no idea that Westcoast/360 trip members were coming to help beautify their elementary school, so we are all very excited for them to come back and see what we have done so far upon classes resuming next week. Currently, all the trip members are back in their classes at CPI, and tonight we will be going back to town for a night of disco!
We are having an absolute blast, and we are all excited to finish out the last two full days of the trip with a bang. We will be sure to be in touch, and we will be seeing you all soon upon our Sunday departure!
Saludos desde Costa Rica como siempre! Pura vida!
The Westcoast Blogger