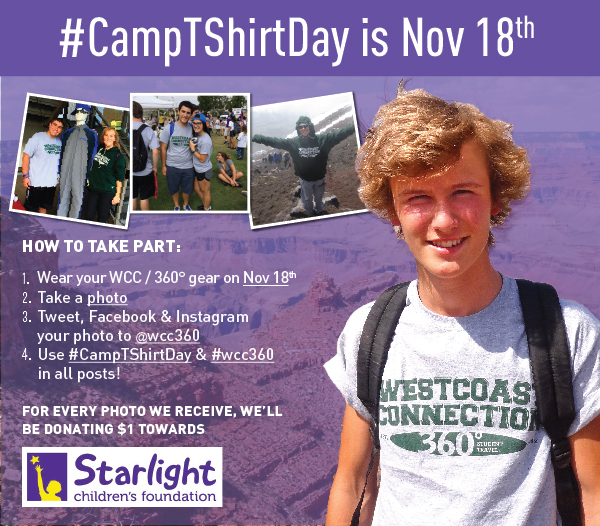 On Tuesday November 18th campers, parents, staff and alumni will wear their favorite camp gear and submit photos on Twitter, Facebook and for the first time…Instagram! After the 2013 campaign exceeded expectations with 10,000 + participants and two hours of trending nationwide on twitter — CRAZE Interactive–Camp Craze is estimating 15,000-20,000 participants this year!
International Camp T-Shirt Day helped to raise $3,000 towards Sandy Relief in 2012 and $6,380 supporting SCOPE (Summer Camp Opportunities Promote Education) in 2013 and in 2014 – CRAZE will be opening up fundraising and support to participants.
"We love Camp T-Shirt Day and what the event has done for camps across the nation" said David Goldberg of CRAZE Interactive–Camp Craze. "It all started with the simple idea of having campers, staff and alumni wearing their favorite camp gear and sharing their camp pride and spirit on social media; it really has turned into a world-wide holiday which really shows the power of camp!"
CRAZE released a few changes to #CampTShirtDay on Tuesday which allow participants to contribute to causes they care about. "Camp T-Shirt Day is really about a love for camp; but it has turned into a charitable event that more and more people want to be a part of each year" said Mr. Goldberg.
CRAZE hopes this move extends the message to get behind causes we care about; particularly our campers. Each year we find that even the smallest of participants can make a difference and it's a powerful message that CRAZE hopes can rally even more people to take part. The PR Department of CRAZEs new Management Firm will be following up on the efforts of camps and participants in the days and weeks following the event. CRAZE will be making a donation to each of its selected charities at a Spring charity event in honor of those who took part on November 18th.
To recap, here is how you take part in International Wear Your Summer Camp T-Shirt Day:
1) On November 18th snap a photo of you wearing your Westcoast Connection / 360° Student Travel t-shirt or hoodie!
2) Facebook, Instagram or Tweet it to us with #CampTShirtDay #wcc360
3) You can also email it to our Marketing Department Manager Jordanna at: jordanna@westcoastconnection.com
For every photo we receive, we'll donate $1 to Starlight Children's Foundation
IT'S THAT EASY!
*Source: Camp CRAZE press release posted on November 11, 2014 under Events – http://campcraze.com/camptshirtday-2014/