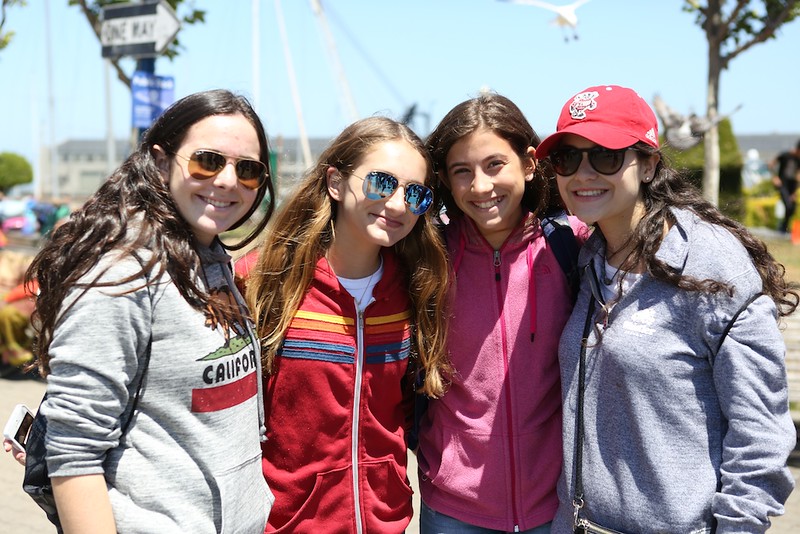 Welcome to California! San Francisco was amazing with a very
mysterious walk over the Golden Gate bridge, which had some really cool
fog. The gorgeous walk was only heightened by the amazing waters and
boats below. Besides San Fran being our first stop it is also the city
the trip leaders introduced their daily morning news show with
weather, sports, celebrity news, and this day in history.
Averey loves the show and has since "called in" to the morning show's
celebrity news section for some Grey's Anatomy actor updates. Other
highlights in San Fran were Alcatraz, Pier 39 and a ball game.
Trip members loved the mixture of relaxation and excitement on the
water in Lake Tahoe. They could enjoy the comfortable sun
and sand games were a fun break from the water sports among the
mountains. Our cruise and rafting adventure was a blast.
Camping was a new experience for most trip members. They confidently
stepped outside of their comfort zone by helping cook their own food
and making s'mores over the campfire. Bonding in the outdoors promotes
so many more memories that you just can't find at a hotel. Lots of the
girls enjoyed a designated "girl chat" with a hilarious group
story-time before bed. We also had a "Cut throat Kitchen" competition
between the trip members challenging them to make the best dessert
among camping materials. There were a few curveballs with sabotages
like cocoa powder and lucky charms, which each group handled with
grace. The winner was team three who, as a prize, received DJ
privileges on the next travel day. Their expertly plated dish had
chocolate, doughnuts, sugar, syrup, and some caramelized bananas. You
had to be there to believe it!!
Yesterday we traveled from Lake Tahoe to Ventura and besides enjoying
team three's DJ services, we also played a game called "Quest." This
had them digging through their bags for random items like ticket
stubs, singular socks, and shoelaces. It was a timed event pitting the
left side versus the right. We ended the day by heading to the movies.
Everyone is very excited for 4th of July celebrations and most of all
Los Angeles tomorrow.
Happy 4th of July!!! Until next time, the Westcoast Blogger