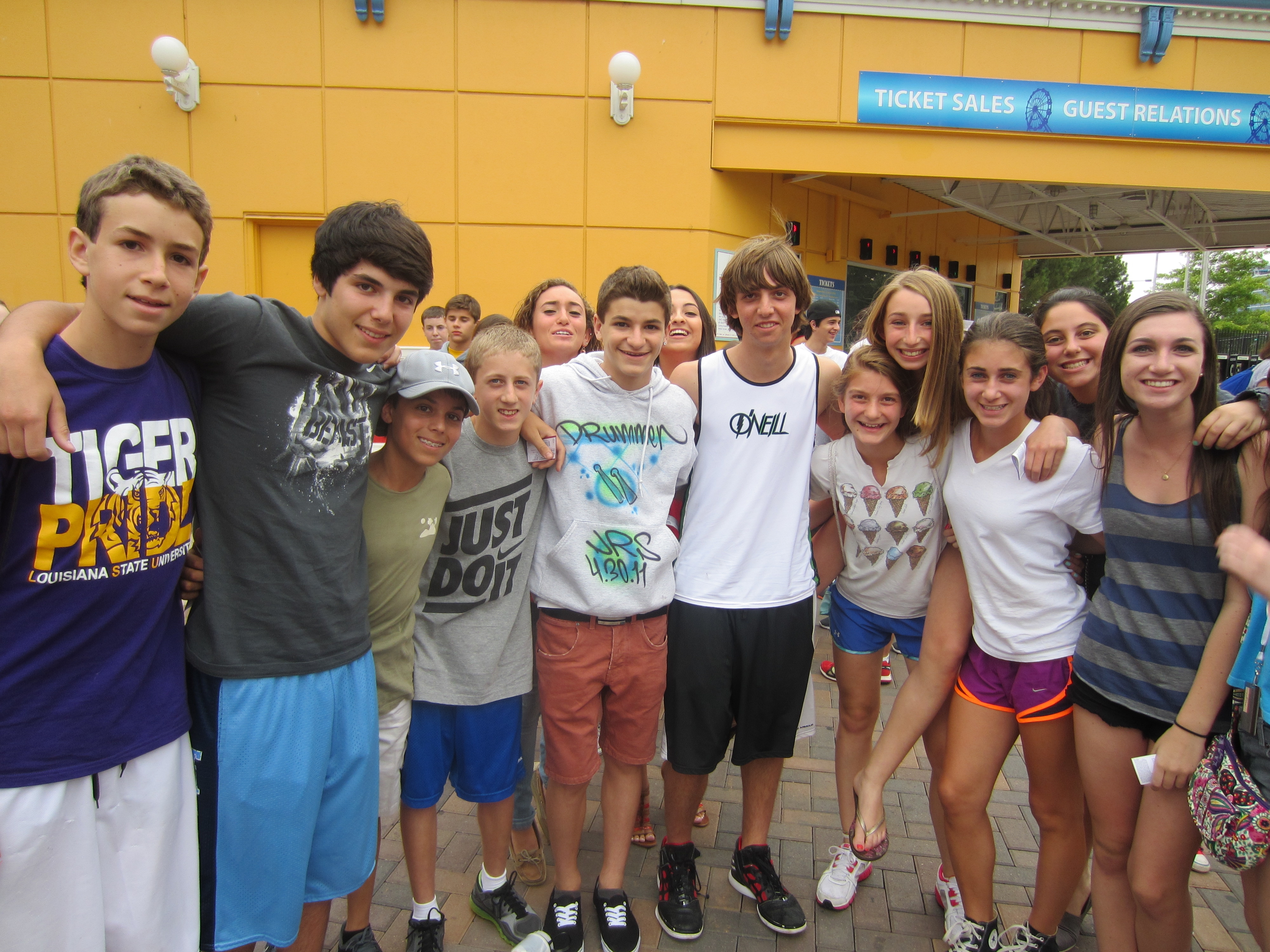 On our first night we enjoyed a great night of bowling! Jake, Sarah and Matt had a very strong game and you could tell that the three of them had done that before.  Bowling gave everyone a chance to talk get to know one another before heading back to the dorms for some much needed rest.
Breakfast at UCLA dining hall was fantastic in the morning filled with pancakes eggs, and a variety of different items some new to the students and some that were very familiar to home.  The bike ride at Hermosa Beach was a fun activity where Cate and Chester did a great job setting the pace so that everyone could stay together as a group. The students had 3 fun and challenging beach volleyball matches where Julia, Becky, Chester, Jake and Billy showed their athletic skills dominating the court. For the evening, we strolled down Hollywood Boulevard to see the Walk of Fame and took a moment to snap a picture of the Hollywood sign in the background with everyone.  Then, the trip members split into groups to try to capture a unique photo of themselves in the area.   Many of the pictures will be posted on the website and they are amazing.  I am happy to say that everyone seemed to have a nice photo, and the contest helped them to interact with each other in Hollywood and see the sights.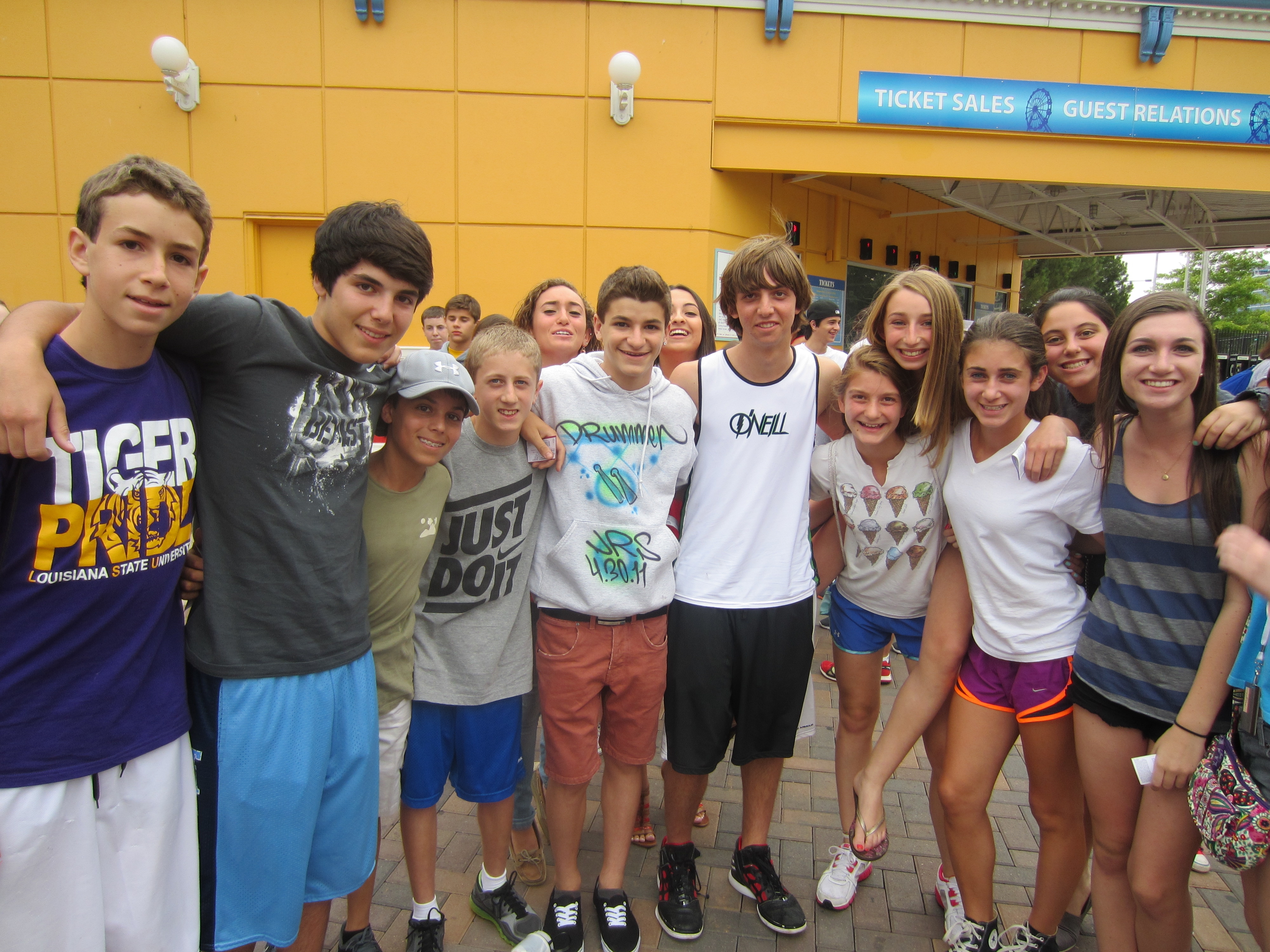 The Trip Members had their first experience with volunteering at the Boys & Girls Club summer camp.  There were 3 different areas that all the Trip Members were involved in: arts/crafts, games, and sports activities.  Everyone had the opportunity to participate in the different areas and chose skills that they were most comfortable doing.  Sarah was the social butterfly and fluttered to all of the different groups, playing her ukulele.  Jake was an active athlete and played Basketball, Dodge ball and Volleyball with the young students and fellow trip members.  During that time, Matt showed off his basketball skills and scored many points for his team then later went into the game room to meet more of the children and  later that afternoon, a game of football was played where Billy taught a young boy how to throw and catch a football for the first time. Brendan created his first hopscotch board out of masking tape and was surrounded by children who were excited to learn how to play.  Many of the young students were a magnet to Leah and wanted to do gymnastics and play "Hide and Seek".  Chester, Brendan and Billy joined in on the game of Hide and Seek which was hilarious watching the younger children beat them.  Once they had played that for a while there was a very strategic game of duck, duck, goose played that was orchestrated by one of the younger girls for our Trip Members.
Meanwhile, a group of Trip Members led the art station.  Since this week leads to the 4th of July, the young students wrote a short sentence about what Independence Day means to them.  Ariana helped the children with their writing skills and spelling. Julia exhibited her creativity by teaching the kids how to paint an American Flag.  While that happened, Leah joined for the beginning of the art activity to help figure out how to set it up and then retreated back to the many games she was running around the area.
The game room was filled with a variety of games that the children could play – foosball, pool, Wii, table tennis, board games and shuffleboard.  Becky and Catherine played Dance Central on Wii for the first time and had several children grooving to the music with them.  Catherine formed a bond with one of the young girls and played many of the games with her in the room; hopping from one game to another.
Later that afternoon, Chester led a foosball tournament.  Cate was the board game and card game expert; she rallied many students to play Monopoly, Connect 4, and cards. Sarah was playing her instrument, helping with games, and became our photographer for a short while when she needed a break from the basketball game.  It was a fantastic first day of volunteering!   The experience was gratifying and fun for everyone!  We all hope things are just as exciting at home. Until next time!
The Westcoast Blogger
Have we piqued your interest? Explore our 10-day, 21-day or 28-day tours and community service projects for teens in California. Start planning your own adventure with Westcoast Connection. It will be the travel experience of a lifetime!