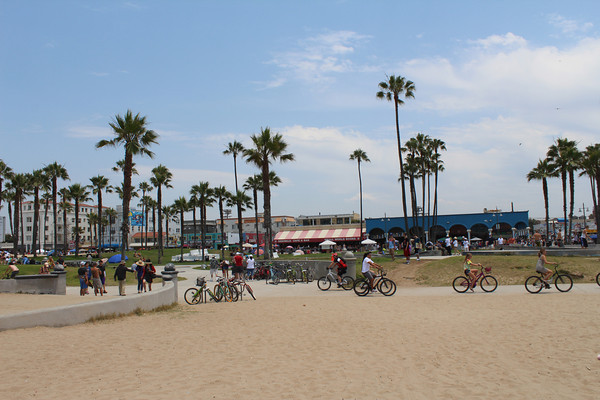 Greetings from sunny California!
Since the arrival of our first trip member, to the world famous Hollywood Improv, it's been an amazing couple of days full of new friends, new sights and new experiences.
After a fun-filled first day, we headed to Venice Beach to take in the sights. After speculating about the possibility of seeing a celebrity, Rebecca, Tess, Lindsay, Hannah, Adinah and Erika ended up running into Frankie Munez! He told us about how he was traveling with his band and, although he was busy, he took the time to snap a few pictures and flash us a smile. Some of our trip members decided to take in some of the oddities that Venice Beach is known for; Max, Ethan, Sam, Jack and Darren visited the Venice Beach Traveling Show and saw such sights as the world famous Wolfman, several two headed animals, and a man who seemed to pierce himself painlessly. After grabbing a slice of Big Daddy's beach pizza, we headed back on the bus to continue our day at Six Flags Magic Mountain.
We wasted no time taking advantage of the variety of attractions available to us at the amusement park. While some of the trip members decided to take on the biggest and fastest roller coasters the park had to offer, others opted for the water-based flume rides to cool off from the beautiful weather. Kevin and Jesse teamed up to tackle Full Throttle – the world's tallest and fastest looping roller coaster – while Kyle decided to try his shot at one of the basketball games. Despite the balanced rim and distractions, he sank several shots and walked away the proud new owner of a 3-foot tall teddy bear. Our new trip mascot, appropriately named Ted, has since decided to follow us on our adventure as we travel.  With some help from his new friends, Jack decided to ride The Riddler's Revenge, the world's fastest standing rollercoaster. To end off our day, Robbie, Zack, Rachel, Gary, Amber and Sydney all dared to ride The SlingShot; one of the newest and arguably the most thrilling ride in the park.
Rollercoasters and beaches haven't been the only things keeping us busy though. As the sun rose high in the sky the next morning, we headed towards San Dimas for another fun day in the beautiful California sun. Raging Waters, California's largest water park, brought out the inner ride warrior inside Jesse, Linda and Hayley. After a brief hesitation, they raced down the incredibly steep 7-storey waterslide, ending in laughter and a bout down some of the more relaxed slides.
As I'm writing this, we're packing our bags and heading out to the wonderful city of Las Vegas, where I'm sure that we'll have a blast!
The Westcoast Blogger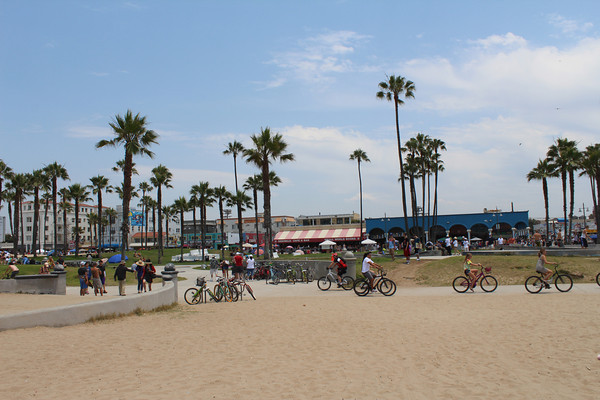 Do you want to be part of this experience? Visit Hawaiian islands and Canadian west coast in our 21-day Hawaii Spirit tour.