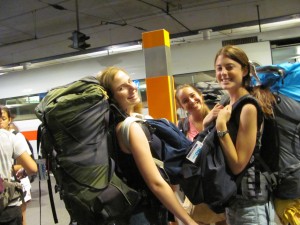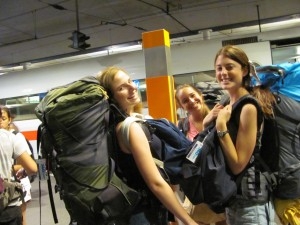 Buongiorno Backpack Europe friends and family!
Venice was a truly unique city to visit. Aidan and Alex experienced this first hand as our trip's navigators, they quickly discovered that this city is actually a series of interlocking islands all woven together by a series of bridges. Reading the map, they noted that any shortcuts would lead us straight to a canal's edge. As we strolled throughout the streets of Venice, Emma commented that Venice "doesn't seem like a real place," suggesting that the presence of boats instead of cars and canals, and rivers instead of streets is something right out of a Disneyland theme park!
Visiting the Jewish Quarter in Venice was quite interesting and it was very cool when Remi shared with us her ability to speak and read Hebrew. Sunny enjoyed the markets around the Rialto Bridge, adding to her mask collection, while Alec opted for Murano Glass (after watching a very impressive glass blowing demonstration at Vecchia Murano). The highlight of Venice for Shayna was a traditional gondola ride, where she took the opportunity to relax and appreciate this city from it's intended vantage point, the water. Jenny noted that Venice was the city she was most looking forward to visiting on this trip and that her expectations were definitely met, if not surpassed!
From Venice, we made our way down to Florence, the capital of the Tuscany region and the Italian city famous for its street markets and art-embracing culture. At the Accademia Gallery, Mara admired the famous "David" and was thoroughly impressed by Michaelangelo's ability to carve such a detailed and expressive face out of white marble.
After some time spent exploring the Ponte Vecchio and Piazza Del Republica, we made our way over to our much anticipated cooking lesson at a local cooking school. Jeremy was probably the most excited to don his apron and learn some new skills. Our trip members displayed excellent culinary talent following the direction of Vincezo, with Zach and his crew preparing linguine from scratch, Mike, Sam and Josh's team stretched our palates with a stuffed zucchini dish and Bennett helping to prepare an orange zest Florentine cake for dessert. The meal was excellent and we all had a chance to refine our skills in the kitchen. With our stomachs full, we set out to Space Electronica disco, where we danced the night away!
Today was our last full day in Florence and we have certainly made the most of it. We climbed up the narrow and ancient passageways of the Duomo and took in the awe-inspiring 360 degree view of Florence. As a group, we decided to take advantage of the fact that we were in a major city and we set out to the movies to see the latest Harry Potter film. Tomorrow we are off to Sorrento for a whole new set of adventures!
Ciao for now!
The Westcoast Blogger