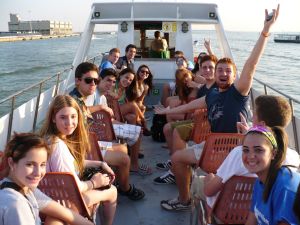 Buon giorno friends and families of On Tour European Experience,
The following details of our trip are perfectly bookended with two great beach visits. Our first stop was at the beach in Rimini. A great town frequented by Europeans for their vacations. During our time there, many Trip Members found themselves on the beach volleyball and basketball courts. Troy, Jeff and Josh beat Henry, Mitch and Cody La. in a friendly game of basketball.  Those who decided to take it easy did as the locals do and layed out on great lounge chairs and enjoyed 2 relaxing days beach side. Valentin enjoyed relaxing on the beach and found the water really nice. Our first night in Rimini was a night we will all remember. We hit up a local club called Life and danced the night away to familiar and even some not so familiar songs. Julio had a great time at the club. The club was lots of fun and a great night was had by all. Our second night was more competitive in nature. Those who have golf experience got to show their skills, in mini putt form. Brooke and Allie had a great time mini golfing and really enjoyed the gelato later on that night.
Day 18 we arrived at the nation's capital of Rome or as it is called in Italian, Roma.  Our toga party was lots of fun especially since we wore traditional Roman togas and were serenaded by 2 wonderful Italian opera singers. Definitely a great experience.  Michael embraced this very authentic meal and enjoyed every minute. No trip to Italy is complete without visiting one of the most famous fountains in Italy and possibly in the world. Trip 46 headed off to Trevi Fountain and were given free time to explore, people watch and even pick up some delicious gelato! Lots of great photo opps were had and the group got to see one of the great attractions Rome has to offer. Sarah was most looking forward to the famous fountain and was very pleased with what she saw and took part in the ritualistic coin tossing and wish making. Jordan and Kaela also loved the fountain and made their own wishes when they threw coins in the fountain!
Continuing with great experiences the wonderful weather of Rome was waiting for us along with our tour guide Mario on the morning of day 19. We had a great time traveling back in time thousands of years and visiting the Coliseum, the Roman Forum and the Pantheon. Boone really enjoyed the architecture of the Coliseum and was amazed that it is still standing almost two thousand years later. Ethan was impressed by the sheer size of the structure and the history of the city.  We also walked through one of the most famous churches in the world, St. Peter's Basilica, but not before seeing Michelangelo's masterpiece, the Sistine Chapel. We learned from Mario that chapel was painting more to Michelangelo's liking than the pope's at the time. We also
learned that as Michelangelo moved through the progression of the panels, his attention to detail and the size of the characters
decreased and increased respectively. Mario explained to us that it was because if Michelangelo maintained that same detail and character size, he would have never finished the ceiling. He noted that it was hard enough for the artist to paint upside down, to do it for what may have been forever, was not what Michelangelo signed up for. Cody Litman was very impressed by the Sistine Chapel and loved the explanations Mario provided on the tour. Dinner in small groups that night was a lot of fun as the groups were given the opportunity to explore Piazza Navona, a small square in Rome that has street performers and local artists trying to intrigue tourists with their various forms of art and entertainment. Following dinner, many Trip Members indulged in some gelato and enjoyed the various sights and sounds. Musicians, mimes, and even tap dancers all had us watching with glee.
Following our time travel to the past in Rome, we did not want to miss another amazing chance to learn about Italy's past. As we made our way to Sorrento, we stopped in Pompei, a city of ruins. The city is located very close to Mount Vesuvius, an active volcano. Not to worry folks, research is constantly being done to calculate the next eruption and it is not anytime in the near future, so they say! We are thankful for that, after the devastation the eruption that occurred in the first century AD caused.  We walked through the ruins and saw old homes and buildings that withstood the ash and chemical gases released almost 2 millenia ago. Alanna really enjoyed the history and took some great pictures of the remains. We learned a lot walking through the city but jumped back on the bus and continued to Sorrento on the Amalfi Coast.   Lucky for us, there was a street festival taking place and the main road was lined with small street vendors and goodies for any and all to enjoy. Sara took this opportunity to enjoy a delicious cotton candy. A small concert and an Italian play was taking place in the town center square while most boutiques and shops seemed to remain open on the side streets of Sorrento.
Day 21 began with a boat ride to an island about 30 minutes from the mainland of Sorrento. On Tour European Experience had the great pleasure of visiting the chic island of Capri. We took the funicular, a cablecar/elevator ride up to the top of the island where Trip Members had lunch and a chance to see where Hollywood's most famous celebrities shop and dine. Reid along with Ryan, Jimmy, Joe, Cody La., Sammy, Bobby and Brad all enjoyed lunch at Aurora, Capri's most famous restaurant to the stars. Isabelle had a great time in this area and was very excited for the boat tour later that day. After lunch we headed down to the water for an exciting boat tour of the island. We saw the green and red grottos and water so blue we could see 30 feet down. Melissa and David O. found the blue grottos in particular very beautiful and enjoyed our boat ride very much. Raquel and Ari rode on the same boat through the grottos and enjoyed every minute of it.  We passed by yachts owned by designer Valentino and the Princess of Jordan. Hayley loved Capri and wishes she could have her own yacht there someday.  We also saw the famous 3 rock formation in the water for which Capri is famous. Legend says that if a couple kisses as they pass through the small tunnel, they will have eternal love. After dinner we went to a disco/karaoke club with a dance floor.
Day 22 was the beach bookend to this update. We ventured off again on another boat but this time we actually remained in the mainland, but a 45 minute boat ride to the other side of the island. On Tour European Experience spent the day beach side in Positano. A beautiful city nestled in a cliff overlooking the Amalfi coast was where On Tour European Experience hung out. Ilana and Hannah both enjoyed the beauty of the city and loved the refreshing pebble beach. Ilana also enjoyed the most delicious pineapple she ever ate. The water was the perfect temperature in which to cool off especially after Troy, Jake, Jack, David J., Jeff took a nice trek up the cliff for a delicious meal with a beautiful view of Positano's marina and beach. After a great day at the beach, Trip Members got ready in their best night attire for dinner and dancing. This time three Westcoast Connection/ 360 Student Travel trips were hitting up the dance floor to see which Trip Members have the best dance moves. Cameron and Ilyssa had a great time at the club along with the rest of the Westcoast and 360 Student Travel trips that night.
A day in Italy has not been complete for Andrea without gelato. She was very excited when she found a gelateria in Sorrento that had 80 flavors. She chose nutella and stracciatella, which is chocolate chip.
Just a few more days in wonderful Italy and then it is back to France. We are on our way to Florence today and can't wait to climb the Duomo and see Michelangelo's David. We hope you are just as excited for us.
Arrivaderci,
On Tour European Experience gang
The Westcoast Blogger