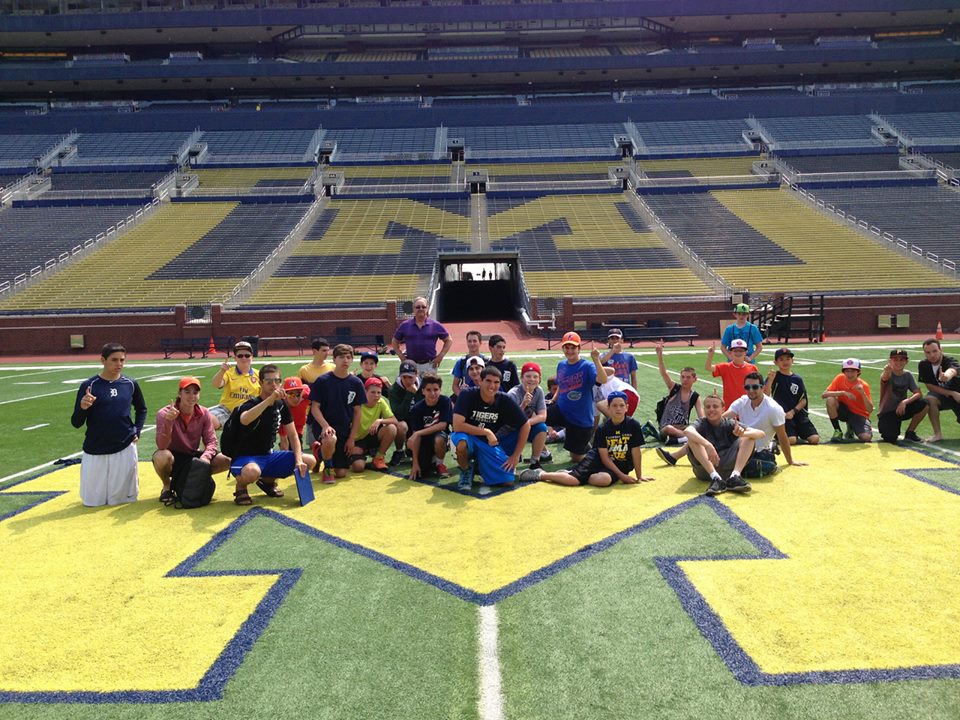 Greetings from the Windy City!
Since departing Cleveland last Thursday, we've been to Detroit and Chicago hitting up stadiums, city landmarks and so many more fun activities!
We toured Comerica Park in the Motor City last Thursday and on Friday saw the Tigers take on the Indians amongst a sell-out crowd. We stayed after the game for a booming fireworks show and had a blast playing mini-golf, go-karting and swinging at the batting cages in Detroit too. Ross, Ethan H, Harrison B and many of our trip members snagged a solid collection of game-used baseballs and autographs including 2013 AL Cy Young winner Max Scherzer, two-time World Series winning manager Terry Francona and MLB all-stars John Axford and Michael Brantley. Harrison N. already has over 20 autographs!
We ventured out to Ann Arbor, Mich to see "The Big House," home of the Michigan Wolverines and got to run on the field and watch the football team labor through their conditioning training. Season ticket holder Zach helped show us around the biggest stadium in America. Afterwards we stopped at the "M Den" pro shop, where we all bought some wonderful souvenirs and cleaned out the store's supply of Toronto Maple Leafs Winter Classic hats. We have lots of new Leaf fans now, much to the delight of the trip staff!
Upon arriving in Chicago, we traveled to U.S. Cellular Field to see the White Sox host the Astros on Saturday night. On Sunday, we took an awesome bike tour of downtown Chicago and rode through some of the city's neighborhoods and the lakefront. Following a relaxing lunch on the patio of the Navy Pier, we checked out "The Bean" to take some selfies, and rode to the top of the "Willis Tower," to see the city skyline from 110 stories above. Jesse even did some pushups on the glass floor of the Sky Ledge!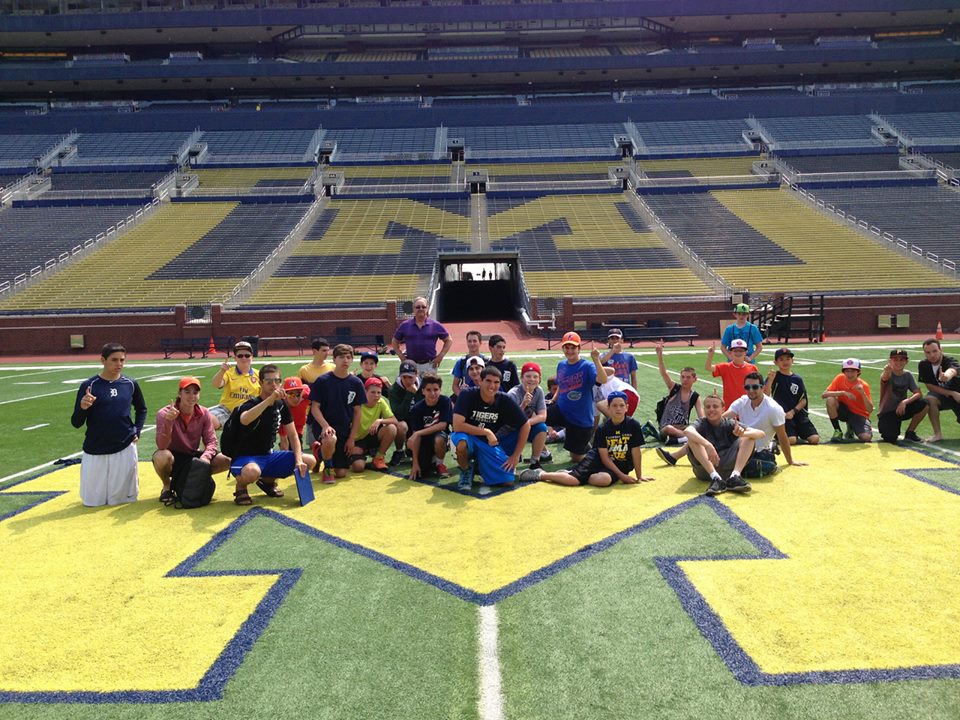 After dinner, we visited the legendary comedy club Second City and were treated to a hilarious night of sketches and Improv scenes from a very talented cast. Staff member Tyler was even called on stage for a skit! The show was definitely a hit amongst our trip members, and the cast came out to meet our group after the show.
On Monday we headed to Charlie's hometown of Milwaukee for a tour of Miller Park, home of the Brewers. We had an afternoon of touring and laser tag where Alden and Matt O bought Brewers hats, while Greg got a new Montreal Expos hat! Then we took part in the Brewers vs. the Reds game where Ethan C, Harrison B, Matt R and a bunch of us tried specialty foods like deep fried cheese curds, spaghetti-stuffed meatballs and bacon-wrapped sausages. Josh and Richie started numerous chants as our group sang and cheered on our new favorite player, Scooter Genett. We also saw Brewers stars Ryan Braun and Matt Garza during our tour of the field earlier in the day! They gave us a friendly wave.
Our group is having an amazing time, and we can't wait for our speedboat tour of Chicago and then heading to the historic Wrigley Field to watch the Chicago Cubs play.
Thanks for reading and we'll keep in touch as we get ready for Pittsburgh, New York, Cooperstown and Boston!
All the best,
The Westcoast Blogger