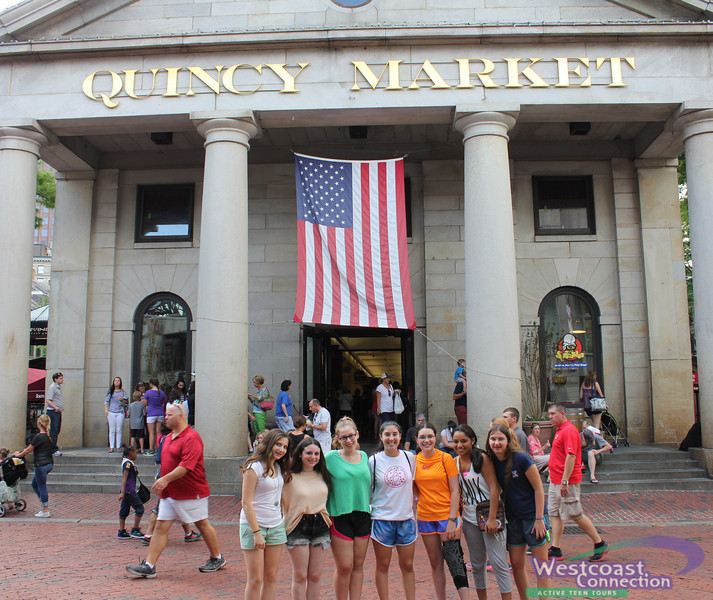 Dear Friends and Family of Boston and Washington Community Service,
The service portion of our trip began on Tuesday at The Boys and Girls Club of Lowell. Trip members were expected to complete a variety of activities, adding to the quality of the programs designed by the Boys and Girls club staff. From the moment we walked through the door, trip members were excited to interact with the kids as well as to help prepare the food for the club's lunch. Ali was quick to develop a strong friendship with Kaitlin, a 6 year old girl. Together they spent close to an hour dancing in the dance studio. After eating lunch that was prepared and served by our team, trip members were assigned different community service areas to focus on throughout the afternoon. Josh (whose camera never leaves his side) spent time teaching kids how to use a DSLR. Alice, who has endured our terrible attempts at communicating in French, was engrossed in conversation with Zoom Zoom, a recent immigrant from Mali. Alex consistently sought out opportunities to help in the kitchen. The day ended with a lot of tired but satisfied faces, some of whom were perked up by Francesca choosing some killer tunes (as the car navigator) on our drive back to the Boston University Campus.
In the evening, we journeyed to the heart of Boston and enjoyed a late afternoon visit to Boston Common and the surrounding area. After completing dinner, Brent could be found trying to convince the entire group to join him on a whale watching expedition (that he read about from a flyer at the entrance). His persistence lasted until our ice cream stop, where the group was fascinated to see that Ariel and Sydney both chose Mint Oreo ice cream (it was actually a little scary). The evening ended with a debriefing at Boston University where trip members were asked to describe their day using a single word. While keeping the trip members' descriptions to a single word proved to be a particularly difficult task, Kimeko made a very pointed confession declaring to the group that she felt accomplished after completing her tasks at the Boys and Girls club.
To help celebrate Independence Day, our service activity changed to volunteering at the Boston Rescue Mission. Opening in 1899, the Boston Rescue Mission serves the homeless of Boston by providing accommodation to them as  well as meals to all those who are experiencing hard times. Trip members were asked to complete a variety of cooking tasks as well as to help re-organize the food distribution system. Katherine made an immediate friend by helping the chef cut vegetables and prepare the food for cooking. Maura, who expressed that this was her favorite service activity thus far, took charge of re-organizing the pasta that the Mission receives from its generous donations. After a morning of hard work and prep, Alice and Abigail had the opportunity to serve some of the beneficiaries of the Mission their afternoon meal.
Our Independence Day ended with a bang as we decided to take in the Boston Fireworks display at the esplanade. It was an amazing display, one that Emily believed was "one of the best (she) had ever seen." After an eventful few days we are all looking forward to a nice little rest on the weekend and the opportunity to further explore the Boston area.
Until next time!
Denise, Sam and Trevor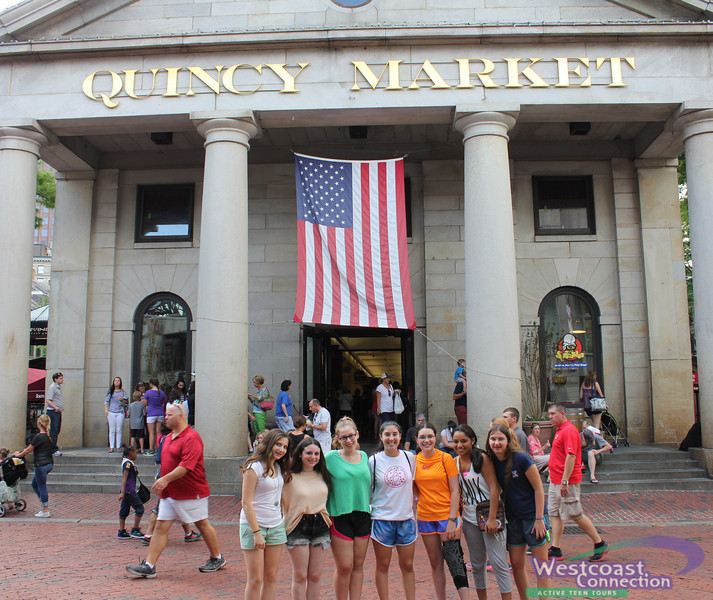 Are you interested in this community service program or similar? Check out our trips to Washington DC for students and join Westcoast Connection for the experience of a lifetime.