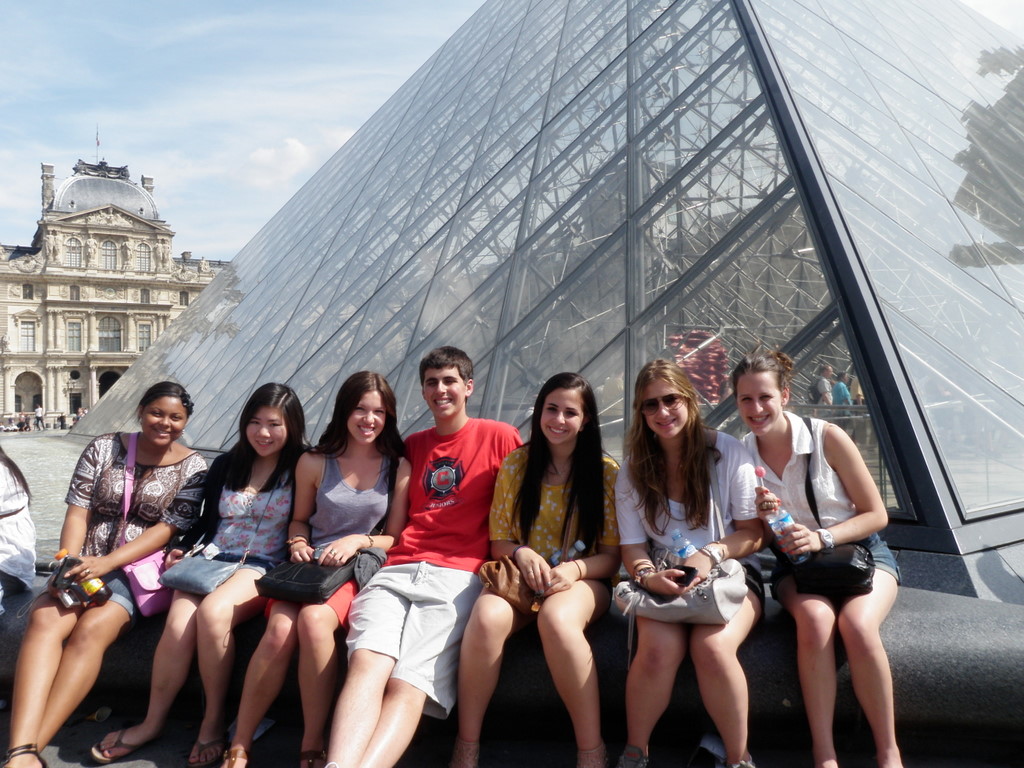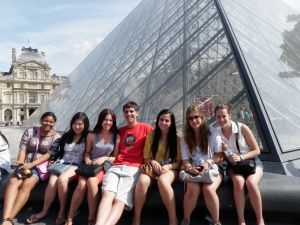 After we crossed the Channel Via Chunnel, we took the lift to the top of the Eiffel Tower to see the incredible view. Ben R. took
some panoramic photos while Ben L. proposed to Sam. Some of us took the lift back down to the bottom and others joined Justin and Zach L down the stairs. We made it down just in time to see the light show and take a group photo!
Day five was packed with sightseeing and fun. We started off walking the length of Champs Elysees, a major shopping street for tourists and Parisians alike and ended at the Arc de Triomphe. Adam S. posed with street performers dressed up as Egyptians and Brandon blended in well with a bunch of Abercrombie models standing in front of the most extravagant store we've ever seen. Next we had a tour of the Louvre and our guide pointed out all of the highlights. We saw works of art by Donatello, Michelangelo and Da Vinci including the Mona Lisa and Ben H. pointed out a few works of art he learned about in history class and thought it was really interesting to see them in person. Jason S. and Alex touched sculptures from the only section of the museum where guests are allowed to get close to the artwork. Sarah S. spotted London Piegg from "Whip It" and Amber from Parenthood in the Louvre and they let her take a picture with them! Kelly, Zack F, Carly Z, Shelby and Rachel hung out outside by the fountain and the huge pyramids. We also checked out the magnificent Notre Dame Cathedral and enjoyed dinner in the Latin Quarter. Emily and Stephanie B tried escargot! We ended the night on the Bateaux Mouches (river boat) while we cruised down the River Seine and took in the sights.
Yesterday morning Madison Y, Adam S, Eric, Ben L and Amanda checked out the famous Opera House and then met up with the rest of the group at Galleries Lafayette for some exploring and lunch followed by Napoleon's Tomb where Zack F. taught some of us some history. We then hiked Sacre Coeur and Alyssa, Bryan, Julian, Richie and Jason E. marveled at the inside of the cathedral while Tyler, Eric and Matt stood at the edge to look at the views. We then posed as "thinkers" at the Rodin Museum and Shelby, Steph B. and Sara M. were caught frolicking in the beautiful garden.
Today we drove about an hour outside Paris to Chateau Versailles where we had a guided tour through each room which is dedicated to a god or goddess. Carly F, Bari, Madison M. and Ty were spotted being photographed in the different rooms where the queen and king slept, danced and dined. Did you know Louis XIV (also known as the Sun King) changed his wig four times per
day? Ben H. described the palace as "unbelievable". After some free time, we came back together as a group to visit the ultra-modern Pompidou Center and explore shops in the area and a delicious dinner. During dessert, we started off the night of karaoke and enjoyed Will's rendition of I Will Survive, Jon with Crocodile Rock and David with Oh Baby Baby. After the solos we had two groups sing their hearts out. Rachel, Emily, Lisa, Jessica, Cassidy, Carly Z and Stephanie B. sang Wanna Be My Lover and Sara M, Lori, Shelby, Danielle, Stephanie P and Sara M sang 1000 Miles. Let's not forget about Dean and Adam B's duet of I Got You Babe and Ben F and Michael's Duet of 1985. We enjoyed everyone else's singing performances but there were too
many good ones to name!
This first week has flown by but it's been a ton of fun! Tomorrow we're on the move again. We're all looking forward to paddle boating, cycling and whitewater rafting in Annecy!
Au revoir,
All of us on European Experience
The Westcoast Blogger