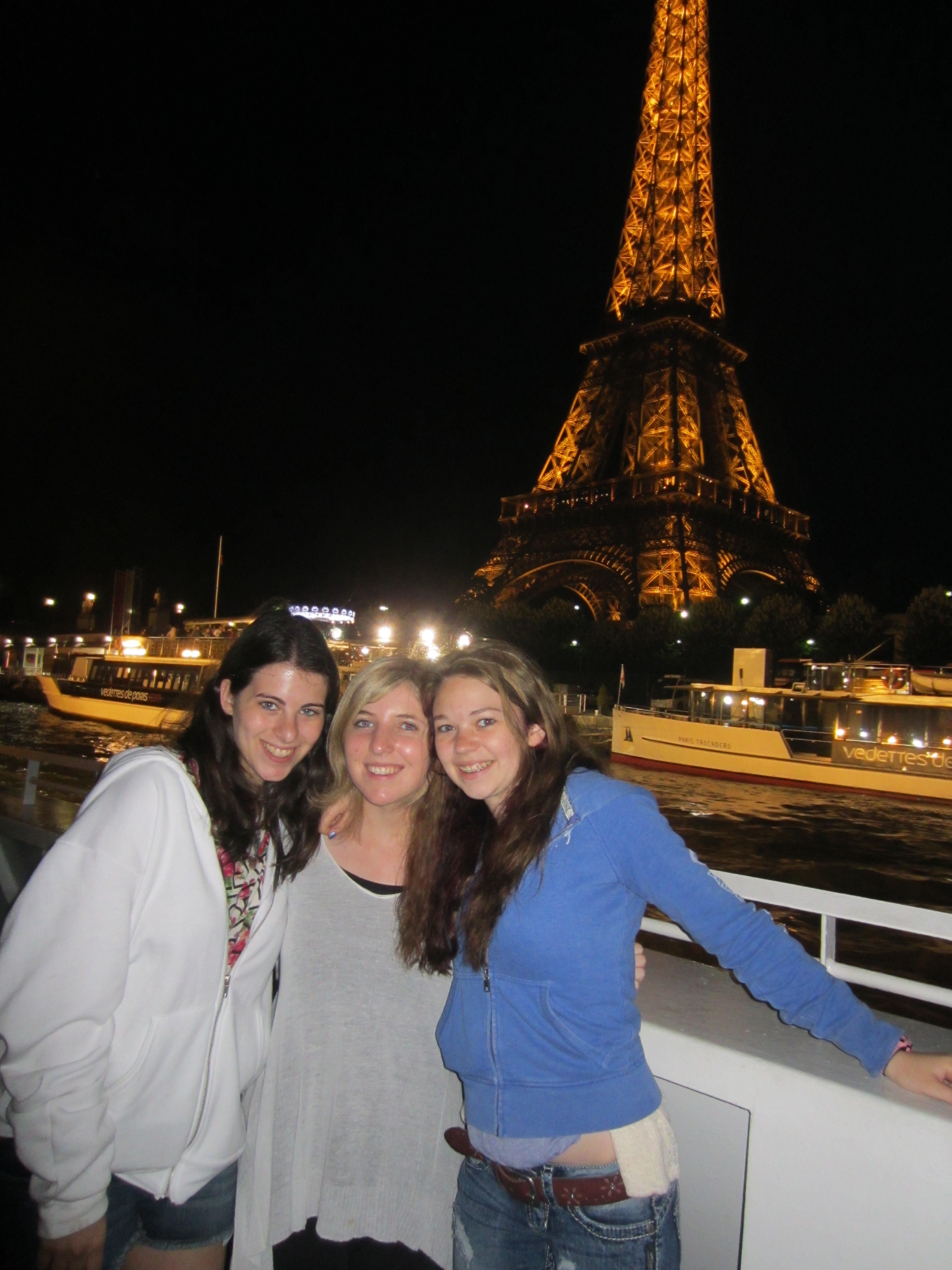 European Experience checks in.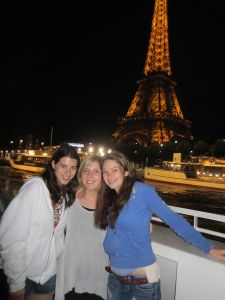 Bonjour from Annecy, France,
We are having a great time in Annecy and wanted to let you know about the last few days we spent in France before heading off to Zermatt, Switzerland.
On our first day we had a lot of fun meeting new people.  Our first arrival was our troupe from Michigan which included Alex, Jenna and Darren. It wasn't too long before we met up with Jess and a few more flights including our other trip members. We quickly started some name games and icebreaker activities. Once we all arrived, we headed for the bus and paid a visit to the most famous Parisian landmark; the Eiffel Tower. At the Trocadero, our group had a great opportunity to take awesome pictures of world famous tower.
Our second day in Paris was loads of fun and very educational as well. We went to world-famous Louvre museum. Rachel H could not stop raving about how exciting it was to see the Mona Lisa in person after learning so much about in school. She thought it was totally awesome to finally get the chance to experience "the beauty firsthand". Following our museum visit, the group had the opportunity to see Paris by bicycle. They rode through the streets of Paris and learned a lot about the various sights and sounds. One of the coolest things the Trip Members noticed was the art created by French urban artist in 1998. They learned that mosaics that were placed on various Parisian buildings not only replicate characters from a famous 1970s video game called "space-invaders" but that the art also increases the value of the building if the artist put his signature mosaic on its walls. Many Trip Members found that to be really cool and continued in Montmartre to point out the "space-invaders" on various buildings all around town!
Day three was amazing. We climbed the Arc de Triomphe because we didn't think that 690 steps to the second floor of the Eiffel Tower was enough exercise! Daniel said he liked the view of the famous Champs Elyssees from atop the Arc de Triomphe. Spencer took the opportunity to educate us all on the history of the Arc as we approached it. The trip members were very impressed with his knowledge! Later that night we took a great boat cruise down the Seine river and got another great view of Paris and the Eiffel Tower. Lucky for us we got to experience the twinkling lights on our first night at the tower but we still saw it all lit up from the water. We caught some great photos and even re-enacted the famous scene from Titanic. Matt and Ally pretended they were Jack and Rose and truly felt like they were flying. That sure put a great close to our night.
Day four brought us back in  history as we visited The beautiful Chateau Versailles. Before we travelled back in time we visited the Rodin Museum and saw the "The Thinker". Lots of Trip Members wanted to pose along side the famous statue. Looking deep in thought, we had Matt, Daniel, Darren, Alex, Carli, Ledah, Quincie, Rachel R., Spencer, Katie, Hannah K, Maya, Niki and Jake sitting and reflecting. Take a look at our photos online to see your child next to the world famous statue! Chateau Versailles was a great chance for us to see how French royalty lived hundreds of years ago. Nizar and Jess took a great picture together at the Palace in the front entrance just before our trip back-in-time began. King Louis XIV sure knew how to deck out his palace lavishly! Nothing puts a close to a great day than karaoke, which is exactly what we did that night. Our group left its mark at Cafe Rive Droite and the place will never be the same again especially after Alex and Katie took on 50 Cents' "Candy Shop". Their performance left us all wondering why they don't pursue a career in rap. Following their performance, Maya belted out Britney Spears' "Stronger" and gave us all the power and strength to get on stage and face our fears of pubic singing.
The Backstreet Boys have nothing on our girls. Carli, Jenna, Rachel R, Niki and Quincie all began singing "I Want it That Way" and quickly pulled Ledah into their quintet making them a sextet of lovely vocalists. Jenna even went into the audience and serenaded a complete stranger with his vocal abilities. How can we forget Drew's inspirational rendition of Elton John's "Bennie and the Jets"? He sure hit some high notes during that song and left us wanting more. Darren and Spencer lost themselves singing Eminem's "Lose Yourself". Who knew our trip had such talented rappers? Staff member Robyn and Rachel Heffler belted out none other than Bon Jovi's "It's My Life". Everyone loved it and wished they were on stage with them. Back on stage for Round 2, Jenna, Quincie, Niki and Rachel R sat Jake in a chair and sang him "My Boo" by Alicia Keys and Usher. He loved every minute of it and wished it would never end! "All the Small Things" by Blink 182 was attempted by Carli, Quincie and Niki but they needed assistance so Ledah, Hannah K and Alox joined in. Alex somehow found a top hat and did a jig on stage while her singers performed behind her! It was truly a great moment.  Drew hit the stage one more time with Vanilla Ice's "Ice, Ice, Baby" but unfortunately, the lyrics got the best of him and he could not keep up with the rhymes. Our last song of the night was brought to us but Jake, Drew, Trip Director Andy, Matt and Daniel. They chose 'N Sync's "Bye, Bye, Bye". Andy really wanted all the boys to follow in his choreography but it seemed that he was the only one who really knew the authentic 'N Sync dance moves! Well done Andy, what a leader!
Our trip to Annecy was fun when Rachel Hein helped her team earn some points during "name that tune" television theme song edition. She sure knows the TV theme songs but no one was able to beat or compete with Drew! A beautiful walk through the town of Annecy on our first night gave our Trip Members a chance to scout out some places for our second night on the town. Dinner in groups was lot of fun as the Trip Members were given the chance to try their own places and decide together what would satisfy their palates. Ally, Rachel K, Allie, Amanda, Samantha, Eryn, Ariel and Hannah W decided to try some Italian in preparation for our 2 weeks in Italy. They all enjoyed their dinners and were really eager to get some Gelato afterwards. An early night for all as we needed a good nights rest for our next day adventure.
Our last day in France was spent whitewater rafting and celebrating Jamie's 17th birthday! Nothing says happy birthday like an early wake-up call. It was a bit early but it was very well worth it. The Trip Members had a great time and some even faced their fears. We were all so proud of Becca as she jumped feet first into this challenge. Cheering her along the whole way were her boat-mates Sarah, Cindy, Paige and Rachel Hein. We had a great time at the France Raft course and had a nice relaxing ride back to our Hotel to shower and get ready for our last night in Annecy.
We are very excited to visit Zermatt tomorrow and cannot wait to see the Matterhorn.
A bientot
Until next time
The Westcoast Blogger