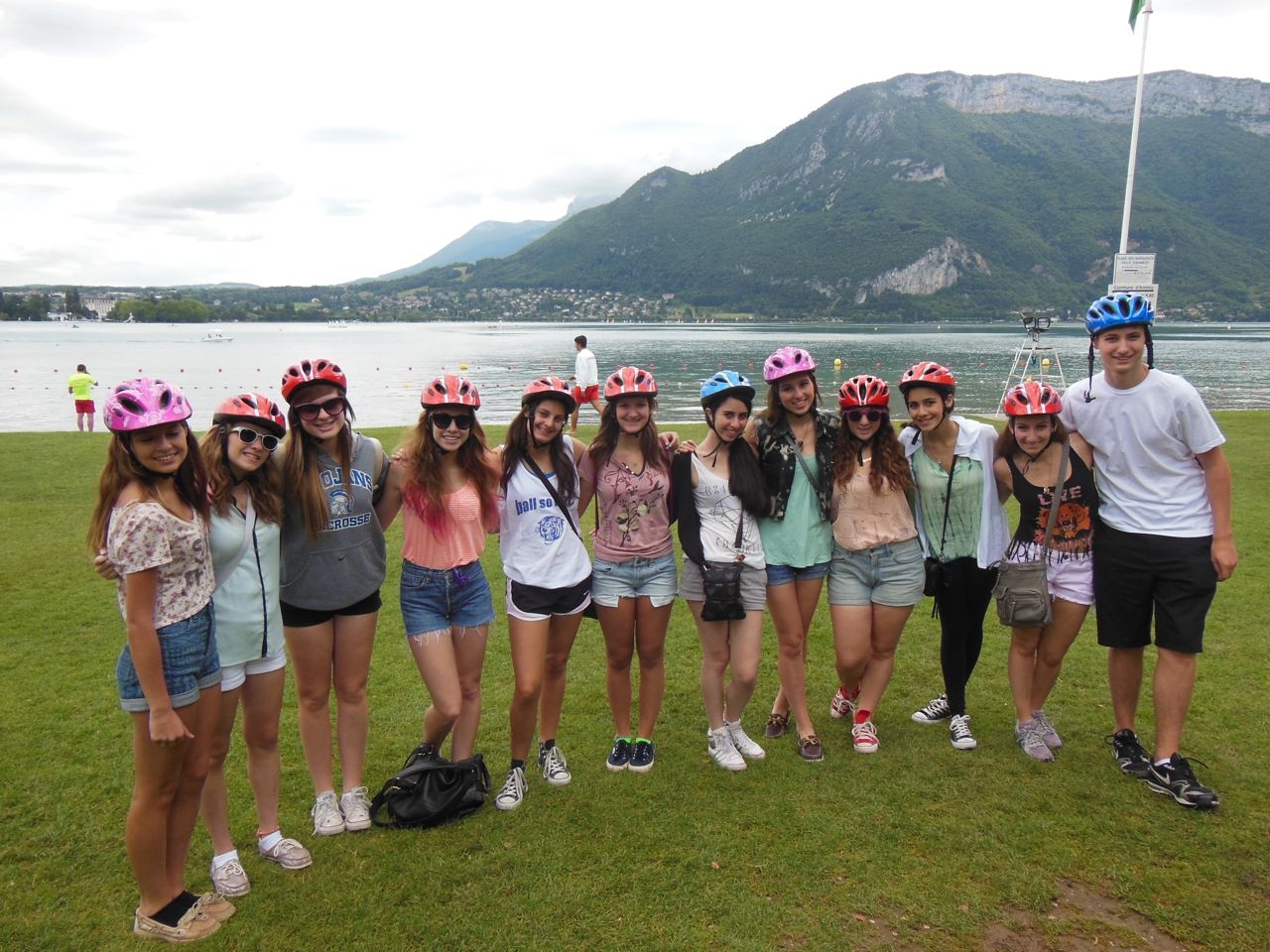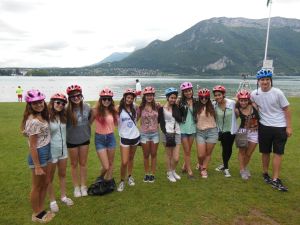 An update from European Discovery:
Bonjour,
It is time to get out of the big city and head to the quiet French town of Annecy. We started with an interesting and delicious dinner where the trip members were able to cook their own meals on hot stones. Trays of chicken and beef were passed around, but Daniel C. could not get enough and loved the cooking process. Rebecca, Sydney B and Erin were extremely satisfied and thought it was a great idea! Frankie got the best deal where everyone cooked her meal for her and she loved it.
After dinner we were off to the park for a fun activity of "hosts and party guests", where all were assigned a personality and the host had to guess who they were. Molly and Sydney K were amazing hosts and awesome volunteers to play the game. Some of the characters included Blakely who acted as a vampire, Jonah was a Disney princess and Raimy was a rap superstar.
The next day, we woke up to a beautiful day for our bike ride around the park and lake, surrounded by the nearby mountains. Perri, Bianca, Sydney D, and Michelle enjoyed the leisurely ride and loved the scenery of the bike path. While Anna, Erika, Melissa, Avery, Aja, Ilyssa, Amanda and Samantha D, went for a more challenging bike ride to show off their skills to the locals.
Also, once the sun came out everyone was excited for an afternoon at the local beach spot. Where Jared and Derek played guitar for the group, while Molly and Samantha Sh. sang. Daniel K played an exhilarating game of soccer with Daniel M and Jeffrey.  While Sarah, Samantha Sc and Sabrina played out in the park to soak up some sun and enjoy the beautiful weather and atmosphere.
Annecy also offered us an adventure with white water rafting! After an early morning wake up, we headed off to France Raft for an exciting morning. Carly and Hailey had a great time. Going over the rapids was Carly's favorite part. Alexa, Adam and Andrew enjoyed themselves on the ride and even though the water was cold, the surrounding forests and mountain scenery made the whole experience enjoyable. Harrison, Zach, Ethan and Evan loved the rafting and were excited for the adventurous thrill of paddling in the rivers of France.
Zermatt, Switzerland
Since no cars are allowed to travel to the city of Zermatt, we ventured up the mountain by train. In Zermatt, we were able to explore the small city and get a taste of the local culture. But a true highlight was the disco experience, where Emily, Sam D, Jordan, Corey H, Oriella, Corey T and Griffin enjoyed the dance party, music choices of the DJ and showed us some of their favorite moves!
That's all for now!
The Westcoast Blogger