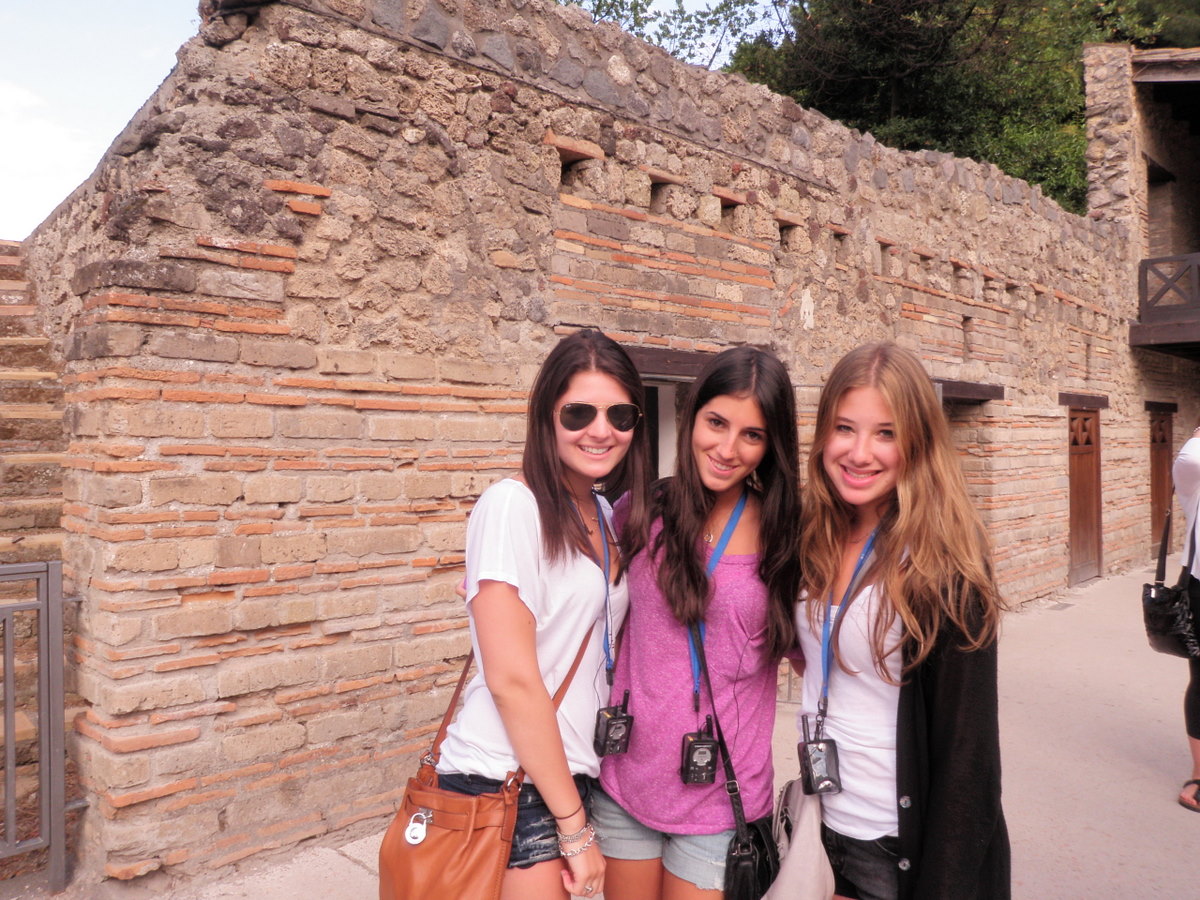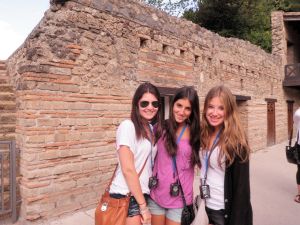 Greetings from Nice, France!
Although we're sad our trip is coming to an end, we've had an incredible last week together.  Here is what we've been doing on our final days. After our first night in Sorrento on the Amalfi Coast , the group awoke early to take a ferry to the beautiful island of Capri.  Our day began by exploring the island and admiring the beautiful sights.  We then hopped on two private boats to take us around the island.  Bari, Sarah M. and Madison M. took advantage of the time in the sun to improve their tans.  The boat then brought our group to the grottos where trip members had the opportunity to swim.   After our scenic swim, we were all glad to return to land and experience Sorrento by night.
The following morning our group was sea bound once again as we headed to the chic resort town of Positano.  Ben R., Zack L., Justin, Tyler, and Ben L. decided to conquer the mountain on the island.  Upon returning to Sorrento, the group enjoyed a traditional italian meal. No meal is complete unless it is followed by evening of karaoke.  Followed by David's New York Groove, we were serenaded by Lori, Steph P, Sarah S, Danielle and Shelby.
After an incredible time in Sorrento, the group headed off to Florence. On the way, we made sure to celebrate the birthdays of Danielle and Will.  Dean, Adam B, Mike, and Ben F made comical speeches in Will's honor on a bus filled with balloons and banners.  Upon arriving in Florence, the group went to dinner and put on their dancing shoes in preparation for Space Electronic Dance Club.
The following day Jason E., Jason S., Dean, and Bryan chose to get up earlier for the option to see a beautiful synagogue.  As a group, we then headed to the Duomo where we had the chance to climb old and narrow stairs to reach the top of the Dome. Although we thought the stairs would never end, it was definitely worthwhile for the view of Florence from the top! Before we left Italy,  we learned how to cook the food which we treasured over our stay. At cooking school, Rachel stood out as a chef to be by commanding her kitchen and making a delicious bruschetta.  Brandon and Carly Z. helped to create the cakes for our dessert.  After cooking, we were all glad to dig in to the masterpiece that we created.
With one more day in Florence, we went art hunting.  Steph B., Lisa, and Jon were amazed with the David's lean physique and abs of stone at the Academia. Amanda, Carly F., Ben H., Madison Y., Alyssa, Kelly, Jess and Rachel roamed the masterpieces while others got gelato at a nearby cafe. For dinner, the group split between girls night out and boys night out for an evening of food and laughs.
Then we headed off for our two last days of adventure. On our way to Nice, we stopped to admire the Leaning Tower of Pisa and after a few more hours on the road stopped in Monte Carlo for dinner and evening activities. Alyssa, Dean, Sarah S, Danielle and Lori experienced an exotic foot massage by fish at the Fish Spa and Jason E., Richie, Brandon, Jullian and Matt raced in human hampster balls.
Today we're celebrating Emily's birthday and Ty, Cassidy Zack F. and Eric are excited to hang out at the beach, banana boating and tubing before a farewell banquet to celebrate our adventures.
We're sad our trip is almost over but all good things must come to an end! Its been an amazing summer and we look forward to a Westcoast family reunion in the future!
Sincerely,
The ON TOUR European Experience
The Westcoast Blogger