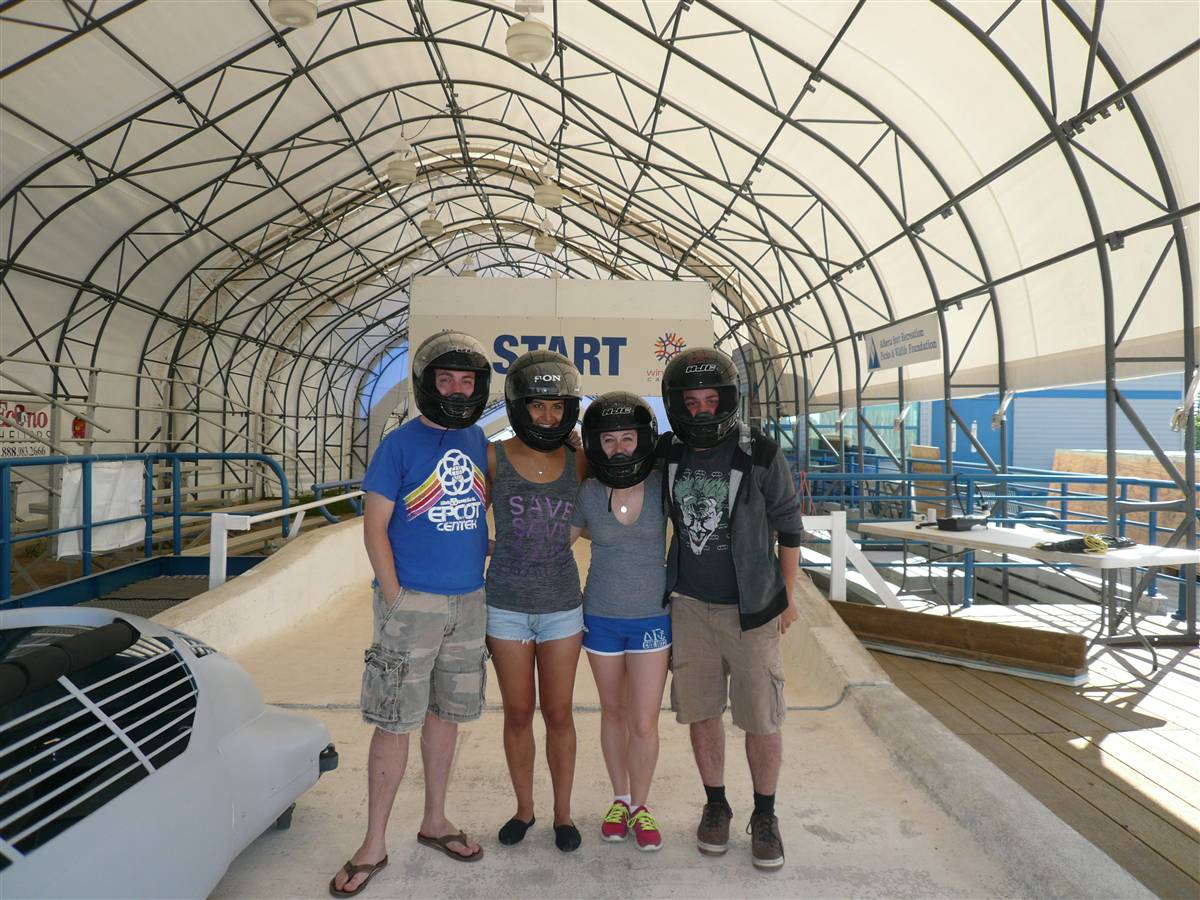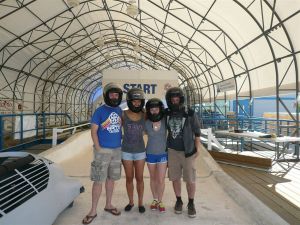 What's up AmVoy parents?
How ironic is it that we celebrated Canada Day in the USA, and spent Independence Day while heading to Canada! On the drive from Montana to Calgary we kept ourselves very busy! There was a competition for who had the funniest passport picture (that honor went to Jordan!), there was a 4th of July ribbon relay race (which Jason's team won handily) and there was a race to see which team could be the first to completely wrap a trip member from head to toe using red ribbon (Rachel and Lexi wrapped Sam H. perfectly but Danielle and Sarah wrapped Jeremy a bit tighter!).
After smoothly crossing the border, we had a little bit of a fun history lesson about Canada and then played a game where there was sixty seconds to name as many different kinds of cereal.  This was repeated with things that are cold, cartoons and songs with the word baby in the title! David, Noah, Grant and Jeremy accumulated the most total points (for the "things that are cold" challenge they named too many of the major Canadian cities!). We then started a game called "Gotcha" where everyone is given a word secretly matched to another person on the trip – the trip members have to try and get their person out by making them subtly say the random word that they were given and it is an ongoing game until there is a winner. There have been some weird and wacky conversations that end in someone screaming "Gotcha!" When we got back to the campsite, we played "Make Me Laugh". Emily B. and Lexi made Jacob laugh (which was by far the funniest!).
Calgary is beautiful – if only you were all able to witness the incredible sunset last night. After a hearty breakfast we were off to Canada Olympic Park where we were able to go bobsledding with a real Olympian on the women's track. Between the G forces and the exhilarating speeds, it was quite the rush. Sam R. remarked that it was exhilarating; Jamie exclaimed that it was a crazy once in a lifetime experience; Sam D. said that she thought it was thrilling; Aja said she would have done it over and over again; Erika had always seen it being done at the Olympics and finally got the chance to see how it was done in person; and Courtney and Ariel "just had the best time." It was here that we started choreographing our flash mob to Party Rock Anthem by L.M.F.A.O.
We spent the afternoon at a recreation center where we went swimming in a wave pool, rode water slides and played in the aquatic jungle gym! Eden said that it was a ton of fun and that she made it a point to go on everything twice and Rachel loved the swinging Tarzan ropes! We had dinner at Jack Astor's and celebrated staff Jess' "birthday."
Lastly, we went to play laser tag! We made it into a competition: boys versus girls! The boys won by a landslide. Grant was the highest scoring male and Jamie was the highest scoring female. What a workout it was (we take competition very serious around here)! We ended the night with roses and thorns; Jacob and Emily said their high points were the bobsled and aquatic center.
When we say AmVoy, you say #2 …AmVoy … AmVoy …
The AmVoy #2 staff team!
The Westcoast Blogger