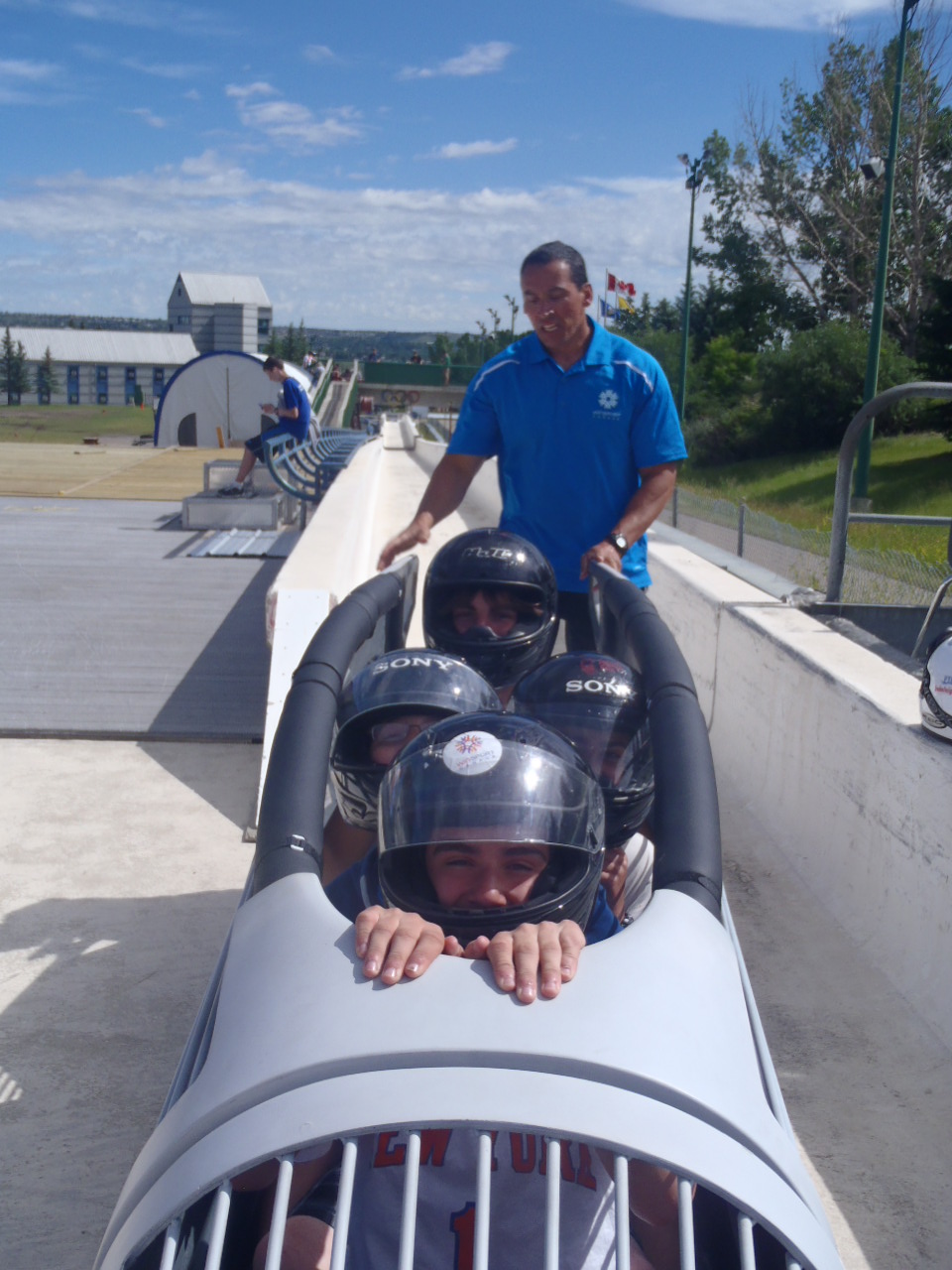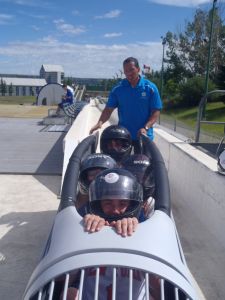 Dear Families,
Wow, after the Stampede could our days in Calgary get any better? Well, it seems like they did, because we found ourselves at the top of the track, ready to shoot down the slope, in the coolest summer experience yet: Summer Bobsled at Canada Olympic Park. Now, this wasn't a simple simulation, no, this was getting ourselves strapped into a bobsled on wheels, and having a professional bobsled driver, guide us safely down the track. And who was the one that pushed Erica, Alexa and Ali (as well as Gavin who may have added just a little more weight) to the longest standing fastest time on the track? None other than Calgary's own, Pierre Lueders. Now, this name may not mean much to most of us, but our driver has quite the resume: 10 gold medals in national and international events, 2 world cups and 1 Olympic Gold (in 1998 in Nagano, and a silver in 2006 in Turin).  WOW!!
After that thrilling run down the mountain side, we relaxed at the aquatic centre and lavished in the wave pool of the Trico Centre.  Eric G, Eric M, Andrew P and Jon really seemed to enjoy the facilities where they had a chance to have a swim and a float. This afternoon excursion let us relax, blow off some steam and get ready to say good-bye to Canada, as we were to head back to the United States the next morning.
Our drive south of the border brought us into Big Sky Country where we set up our last campsite on the outskirts of Glacier National Park in St. Mary's, Montana. Now, Montana's big skies have a lot more to them than just cloudless skies they also bring with them beautiful sunsets! Jeff, Zachary L, Tucker, Ty and Harrison took to their tents pretty quickly and set up some of the most secure tents we had seen (a little later they would be tested and they would pass!). After the tents were up and secured, we began with a little trip competition; Haley, Jared and Sydney led the Music team and William, Sidney and Erica captained the Sports team, the challenges were goofy, they were technical and they were a whole lot of fun! Alexa and Erica wrote a great camp song celebrating our tour, while Jared played guitar and Zack A presented their tune to lift our spirits and remind us of the great times we've had so far. Next up was the Battle of the Airbands – Alex was our most enthusiastic performer and along with Spencer, Hannah, Jay, Steven and William his band rocked out to U2. Adam P, Andrew T, Michael, Lea and Sydney "serenaded" Caroline with their Airband rendition of Neil Diamonds, "Sweet Caroline". Really, they were all so good it was too hard to pick a winner that night.  The rest would have to wait until tomorrow.
Our trip to Glacier National Park started with a great boat cruise along the Glacier Lake where we first encountered the Continental Divide (the first of many times) as we prepared for a great 3 mile hike to St. Mary's Falls. Although the hike was great, and the falls were wonderful, it was the return that was best for some of us. Andrew S, Zach Po, Zach Pe, Mike (in his trade marked skinny jeans), SJ and more enjoyed the challenge of being led on a trail run with counsellors Brian, Jaimie and Ethan. Nature at top speed can still be enjoyed!
Adam C, Rebecca, Marc and others took to the court the next morning for a soccer competition to really see which team would be the Northwestern Odyssey champion. In the end, between Drew W's manoeuvrability in through the Spider Web station or Danny's skills in the blindfolded assisted obstacle course, the winning team was….(drum roll)…Sports! It was all in good fun and enjoyed by the whole group.
From there we headed over to Bozeman, Montana.  After watching either Harry Potter or Transformers 3 at a local theatre we went to our dorms where we spent the night before setting out today for Yellowstone National Park. The day was cloudless and the sun was bright as we awaited the eruption of Old Faithful. Zack S became our guide as he shared his knowledge of the process while Drew G awaited the natural phenomenon that we had travelled so far to see.
Here we are now, in Jackson Hole, Wyoming – our days on the trip are getting fewer and fewer so these times that we've got left are getting even more special than before. Whitewater rafting is on the list tomorrow and a chance to spend more time together as we get ready to head out to Park City for our final days on this amazing tour.
We hope summer is treating all of you well at home and everyone is excited to see you soon (though sad that it is so soon!!)
Sincerely,
The Odyssey crew
The Westcoast Blogger