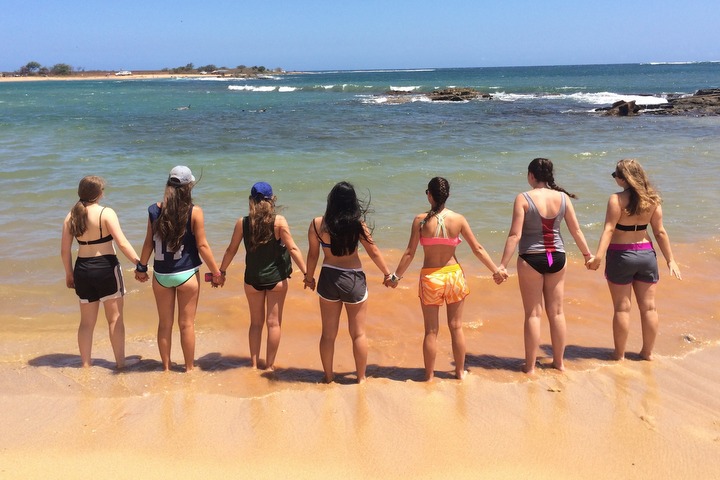 Reflecting back over our time on the garden island of Kauai….
We began our time on Kauai with a boat tour of the Wailua River which was both scenic and relaxing. As we were transported to our hike through the fern grotto, we learned about the history and culture of the Hawaiian people. Our guides led us through the jungle on a hike that ended in a stunning waterfall and cave. Here, we viewed a performance of the traditional Hawaiian wedding song and watched a hula dancer. On our boat ride back, we were invited to dance along to the music – our first (of many) hula dance of our trip!
Over the next two days our time at Habitat for Humanity was well spent and the employees were grateful for our help. Much of our time was spent organizing the back of the Restore, a thrift shop which helps Habitat earn income required to build homes. We helped to throw out debris, organized building materials for future houses, and set up for a new community that Habitat will soon build. Our trip members cleaned storage containers, organized books and linens, and even fixed an old radio with their tech skills! Our time at Habitat ended with a field trip to the neighborhood where the new development will be. A Habitat leader explained the process of receiving a home through habitat and answered questions about the Hawaiian economy, history and culture.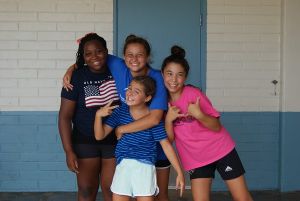 When our work at Habitat was finished we had a chance to experience our first adventure with Nature Jay (we will also see Jay on Maui). He brought us to a scenic beach with mountain views and then to a huge waterfall! We ended the day with a photo shoot by our talented trip members and were thrilled to learn that – thanks to our talented photographers – Trip Director Danny was presented on the official Roots Instagram page!
Our final day on Kauai was spent stand up paddle boarding. All of our trip members enjoyed paddling through a flower-filled river, and many jumped into the water to cool off. At the beach, many trip members viewed a ceremony for junior lifeguards and swam in the calm water. Paddle boarding was definitely a shaka highlight of the trip!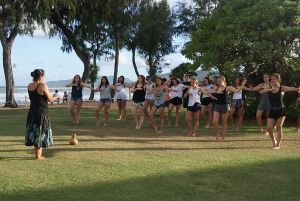 To close off our time on Kauai, the group participated in hula lessons by the ocean and then had a BBQ by the pool with smores for dessert. It was pure summer bliss feasting on burgers and watermelon under the Kauai sunset.
We are now in Maui, our final island, and sadly our last stop of the trip! We are looking forward to more fun in the sun and working with ECO Maui. Sadly, we can't believe it will end so soon, but we are excited to come home and share stories with family and friends!
The Westcoast Blogger
Got yourself interested? Be part of this community service for high school students and travel to Hawaii & Alaska for a one-of-a-kind experience.