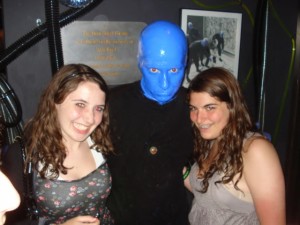 What is so special about three men wearing blue makeup, black pajamas, and behaving like aliens? Absolutely everything!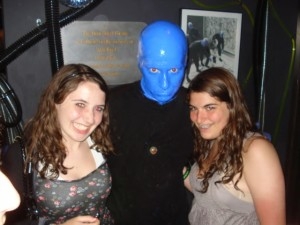 The Blue Man Group is a trio of mute percussionists with quite an interesting sense of humor. Some consider the performance to be a work of art; others think it's outright bizarre!
When we get to the theater in Chicago, our trip members will a disposable plastic poncho on their chair. You may be thinking, why do I need a disposable poncho? We'd hate to ruin the surprise, but remember this is not just a show, its Blue man Group!
The segments including drum beats played on PVC pipes to incredible art created using chewed marshmallows and spit-sprayed paint. We also hope you're not afraid of a little audience interaction. Not only are "volunteers" pulled onto stage, but the Blue Men have a tendency to appear in the audience.
The show ends with bang that is the highlight for most. I personally think the highlight is the colored liquids hitting the dream heads as they play.
Want to see the Blue Man group for yourself? Join us in Chicago on the U.S. Explorer.
And, think you take a long time to get ready in the morning? It only takes a Blue Man only one hour to get in costume. The grease paint on their heads never dries! That gives each Blue Man the wet gooey look we love.
Have a great weekend,
The Westcoast Blogger