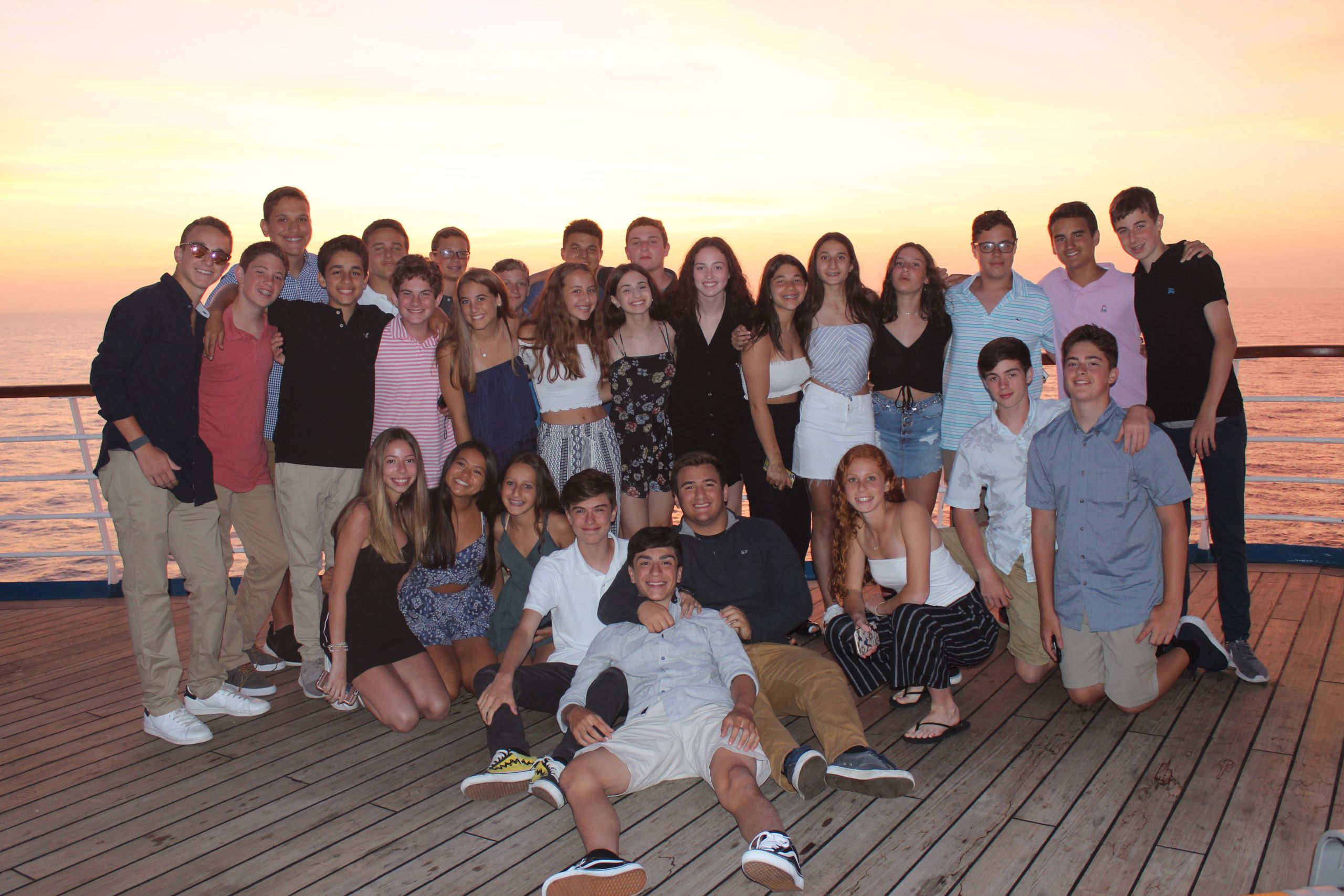 Relaxing by the pool, enjoying unlimited soft serve ice cream and exploring Catalina & Ensenada… what more could we have possibly asked for! Our days on the cruise were spent swimming, playing mini golf and shuffleboard, hanging out by the pool and eating tons of delicious food. A highlight was when we celebrated Maxwell's birthday in the dining room, and danced our hearts out as they played music during dinner.
As our days at sea came to a close, we headed to Las Vegas! Our drive through the desert was beautiful and we got to stop at the iconic Vegas sign to snap some group pictures. We indulged at the Luxor buffet for dinner, where we were overwhelmed by the selection of food in front of us! Walking along the legendary Las Vegas strip came next and we got to explore some of the famous hotels. The Venetian and Palazzo brought us all the way to Italy, where we saw traditional gondola boats and Italian artwork and architecture. Then we made our way to the stunning Bellagio to watch the dazzling fountain show.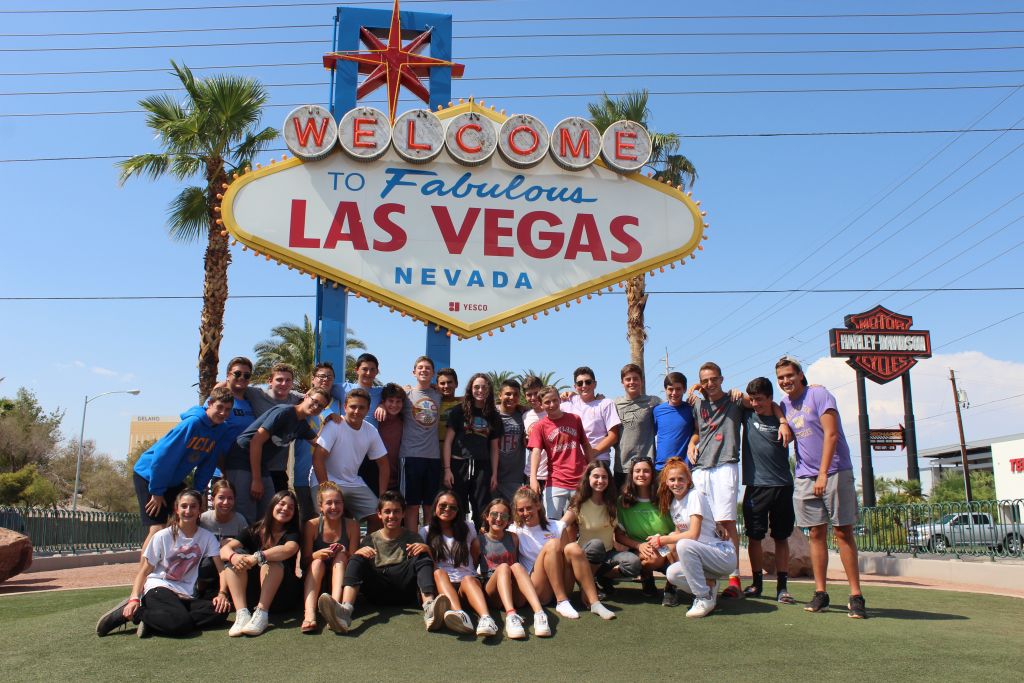 We had a thrilling start the next day as we hopped on rides at the Stratosphere. Some of us rode the Big Shot, which zooms you up and down a tall tower, while others rode the "Insanity" ride, which spins you around while overlooking the city. We enjoyed our time exploring Caesar's Palace and spent the afternoon cooling off by the pool before heading to the New York New York hotel where we rode it's exhilarating roller coaster, known for its awesome corkscrew!
The next day we traveled to the campground in Utah and stopped in Zion to hike to the lower emerald pools and take in the beautiful views. We then headed off to an eventful dinner at Jake's Chaparral in Kanab, Utah where we truly felt like we were from the Southwest. We sang along to country music and learned how to line dance. Some of us even tried on costumes to fit in the setting of the Wild Wild West. Our night was spent at the campground in Bryce making banana boats and roasting marshmallows.
The following morning, we drove to Bryce Canyon National Park where we hiked through the unbelievable rock formations and pink sand. The scenery was absolutely beautiful! To continue our friendly team games, a football game was held, while others hung out at campground's indoor pool. We also put our artistic abilities to the test as we created a poster and cheer for each team. As we completed our last camping stop of the trip, we cherished every moment with each other hanging around the campfire and making s'mores.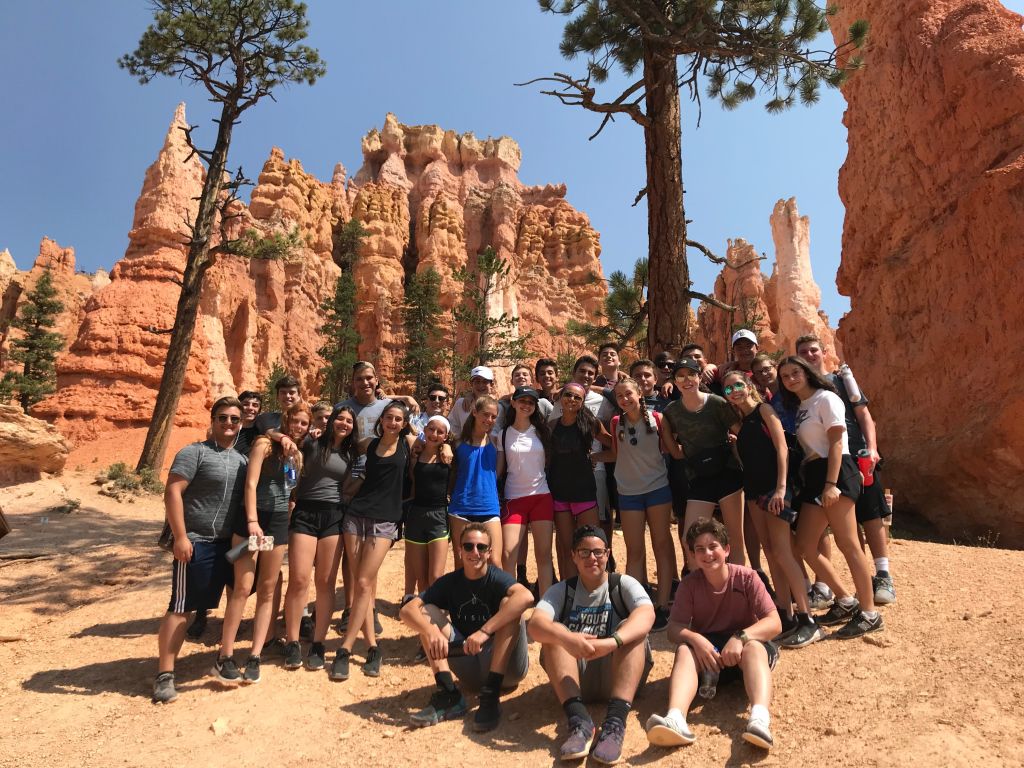 Our next stop was the sand dunes in southern Utah, where we were impressed by the massive hills of bright orange sand. Climbing up was tricky with sand underfoot but once we made it up the views were totally worth it. Running down the dune was extremely fun and exhilarating! Hiking the beautiful Grand Canyon was our next adventure and let's just say it was… awesome. We followed the Bright Angel Trail and explored the canyon as one big family. The canyon was nothing like we've ever seen and we understood why it's named one of the seven wonders of the natural world. What a morning that was!
After arriving in Sedona, Arizona, we got to explore the desert in bright pink jeeps! Some of us sang the Indiana Jones theme song as we traveled through rocks and sand. The ride was bumpy and exciting as we drove over massive rocks and took pictures of stunning desert views.
It's hard to believe but then we came to our last stop of the trip, Scottsdale! We spent the evening playing arcade games at Dave and Buster's which was fun, yet nostalgic as we knew it was one of our last activities together. The following day we enjoyed brunch together at the Cheesecake Factory and reminisced about some of our favorite moments from the past 40 days.
As our trip comes to a close we cannot believe everything we have accomplished since day one. Feeling like one big happy family at our last night's banquet, we enjoyed delicious food and danced as the DJ played our favorite tunes. As we all head back home in different directions, we know we will cherish our friendships and memories from this American Voyageur for the rest of our lives!
The Westcoast Blogger