Αποχαιρετισμός (farewell) from Athens! We spent today on a high speed ferry, making our way back to Athens for our flights home tomorrow, but our time in the islands was absolutely magical. The sea breeze, crystal clear waters, and charming towns made it easy for everyone to feel instantly relaxed!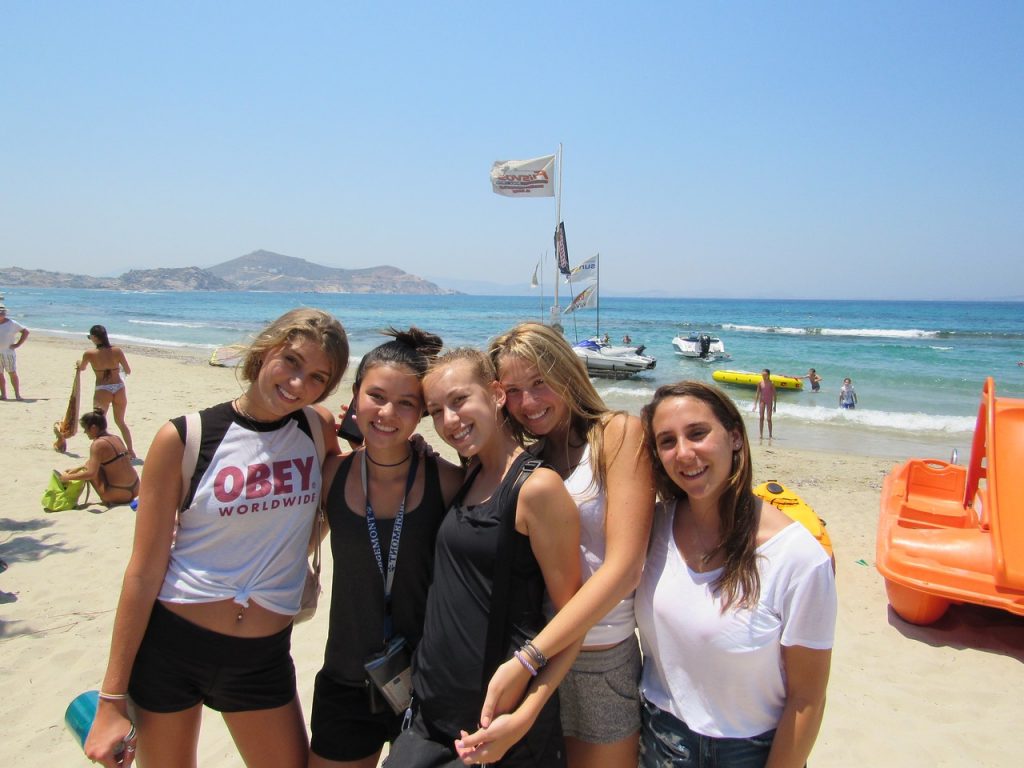 Our first stop was Naxos, where we spent three beautiful days relaxing on the beach and exploring the island town. Our two most memorable activities in Naxos were a scenic bike tour and an introductory scuba lesson. Our trip was split into two groups, and each group took a turn at both activities over the course of two days. The bike tour was led by amazing staff who coached some of our more timid bikers through the journey, and everyone loved the views of the sea as we explored most of the island by bike. Meanwhile, many trip members had been counting down the days before they could go scuba diving. Here's Sasha to describe her experience:
"After much anticipation, an extremely informative lesson on scuba diving, and a couple of drills in the water, we began our scuba journey! We swam around for about thirty minutes as we tried to decipher our instructors hand signals, and were lucky enough to find a school of fish to feed. The feeling of being underwater, surrounded by fish, is one that I'll never forget. Scuba diving was a new and exciting experience for everyone on our trip, and it made us see the sea from a whole new perspective."
Nights in Naxos were spent getting to know each other at delicious greek restaurants on the water, and gorging ourselves on ice-cream and waffles at the local hot spot, The Waffle House. After three amazing days, we got back on the ferry and headed towards Santorini.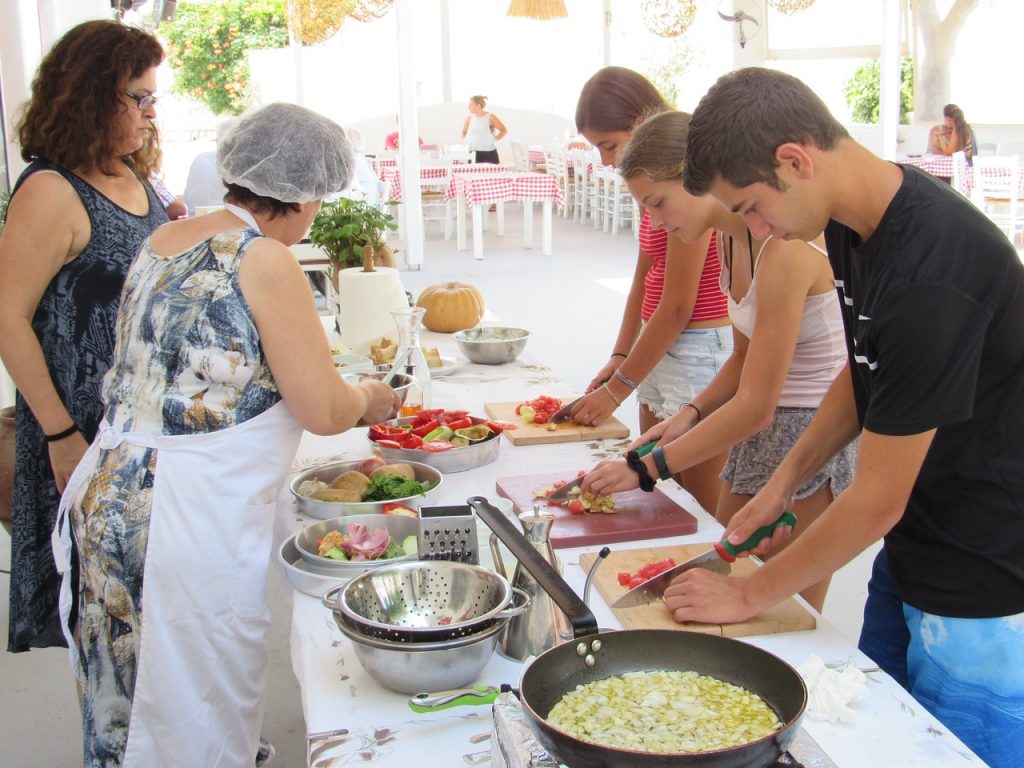 After our arrival in Santorini, everyone relaxed by the gorgeous pool at our new hotel. It was hard to choose which pool to hang out in because our resort had four to choose from! Some trip members treated themselves to massages, some enjoyed a siesta by the pool, and some sipped frappes while chatting with each other.
On our first full day in Santorini, we woke up and took to the streets, walking down over 500 stairs on the way to the port of Fira. As we were going down the stairs, we passed tons of donkeys that were carrying tourists up the stairs and it was an incredible sight to see. When we got to the port, we boarded a ship that looked like a pirate ship and started our adventure for the day!
We went island hopping in the Aegean Sea, and our first stop was to hike and tour the volcano. Everyone was a trooper as we hiked up to the top, and the view made everything worth it. We looked out at the sea and had a perfect view of all the white towns nestled on top of the mountains all over Santorini! After that, we all went back down the mountain and onto our pirate ship.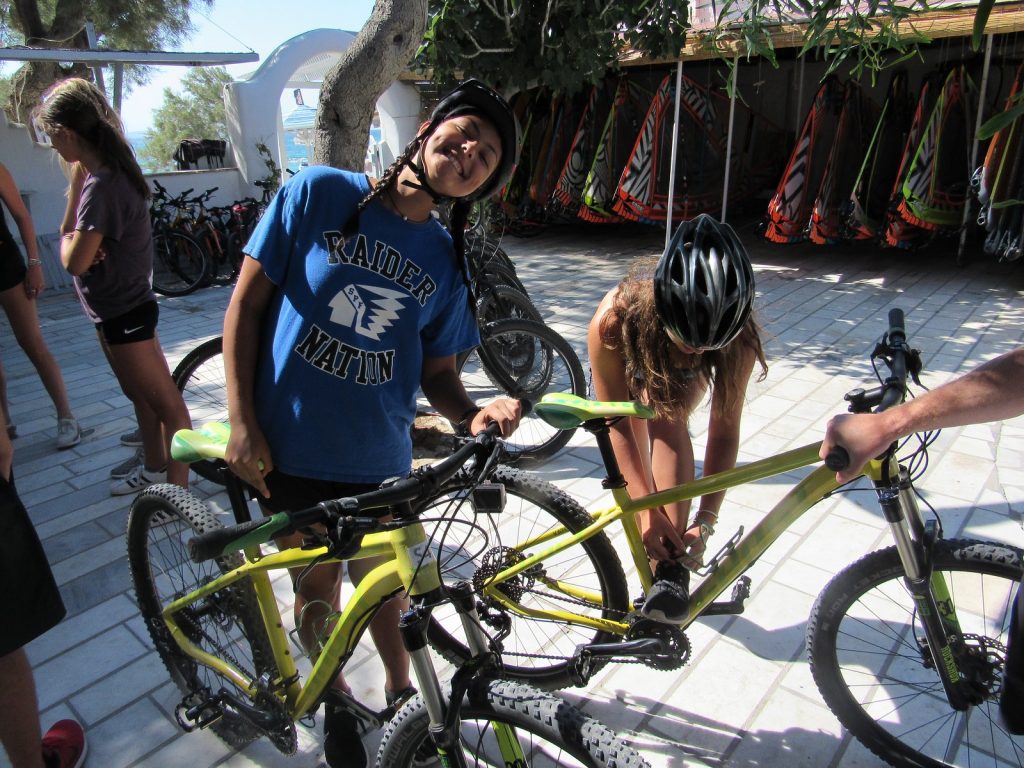 Our next stop was at a hot spring, and we all took turns jumping off the ship into the blue waters so that we could swim in the shallow water on the shores. We all immediately covered ourselves in the bronze mud (which is apparently great for your skin). After washing off the mud, we swam back to the boat and headed towards our final stop, a small island where we docked for lunch. When the boat took us back to the port, we all boarded cable cars to go back to the top of the mountain. Fira is a bustling town and everyone loved exploring the winding streets and cute shops at night. On our last day in Santorini, we explored the archaeological site of Akrotiri in the morning, and then headed to the beach for an afternoon of water sports. Sam loved the experience and talks about it here:
"We got to kayak out to see a gorgeous cliff called the Black Mountain, which is made of volcanic rock with crystal clear water and underwater caves! We had the perfect combination of incredible views and a mini-workout. After kayaking, we paddle-boarded around a classic Santorini black sand beach and got to snorkel with the fish. It was so much fun and I was so happy that we got to have another amazing day!"
We spent our last night on the island in the small town of Oia and gathered as a group to enjoy the perfect sunset. This morning, we said our farewells to Santorini and the islands and headed back to Athens. We checked back into our hotel and spent the evening in the Plaka district, doing some last minute souvenir shopping and enjoying our last family dinner. The past 24 days have been quite the adventure, and we're filled with memories to last a lifetime! We're sad to leave our new family, but our summer together will always be a perfect memory. To quote our beloved morning song:  "I remember every sunset, I remember every word you said, we are never going to say goodbye… in summer paradise with you"
Until next summer, ΚΑΛΗΝΥΧΤΑ (good evening) to all!
Thanks for reading!
The Westcoast Blogger
Does exploring the best of Italy and Greece interest you? Check out our 10-day, 17-day, and 25-day trips through Greece and Italy.