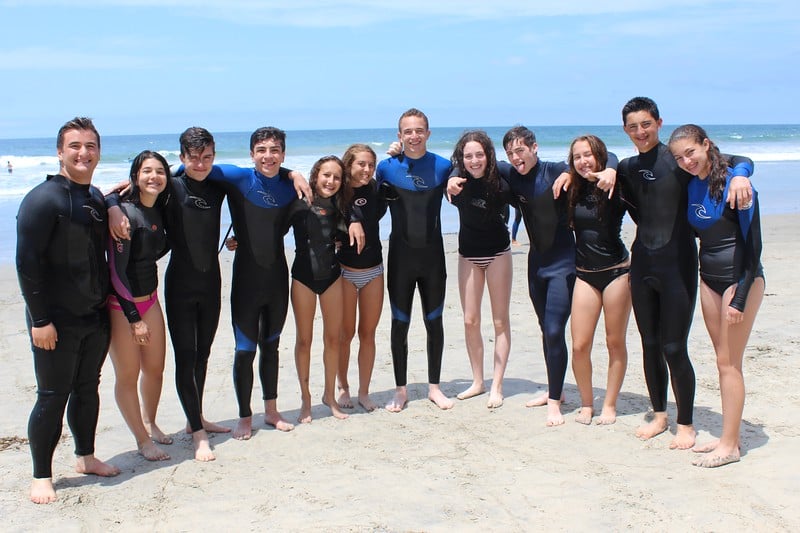 Cue the music, grab your sunglasses and apply your sunscreen; we are taking California by storm! Our first stop was beautiful San Francisco, where we started off our journey by dancing the night away. Our visit to Alcatraz the next day was really interesting and after visiting all the facilities, we could not believe how people could ever escape! Kole said, "The guided tour was very in depth and learning how the prisoners lived, to the people who worked there was very cool." At Fisherman's Wharf, some of us tried fish and chips and devoured delicious churros! We even spotted adorable sea lions close to the pier! A couple of trip members excitedly met NFL player Jeff Barnes from the Oakland Raiders and Zach L. even got to try on his super bowl ring! Our time at Ghirardelli Square was sweet and full of chocolate, sundaes and milkshakes. In true San Francisco fashion, we took the cable car to Chinatown and really felt like locals.
We couldn't leave the city without seeing and walking across its most famous attraction, the Golden Gate Bridge. Then many trip members ate yummy burgers at a Sausalito landmark, before we watched the San Francisco Giants play against the Oakland Athletics. The Giants ended up winning 7-2, which was super exciting and Jeffrey even started a wave that continued on through the crowd!
Afterwards, we drove to Lake Tahoe for an exciting camping stop. Everyone helped cook a delicious Italian dinner of pasta and meatballs! That evening we blasted songs such as, "Walking on Sunshine" and "Umbrella" and prompted Riley to exclaim, "dancing at the campground was great and we were all having the time of our lives." We concluded the night as one big family, roasting marshmallows and making s'mores around the campfire.
Talia loved the next day and said, "water skiing, wakeboarding and tubing was an absolute blast with friends!" With beautiful mountains and bright blue skies surrounding us, we spent the day on the water and relaxing all together. For dinner, everyone helped put together a tasty fajita night, with fresh fruit and chocolate fondue for dessert. Our group then participated in a program where we showed our appreciation and gratitude for one another.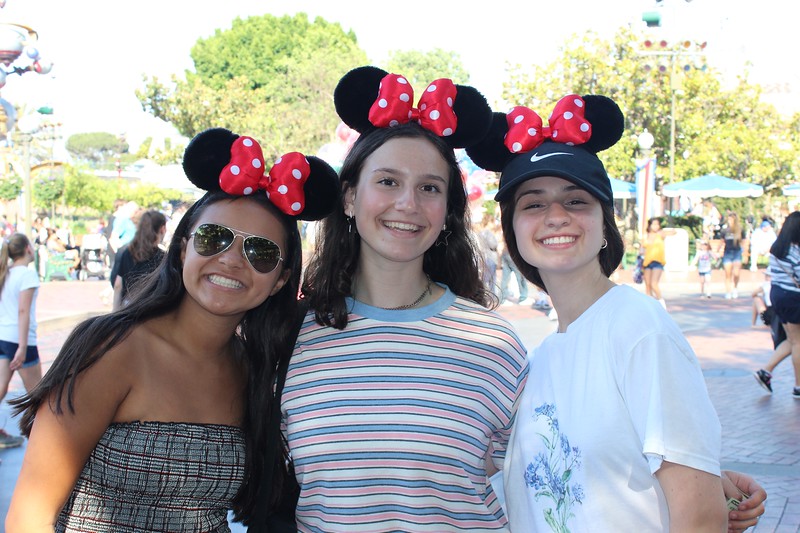 After our camping fun, we headed off to the land of movie stars and iconic landmarks – Los Angeles! Many of us were beyond excited to experience the celebrity lifestyle by visiting the famous city for the first time. Seeing the legendary pink stars on the ground, as well as the handprints and footprints of some of our favorite stars was a very surreal experience! Staying at the UCLA dorms was also an exciting opportunity to learn about university life.
The next day was full of thrilling rides, delicious snacks and iconic movie sets! Universal Studios allowed us to travel to famous movie and TV worlds, from Hogwarts to Springfield. We all loved the studio tour where we saw props and backdrops from movies such as Jurassic Park, Jaws and the Fast and Furious series. Max L. went on to say, "Universal was great and Harry Potter world was crazy and the ride was awesome!"
The next day, the group visited the Museum of Tolerance, where we explored world issues, and discussed how we can become active citizens. Then everyone ate a delicious lunch at the Farmers Market before exploring The Grove looking out for celebrities. On Rodeo Drive we checked out the designer stores and even pretended that our staff Jay was a celebrity. Within seconds, strangers from all over the street flooded around Jay thinking he was a real celebrity; it was hilarious and we couldn't stop laughing about it for hours! Furthermore, we ran into the famous soccer player Dele Alli from the Tottenham Spurs and Maxwell got a selfie with him. Riding the Ferris wheel on Santa Monica Pier at night was a great end to a fun day.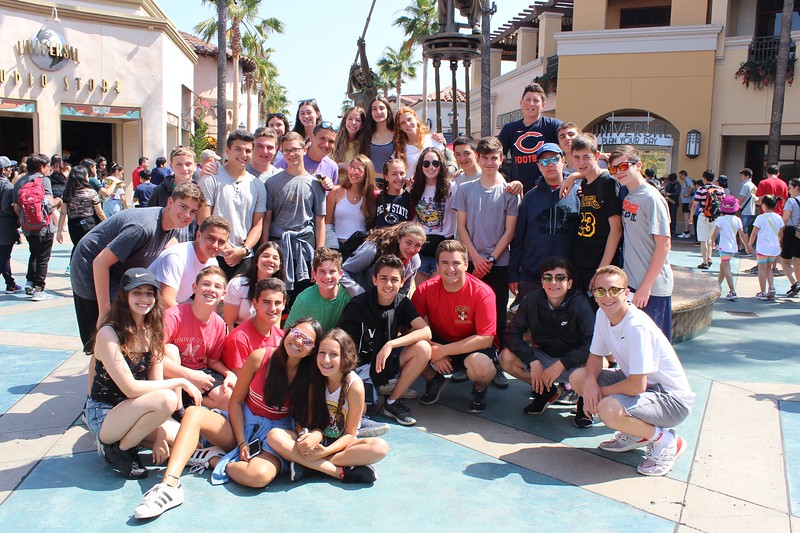 The next morning we volunteered at the L.A. Food Bank and helped pack boxes to be donated to different locations. Everyone helped sort the food into categories and label the boxes so they would be ready for meal distribution. In just 2 hours, we had boxed over 3000 pounds of food!
We then visited the most magical place on earth- Disneyland!  Liam said, "My favorite rides were Indiana Jones and Space Mountain!" Pirates of the Caribbean and the Haunted Mansion were also other hits among the group. At night there were fireworks over the castle to finish an unbelievable and magical day.
Our last day in L.A. was spent at Venice Beach, where we walked along the boardwalk and explored the bustling area. Then our group enjoyed the classic ice cream cookie sandwiches at the UCLA hotspot Diddy Reise. We then spent a comedic night at the legendary Hollywood Improv Comedy Club where we watched a great show! Nadav said, "My first comedy show was super enjoyable and I found it absolutely hilarious!" We even got a surprise visit from Jeff Garlin, the famous comedian from Curb your Enthusiasm, Daddy Daycare and The Goldbergs!
On the way to San Diego, we stopped at Moonlight Beach to go surfing! Emmi said, "Surfing for the first time really exceeded all my expectations!" Our second day in San Diego was spent visiting the well-known zoo and taking a bus tour around the different exhibits of exotic animals! Elephants, lions, penguins and lemurs were just a few of the many creatures we got to see. Later we went ice skating at the Westfield UTC and birthday boy Avi said, "It was my first time ice skating and it was a lot of fun!"
As we embark on the cruise, we cannot wait to spend the next few days at sea and treasuring every moment with each other!
The Westcoast Blogger
Do you want to have golden times in The Golden State? Learn more about our 40-day American Voyager!