What an incredible few weeks it's been: we've seen tropical islands and a mountain glacier. But, more importantly, the friendships we've made on this trip will surely last a lifetime!
In our last few days together, we went whale watching and saw the majestic creatures breach the waters in Juneau. After a morning filled with whales and sea lions, we explored the local town in what was traditional Alaskan weather. It was soon time to board our ship again and we danced the night away at the northern lights dance party; all while we started our journey to Ketchikan.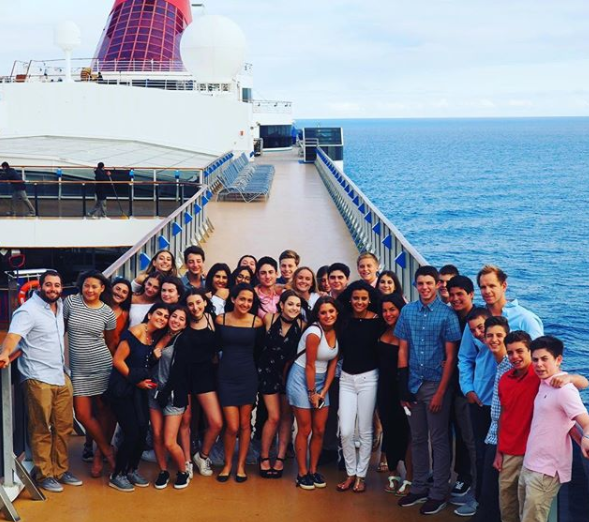 Once we arrived in Ketchikan, we hopped out of our big boat and into smaller ones which brought us to our sea kayaks. We explored the waters surrounding Eagle Island and were greeted by starfish, bald eagles, and even more sea lions. With the mountains and sunshine as our backdrop, we couldn't have asked for a better day; it was one of the rare non-rainy days in Ketchikan, of which there are only 60 per year. We took full advantage of the weather and explored the local markets and found some interesting souvenirs from shirts and hats to salmon jerky and spiced meats. Ketchikan caught us by surprise with its impressive mountains and local culture – it's a stop in Alaska we surely won't forget!
Our final stop on the trip was gorgeous Victoria, British Columbia. After sailing through the night we pulled into the gorgeous port and took in the views while we held our closing ceremonies. Memories of friends and incredible adventures were shared by everyone as we reminisced about the amazing time we had spent together. It was a bittersweet evening because we all knew that the flight home was the following day.
From Hawaii, to Vancouver, to Whistler, to Seattle, and to every stop in Alaska on the cruise, it's been an absolutely wild ride! We've seen and done things we never thought we would, tasted foods and cultures far from home, and now, at the end of it, we've returned home much more enriched and full of life! It's been the experience of a lifetime, and we surely won't soon forget our time on the tour with all our friends!
The Westcoast Blogger
Have you always wanted to explore Alaska and Hawaii? Check out our 27-day Hawaii and Alaska trip of a lifetime!