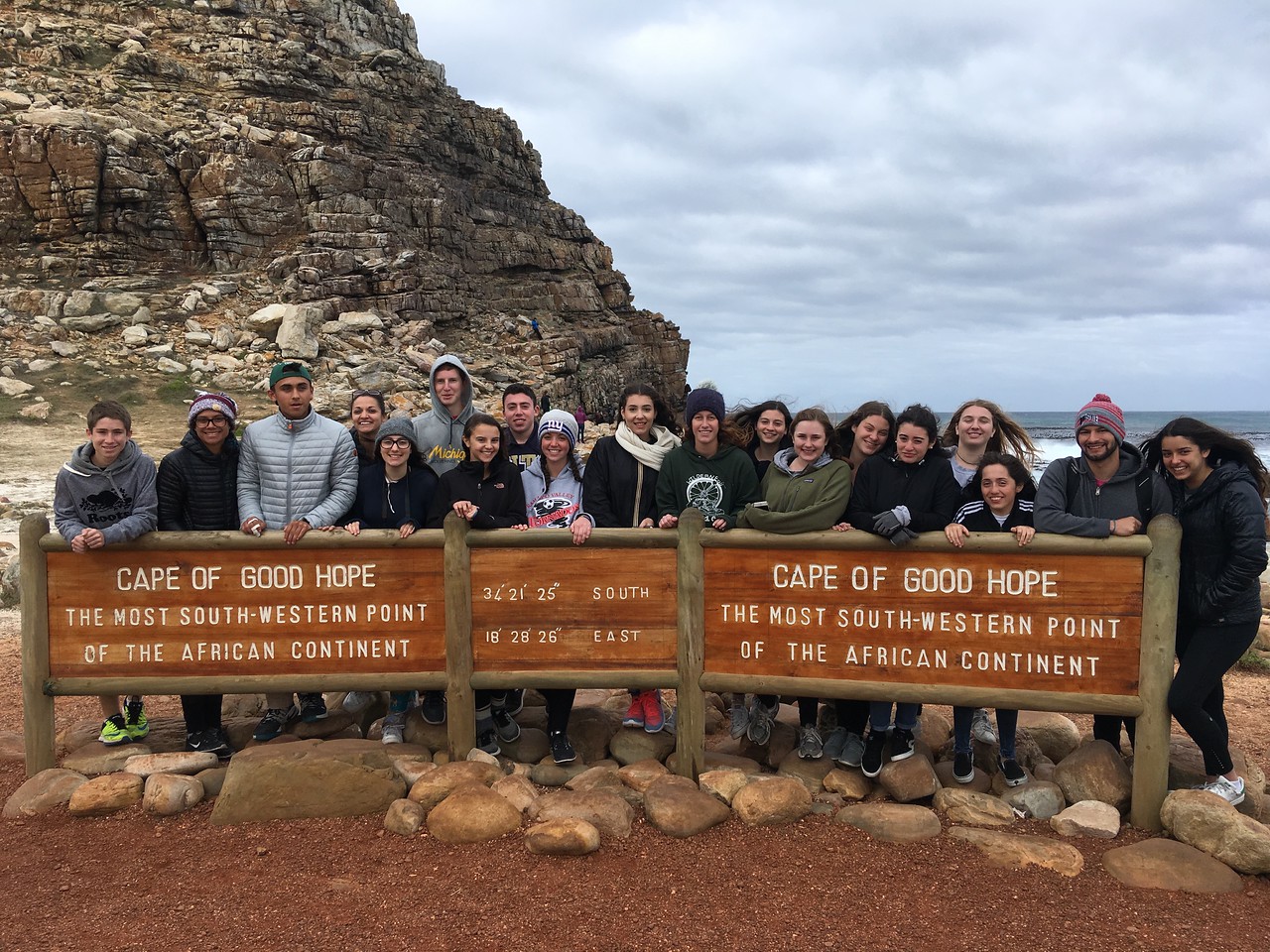 Molo! After an absolutely unforgettable time in St-Lucia, we began our final stretch of the trip in beautiful Cape Town. Upon arriving, we started with a trip to the waterfront, where we ate a delicious lunch and caught our first glimpse of the world famous Table Mountain in the distance. After filling our bellies and walking through the waterfront, we put our bargaining skills to the test as wit hit up Greenmarket Square. From rugby jerseys to local South African wood carvings, we all haggled for the best price for our souvenirs.
After our first sighting of Table Mountain, we went back for more as we hiked to the top of it on our second day in Cape Town. The mountain earned its name because its flat top is often covered in a layer of clouds, which creates the impression of a table cloth. While the hike was challenging, every step closer to the top was worth it as it revealed a more breathtaking view. Everyone agreed that this experience was not only one of the greatest trip highlights, but one of the most beautiful sights any of us had ever seen!  
After our hike, we had all worked up an appetite and rewarded our bellies with an authentic South African cooking class. We each had the opportunity to roll our own samosa and add a variety of spices to a flavorful curry dish. It was both a unique and delicious experience!
The following day, we started off our morning with a trip to Seal Island. Over the course of the boat ride, we saw countless seals lounging on the nearby rocks. We then made a trip to a local ostrich farm, where we learnt about the anatomy of these majestic birds and then met 5 especially social ones. These five were nicknamed the "Spice Girls" by the farm owners, and we even had the opportunity to feed them from the palms of our hands.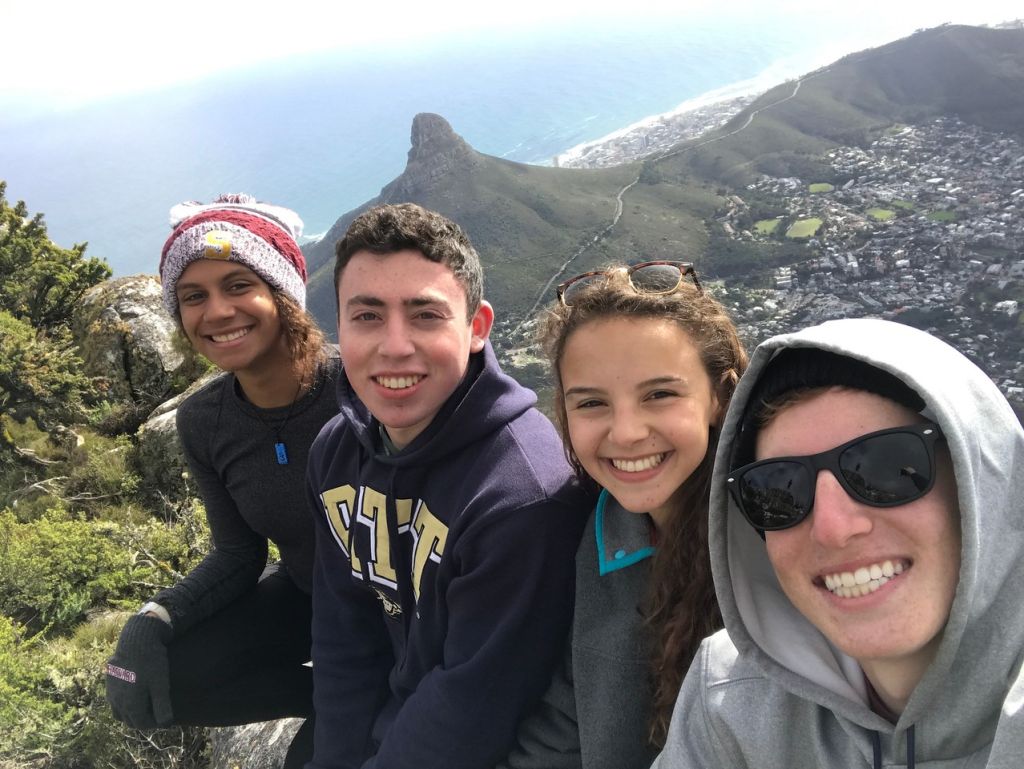 Following our animal-filled morning, we visited Cape of Good Hope, the most south-western point of the African continent. After taking in the gorgeous views, we concluded our day with a trip to Boulders Beach, an area made famous by the African penguin colony that lives on the shore. We were all amazed by how close we got to these unique creatures and how many penguins we saw!
After a memorable couple of days viewing the sights and sounds of Cape Town, we began our two final days of community service near Simons Town. Our first day started with an information session about HIV/AIDS in South Africa. While we had learned a great deal about the topic from our service in St-Lucia, this info session was a great forum in which to have all of our final questions answered. Afterwards, we had a Xhosa language lesson where we learned some basic conversational phrases. This lesson was incredibly helpful in preparing us for our remaining service, where we volunteered in two different preschools. The first school we visited was rebuilding after damage caused by a storm several weeks earlier. While we were there, we helped paint the school and created educational resource posters for the interior of the classrooms.
The next day, we made our way to a different preschool, where we put our teaching skills to the test. We taught our young learners about proper hygiene, including how to wash your hands, brush your teeth, etc. Following our lesson, we ended off our service with a visit to a nearby library where we played games, painted, and colored with the local children. It was the perfect conclusion to our community service.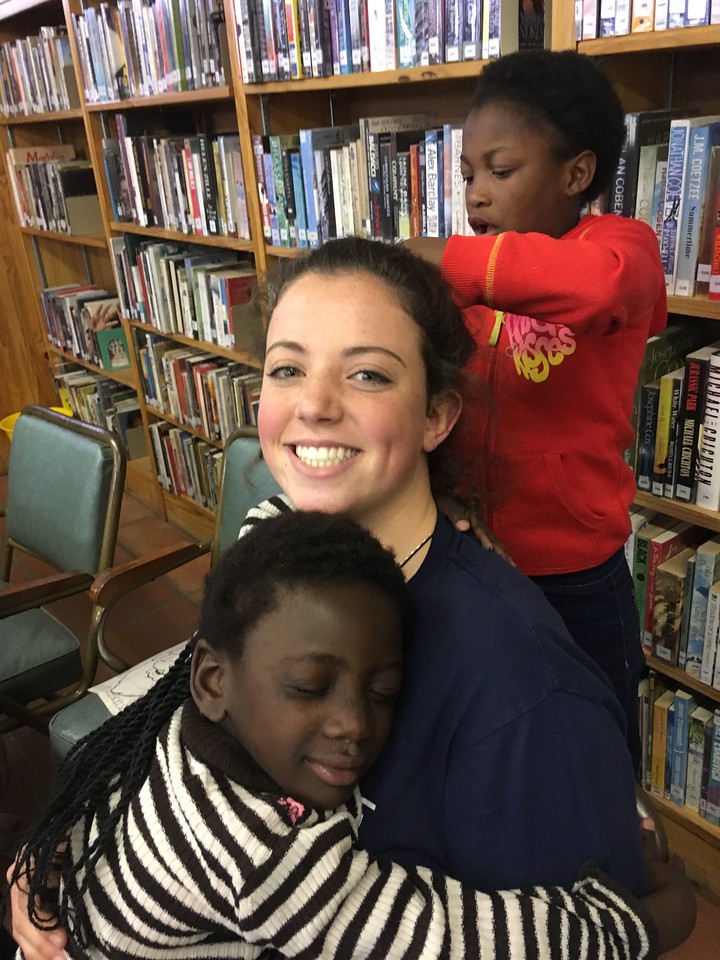 After two great days of service, we spent our final morning in South Africa with a visit to Robben Island. Throughout our tour, we learned about many of the political prisoners that spent many years imprisoned here, including Nelson Mandela who served 18 of his 27-year sentence on the island. While it was an emotional tour, it was amazing to witness such an integral part of South Africa's history.
It's hard to believe that 25 days have finally come an end. It truly feels like yesterday that we first landed in Johannesburg. From spotting the Big 5 on our safari to creating lifelong friendships, this trip was life-changing and none of us will ever forget it.
Sala kakulhe & enkosi, South Africa!
The Westcoast Blogger
Check out our 13-day and 25-day trips for a unique community service experience in South Africa, filled with wildlife, scenic landscapes, and an incredible cultural experience.