Cama-ihi! Greetings from the Carnival Legends cruise ship. At the time of writing this, we've just arrived in wonderful Skagway, Alaska, and are about to depart from the ship and pan for gold as our first excursion.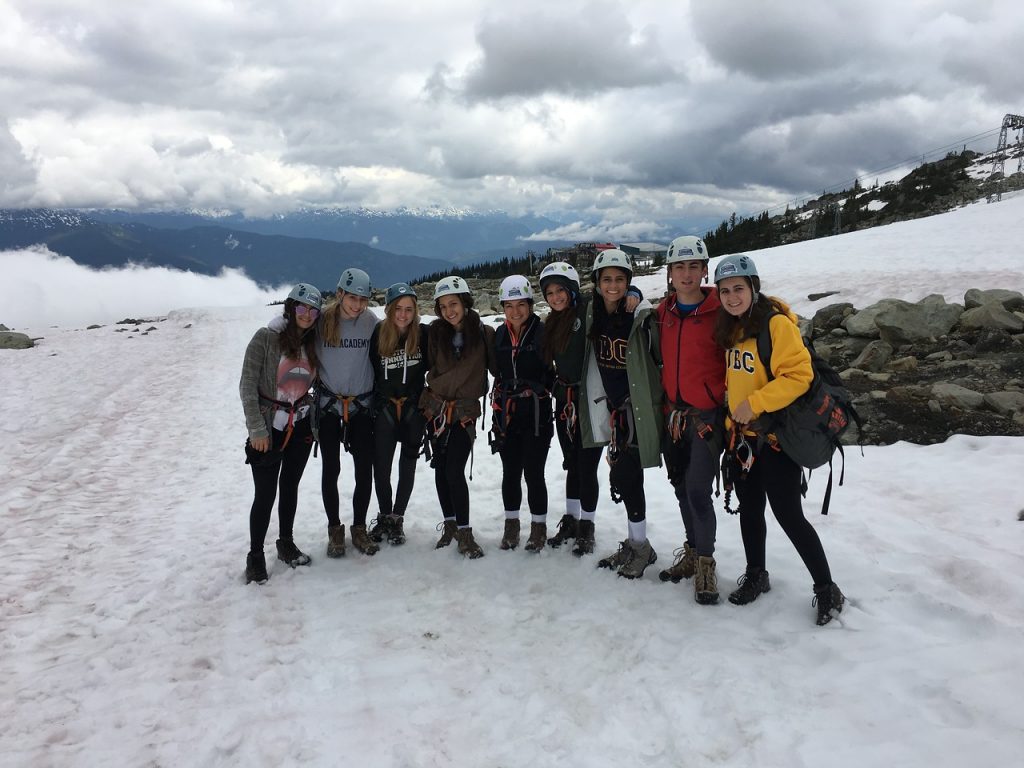 Before embarking on the open seas, we finished up an amazing stay in Whistler and Seattle. We soared to new heights as we climbed the Via Ferrata course. Our breath was taken away upon seeing the entirety of the mountain range. Climbing to the top, everything seemed so small. Even the trip down on the chairlifts showed us parts of the mountain some people never see. Afterwards we grabbed some lunch and hit the peak-to-peak gondola traveling across the valley and rising again to a wonderful view. At night we hosted the classic Westcoast Connection bake-off extravaganza in our amazing suites, and even though some of the boys burned all their treats, they earned style points for their matching robes.
The next day we sampled some of Whistler's famous mountain biking on a bike tour. Twists, turns, and trails excited all of us – and some even braved the advanced course and soared through challenging trails. In the afternoon we went to Rainbow Park, a local lake and beach area where we met a small army of dogs who were overjoyed to have us toss balls and sticks off the dock for them. We finished off our day with dinner in the village and a scoop of the famous Cows ice cream. Our time in Whistler was amazing and a fantastic way to finish our tour of Canada!
The next morning we traveled across the border for a second time and re-entered the United States of America, heading towards Seattle. After a fun bus ride we hit up the world famous Whirlyball for a night of exciting bumper car basketball.
Our first day in Seattle started off at Pike Place Market as we shopped around for souvenirs, food, and local crafts. We even saw the renowned gum wall of Seattle, with everyone placing their chewing gum into infamy. From one famous Seattle landmark to the next, we headed to the Space Needle and took the elevator to the top, taking in another one of the countless amazing views on our trip. After descending the most recognizable landmark in Seattle we perused the Museum of Pop Culture seeing exhibits about Bowie, Hendrix, sci fi, and video games – we even jammed out while recording our own songs in a music studio. Even after the full day of Seattle fun, we all headed to the movies where we watched Spider-Man, Wonder Woman, and Planet of the Apes.
The next day we hit the Wild Waves theme park for roller coasters, water slides, and amazing amounts of fun. It was a bittersweet day as although we all had fun, it was the last day for some of our Trip Members. We gathered at the Yard House for one last full-trip meal and shared all the great memories from the last few weeks. Seattle was amazing and it was sad to say goodbye to some of the great friends we've made, but we went to sleep anticipating the cruise ahead.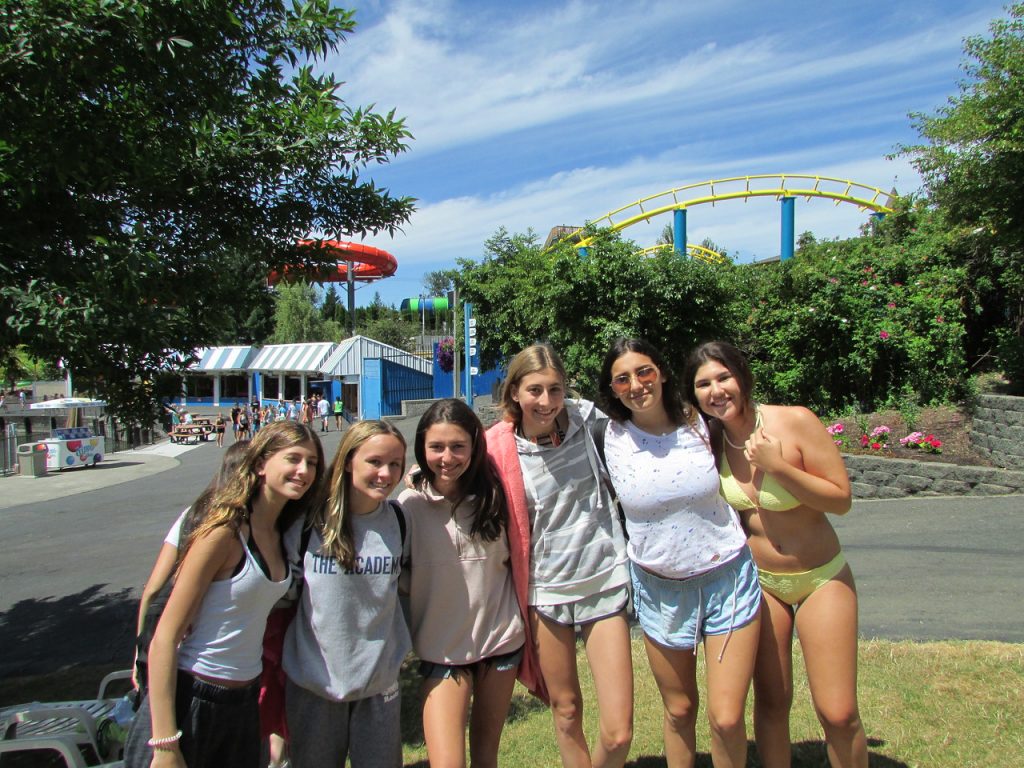 We set sail from Seattle and headed north towards our Alaskan destination. We were in awe of the size of the boat as we boarded the majestic Carnival Cruise Legend Valencia and awaited our departure. With a bit of free time before our rooms were ready, we all attacked the endless buffets which awaited us. After a tasty start to the cruise we waved good bye to Seattle and made or way out to sea. By dinner time we had picked up speed and were on our way. We met our wonderful wait staff headed by the amazing Ketut, who would serve food before we even knew we wanted it.
The next day, we took advantage of our day at sea to explore the entirety of the boat, from the pools and hot tubs to the gym, mini golf, and buffets. Dinner was designated as an elegant night so we dressed to the nines and dined on the finest lobster. Every night we experimented with our taste buds trying a range of rare finds including blood sausage, ox tongue, rabbit, and escargot, followed by molten lava cakes and endless soft serve ice cream. We have certainly eaten our fill aboard the ship and are loving the random nightly dance parties led by Ketut.
We traversed the Tracy Arm Fjords and saw majestic views of glaciers and mountains. Pulling into historic Skagway we saw an Iditarod demonstration from Katherine (in training for 2019) and Matt (seven-time Iditarod runner) as they introduced us to their furry four legged friends who have collectively traversed the entirety of Alaska. Matt and Katherine even brought out some future Iditarod champions: we met seven young Alaskan huskies who were just getting ready for a life of racing.
We returned to the boat after panning for gold and learning about Skagway's history from the famous Dakota "Panning". At night we enjoyed our dinner in Skagway harbor before departing for Juneau the next morning.
Alaska is beautiful! We've experienced so much and made so many incredible memories. Our trip is almost over, but we will surely never forget the amazing times we've spent together!
Thanks for reading!
The Westcoast Blogger
Have you always wanted to explore Alaska and Hawaii? Check out our 27-day Hawaii and Alaska trip of a lifetime!