Bienvenido a Ecuador!
So far Ecuador has been incredible! We arrived in Quito and were welcomed by warm weather and beautiful sunshine. As we drove to our hotel, we were able to look at the stunning views of the city, and were surprised by how vast and sprawling it is. It looked like an ocean of lights!
We visited the local Mariscal artisan markets where some of us tried bartering with the locals and others got their hands on beautifully-woven hammocks. We then headed to the Panorama restaurant for dinner on top of a hill, where we were able to take in the stunning views of Quito at night while enjoying a traditional Ecuadorian meal of potato soup, chicken and beef, cooked vegetables, and rice.
The next morning, we started our city tour at the fruit market. Our local guide, Jose, let us try taxo, a fruit with sweet seeds similar to a passionfruit. It was delicious! We then headed to Quito's main cathedral, Basilica del Voto Nacional. What's unique about this particular cathedral is that it's built in the gothic-style but, instead of gargoyles sitting on the tops of the towers, animals found in Ecuador and the Galapagos are featured instead. So, as we walked around it, we were able to spot monkeys, anteaters, lizards, condors, and tortoises looking down at us. We climbed to the top of the clock towers to get a breathtaking view of the city in the morning, and then continued on to the Compania de Jesus church, which is covered in gold on the inside. On the way to the Panacillo lookout, we stopped to try some empanadas, which are meat- or cheese-filled pastries that are very popular in South America. Naturally, we couldn't help but compare them to the ones we had in Peru—the jury's still out on which one is better!
After lunch, we headed to Mitad Del Mundo, the Middle of the World! We stood on the equator and tried different experiments in both the southern and northern hemispheres! Sarah and Jamie even managed to balance an egg on the end of a nail and became official Mitad del Mundo Egg Masters with a certificate each to prove it!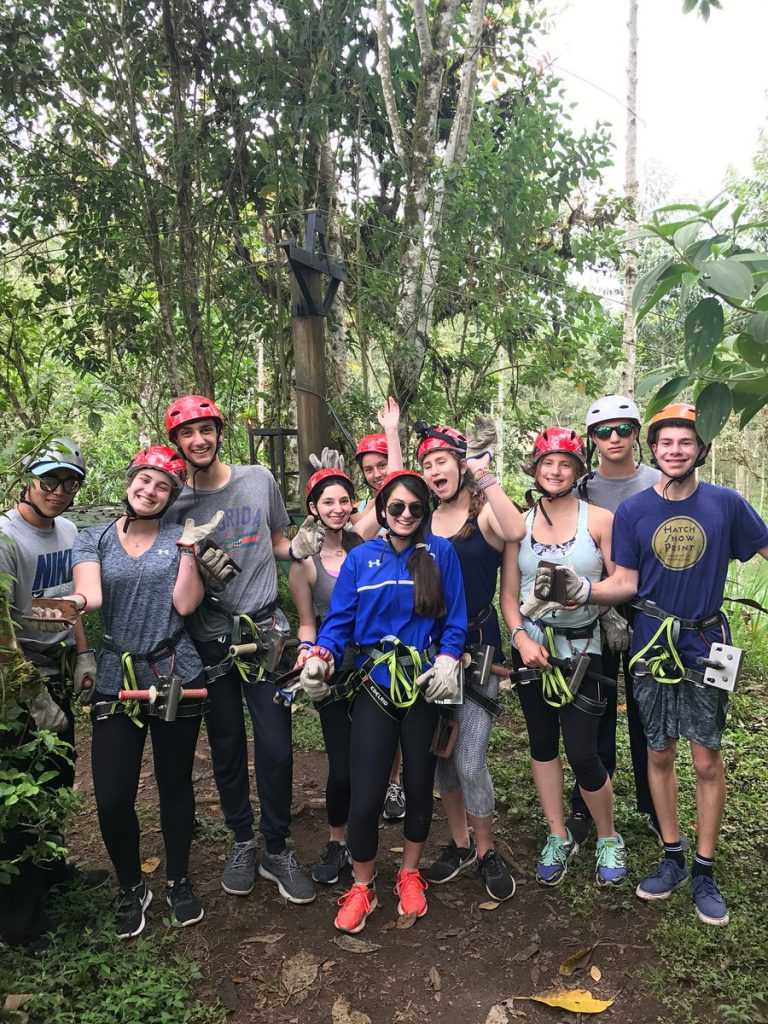 The next day, we set out bright and early to get to Mindo for some zip lining! While there, we learned about the importance of ecological conservation and witnessed some of it in action, as we zipped through the jungle taking in the lush views of all the plants and birds. Our guide even tried making some howler monkey calls to see if they would call back to us! After, we headed to the river for some tubing, and one of our members captured the whole ride on her GoPro! Afterwards, we made our way to a local lodge where we went swimming, hung out in the hot tubs and steam room, where we learnt that the aroma we were smelling was eucalyptus (which has great health benefits). For dinner, we stopped at the Red Hot Chili Peppers restaurant, where we had some great-tasting tacos and burritos and signed our names on the wall of the restaurant that was filled with tourist signatures.
We now say "Adios!" to the mainland as we head off to the Galapagos to enjoy some island life!
Until Next Time,
The Westcoast Blogger
Does exploring a beautiful country like Ecuador interest you? Learn more about our 11-day Ecuador & The Galapagos Adventure, or 21-day Peru, Ecuador & the Galapagos Adventure!