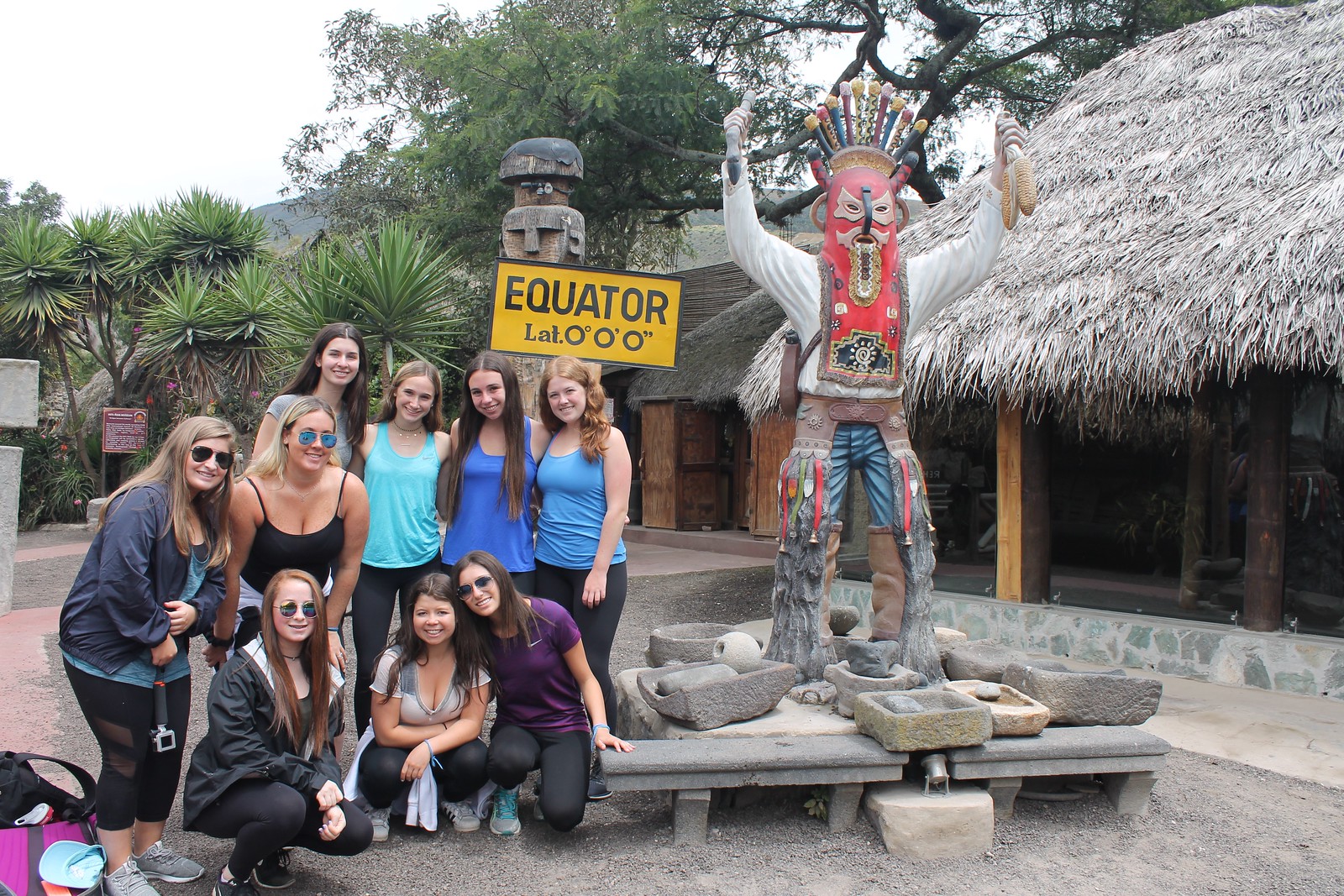 The landscape in Peru is picturesque, and nothing is better than experiencing the view from a horse. As we trail ride along an ancient Incan trail, we get to soak in the landscape that surrounds the city of Cusco. It's phenomenal! Beautiful rock structures emerge from the Earth, and there's one called Devil's Balcony where we got to take a fantastic group photo. Imagine looking out into a vast mountainous scene, perfect weather, and getting to "horse around" with your best friends. Without a doubt, all of us will remember this epic journey throughout the Cusco countryside!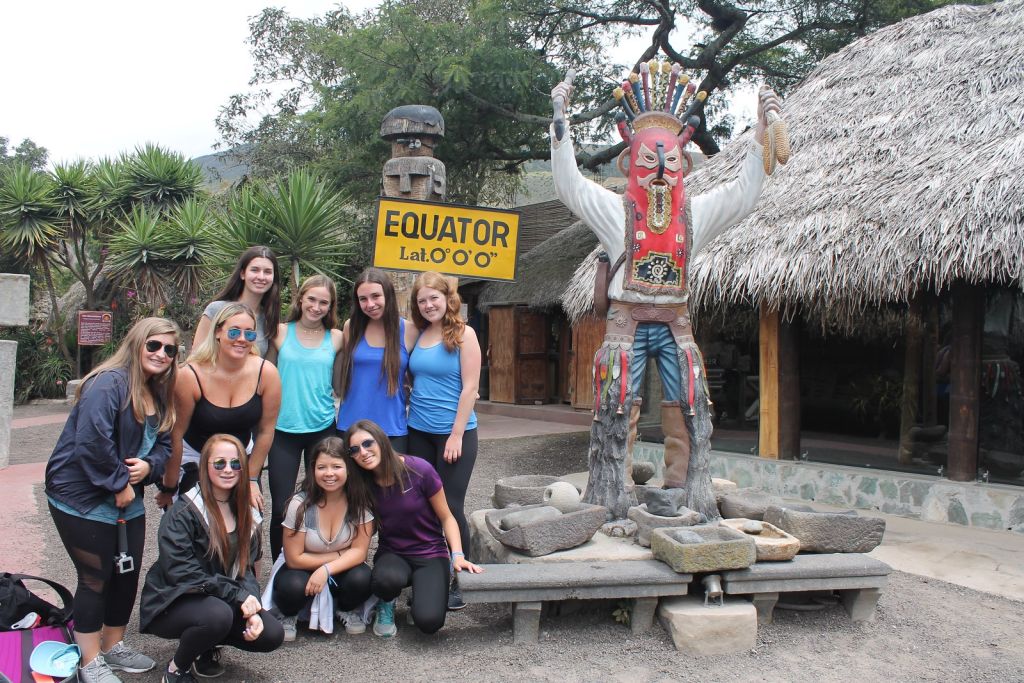 Subsequently, our group was taken to the heart of Cusco, where Peruvian life pulses throughout the streets. On our city tour, our group was taken to the main Cathedral in Plaza de Armas, which houses a painting of the Last Supper where each Apostle is feasting on a guinea-pig.
The city tour also led us to the Koricancha, also known as the Temple of the Sun, where we learned more about Incan architecture and shot part of our music video. For real, these rocks are astounding! We learned that it took approximately 160 individuals to move these rocks into their exact places and the rocks weigh up to 80 tons. Maybe the Incans had 'rock-hard' muscles, and that's how they were able to move the stones.  
As our time in Cusco came to a close, everyone was beyond ecstatic to head to the desert oasis of Huacachina! After a quick flight to Lima and a fun bus ride, we found ourselves in Huacachina, standing at the base of some enormous sand dunes. That night, a small crew of us hiked up a giant dune so that we could see Huacachina and the neighboring city of Ica from the top. While the hike up was challenging, the lights of the city and sky made it all worth it! The clear night sky offered us a chance to relax and gaze up at the astronomical wonders that inspired the ancient Peruvian empire, and each night in Huacachina, a group would hike up the dunes to explore the glittery night sky!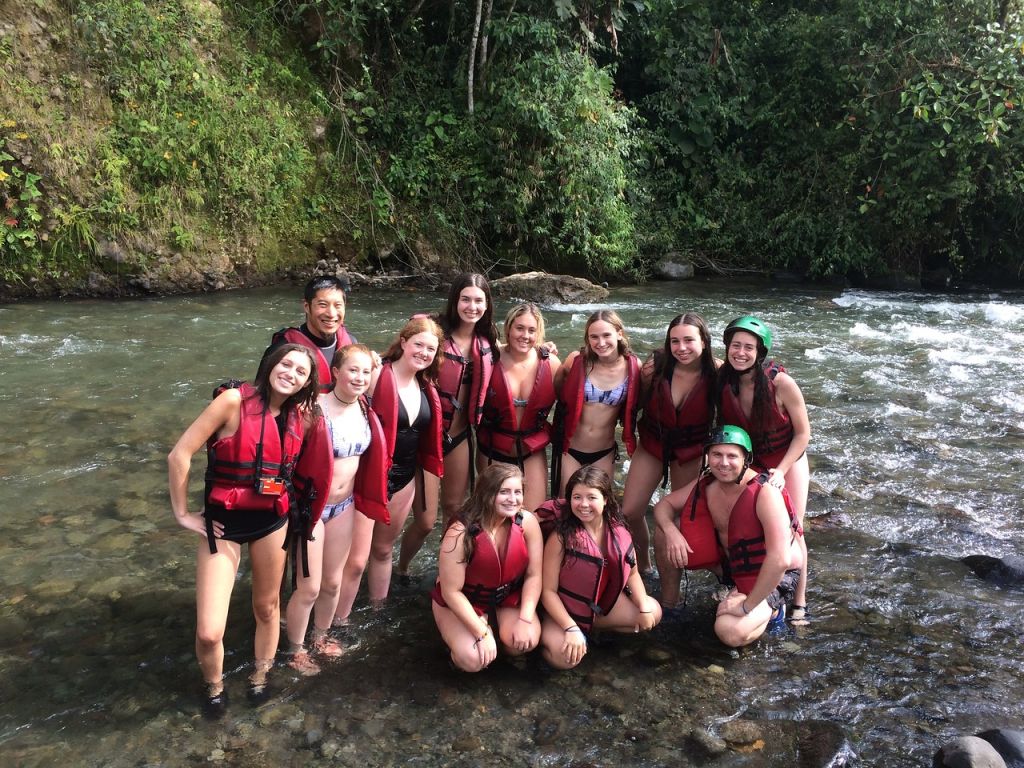 During our time in Huacachina, we got to explore the mountainous sand dunes in dune buggies and by sand boarding! The experience was like playing in a giant sandbox! As the buggies bounced through the sandy terrain, everyone laughed and gasped at the thrill. While sandboarding, we zoomed down the dunes on our stomachs. The experience was so unique and crazy! All of the pictures that were taken in the sand dunes look epic, and you would think that we were hiking the Sahara Desert!
And like that, within a blink of an eye, our Peruvian holiday had come to an end. On our final night together, we bonded even closer together by sharing funny stories. Each trip member got a small llama keychain to remind them of their time in Peru together, and we spent a good portion of the night reminiscing about all the fond memories we'd created.. Can you believe that the Peru portion of our trip is over? Neither can we! So with bags in hand, we boarded the bus the next morning to move on to Ecuador!
We were so excited to open the 'Ecua-door' and arrive in Quito! Once we got to the Hotel Embassy, they greeted us with a traditional welcome drink called canelazo. The drink has a cinnamon spice flavor to it, and it set a celebratory tone for our Ecuadorian visit. However, we decided that we wanted to celebrate with strawberry milkshakes and fries, too. So that night, we ordered in and began our Ecuadorian and #GalapaGal adventure!
Quito has been phenomenal, and we really are at the center of the world! At the Intinan Museum, we were able to do some really cool experiments on the equator. Have you ever tried to walk the equator? It's harder than you think! The southern and northern forces pull you in different directions, and it makes it nearly impossible to walk a straight line. Moreover, due to the gravitational forces, it's possible to balance an egg on the top of a nail head. Patience pays off, and some of us are now certified, "egg-masters!"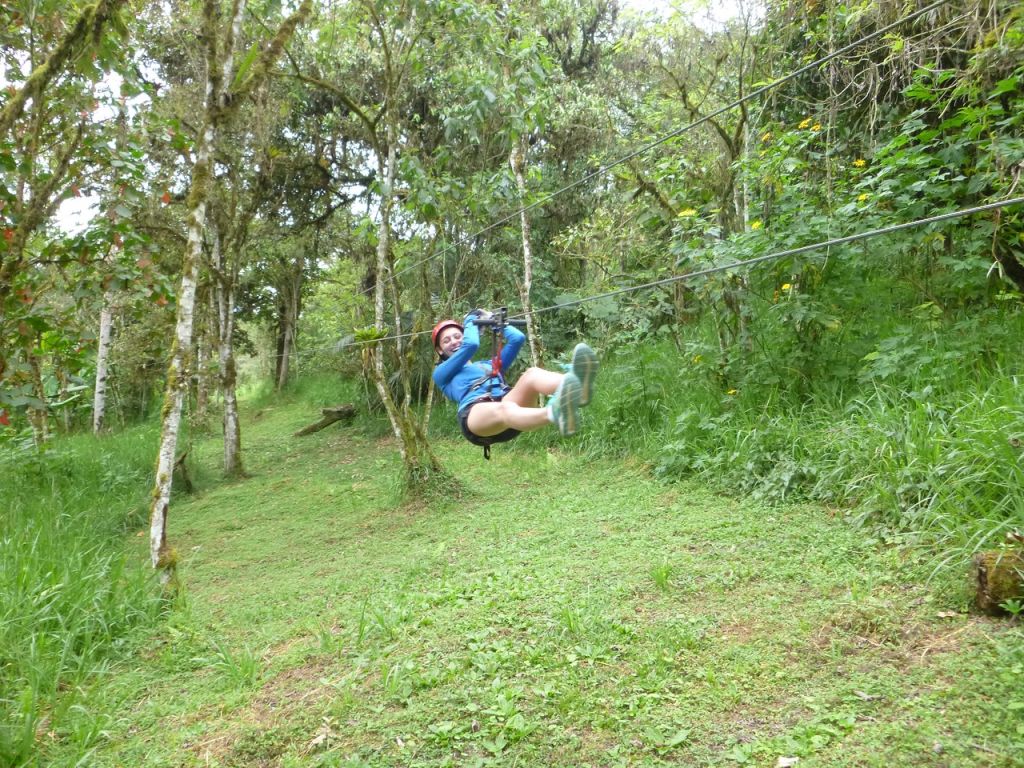 We also journeyed outside of Quito to Mindo, in order to zipline at Tucanopy and go river tubing! The forests outside of Quito are astounding, and the flora and fauna are vastly different than what you find in the highlands. As we zipped through the canopy of Mindo, we learned about the different inhabitants of the Cloud Forest. At one point, we even witnessed a snake in the trees! However, the highlight had to be the river tubing, because it was such a unique experience. Imagine a mild white water experience, mixed with a lazy river-style tube. The entire way down the river, we all just laughed and chuckled at the ridiculous fun we were having!
As our time in Quito came to a close, we were all ready for Galapagos! Wildlife! Snorkeling! True adventure! Our flight descended toward the island of San Cristobal, and we all knew that this portion of the trip was going to be exceptional! With snorkel gear in hand, we made our way to a quiet cove called Tijeretas, and that's where the magic happened. Within minutes, we were snorkeling with marine iguanas, sea lions, and giant sea turtles. Each animal was more magnificent than the last, and we were able to capture some incredible footage on our GoPros. For hours, we snorkeled with the wildlife, and we watched as they gracefully maneuvered their way through the water. That night ended with us watching the sunset over the island landscape, and us smiling at the bizarre noises that the sea lions were making!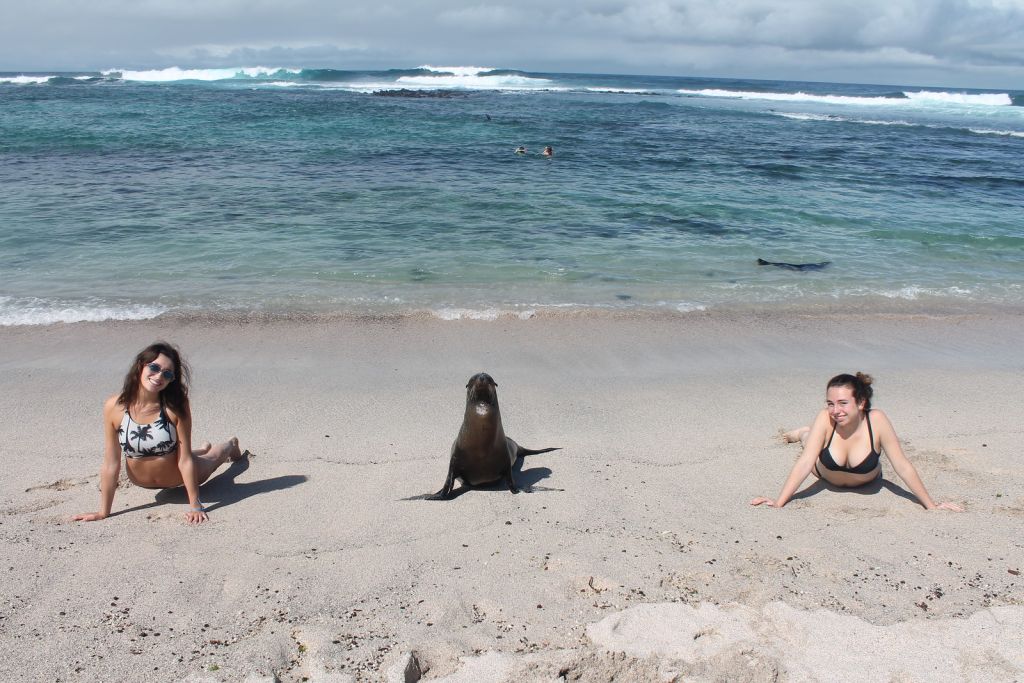 Even more exciting, the next day we set sail for one of Galapagos' natural wonders, called Kicker's Rock. After snorkeling around a nearby beach area, we were ready for the main thrill! Kicker's Rock used to be a volcano, but due to erosion, now looks like a giant rock sticking out of the ocean, and it's known for its hammerhead shark population. So with our trusty guide showing us the way, we jumped into the water and started looking for these friendly sharks and other aquatic wildlife. Some of us saw sharks, and others saw stingrays, sea lions, and turtles! This entire experience was impressive, and it was amazing seeing sheer cliffs shoot right into the water!
After a marvelous time on San Cristobal, it was time to head to the island of Santa Cruz! Santa Cruz is a younger island, and you can definitely see a difference in the island based upon the plant and animal inhabitants. On our first full day in Santa Cruz, we got to explore the Darwin Center, which houses various tortoises. The Center has been helping to repopulate the tortoise population, and our guide was able to show us the differences in the tortoise's shells and how each tortoise adapted to different islands.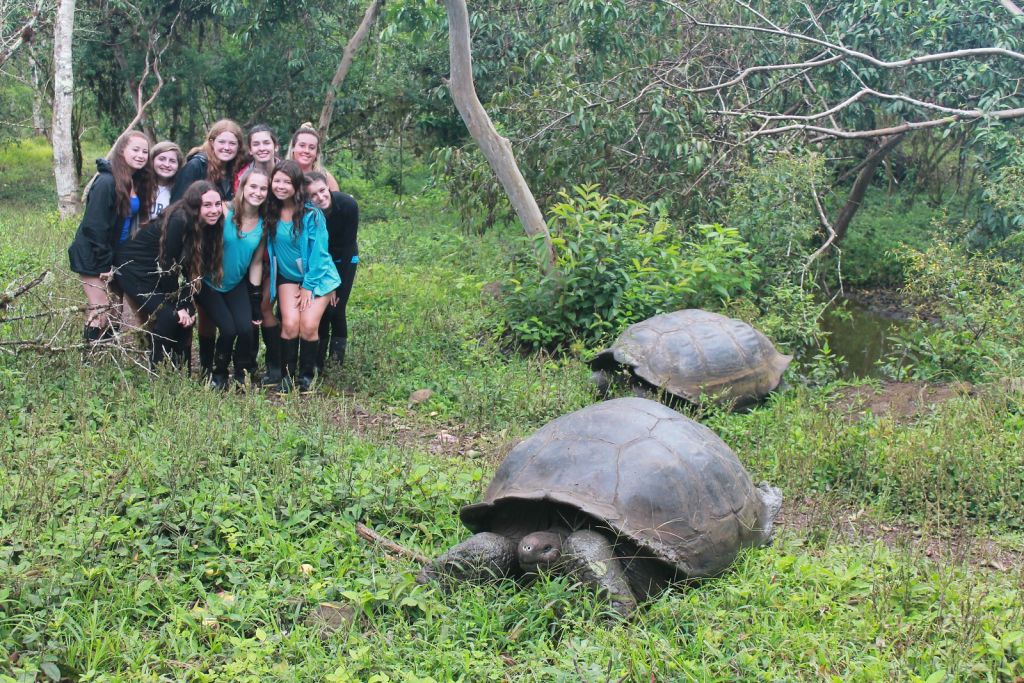 Although tortoises are cool, we were ready to do something a little faster-paced in the afternoon. With sunscreen lathered on, we headed out on a short hike to Tortuga Bay to go kayaking! The day was perfect, and we were able to see baby sharks swimming in the clear waters, and even witnessed a Galapagos stork feeding a baby hatchling.
More wildlife was seen the next day when we headed to the El Chapo Ranch, where we got to have close encounters with wild giant tortoises. Each one was so cute and we learned that early inhabitants of the islands used to keep them as pets, which came as a surprise to us. Since the tortoises live to be roughly 160 years old, some of the tortoises at the ranch used to be pets themselves.
Before we knew it, our time in Galapagos had come to an end, and it was time to say goodbye to each other. We ended our final day by making awesome personalized t-shirts, giving out paper plate awards, writing one last postcard, and spending time showing each other the awesome pictures that we had taken in Ecuador and Galapagos.
Can you believe that the trip is over? We can't believe that we had to say goodbye so quickly!
The Westcoast Blogger
Have the wonders of Peru and Ecuador piqued your interest? Learn more about our 11-day Peru Adventure, or 21-day Peru, Ecuador & the Galapagos Adventure!