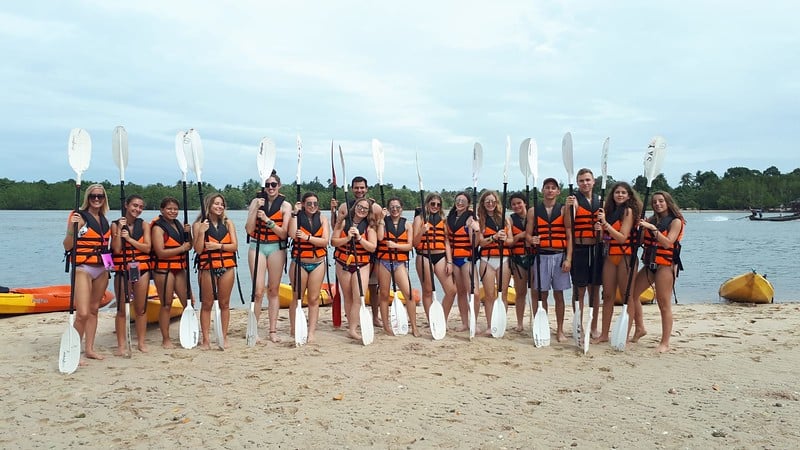 Hello from tropical Thailand! We have ventured south to the beaches of Krabi, where we headed to Ao Nang Beach to play Frisbee and catch some rays and waves. The group had a great time indulging in authentic Thai massages, exploring the town, kayaking through the jungle and hanging out at a rooftop infinity pool.  
The next two days felt like they were out of a movie! First we headed to Railay Bay, a small peninsula located between the city of Krabi and Ao Nang that is only accessible by boat due to the limestone cliffs. These cliffs attract rock climbers from all over the world, but the area is also popular due to its beautiful beaches and quiet, relaxing atmosphere. The water was so warm and our group spent the entire day at the beach. After enjoying our Thai lunch we moved to the east side of the peninsula, where the water was super shallow and provided great views of the cliffs.
Our final day in Krabi was spent on an authentic longboat tour of the four islands. The group had the opportunity to stop twice to snorkel, where we saw some of the most colorful fish ever, and had lunch on Koh Poda. After lunch, everyone headed to Chicken Island (named after its distinct shape) to relax on the white beaches.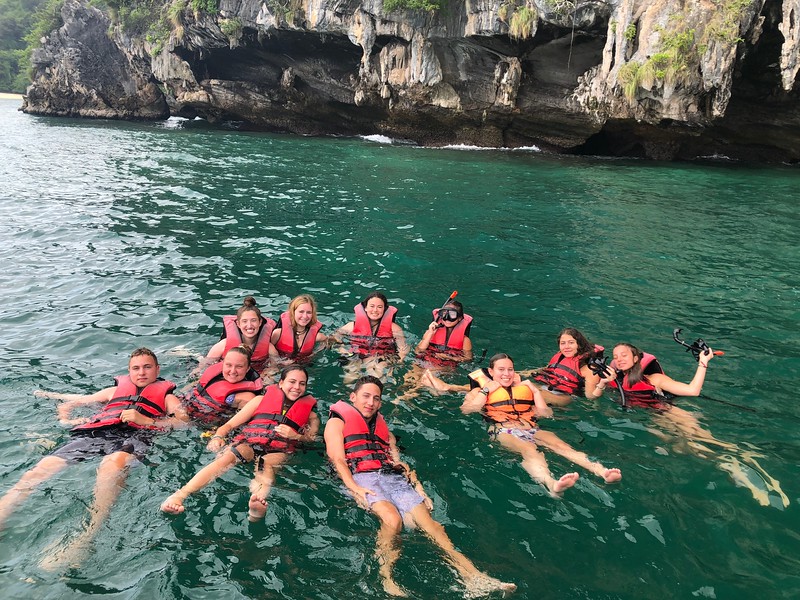 Our final days back in the City of Angels were great as we explored the many interesting areas that Bangkok has to offer. We witnessed a truly unique sight at the Maeklong Market, which is held on an actual railroad track. The coolest part was definitely when the local train was coming and the vendors, in a matter of moments, slid their goods off the track to allow the train to pass through, then quickly set right back up. Afterwards, we had a guided tour of a floating market and it was amazing to see how the locals sold their food from their long tail boats.
Later, we held a banquet as our trip came to a close and we said "Khob Khun Kha" or "Thank You" to the people of Thailand for having us along for this amazing adventure. The scenery was breathtaking, the people were unbelievably kind, and our group created memories that will last a lifetime. We will truly never forget our time here in Thailand!
The Westcoast Blogger
Interested in exploring and traveling in Thailand? Check out our 25-day Thailand Community Service opportunity!