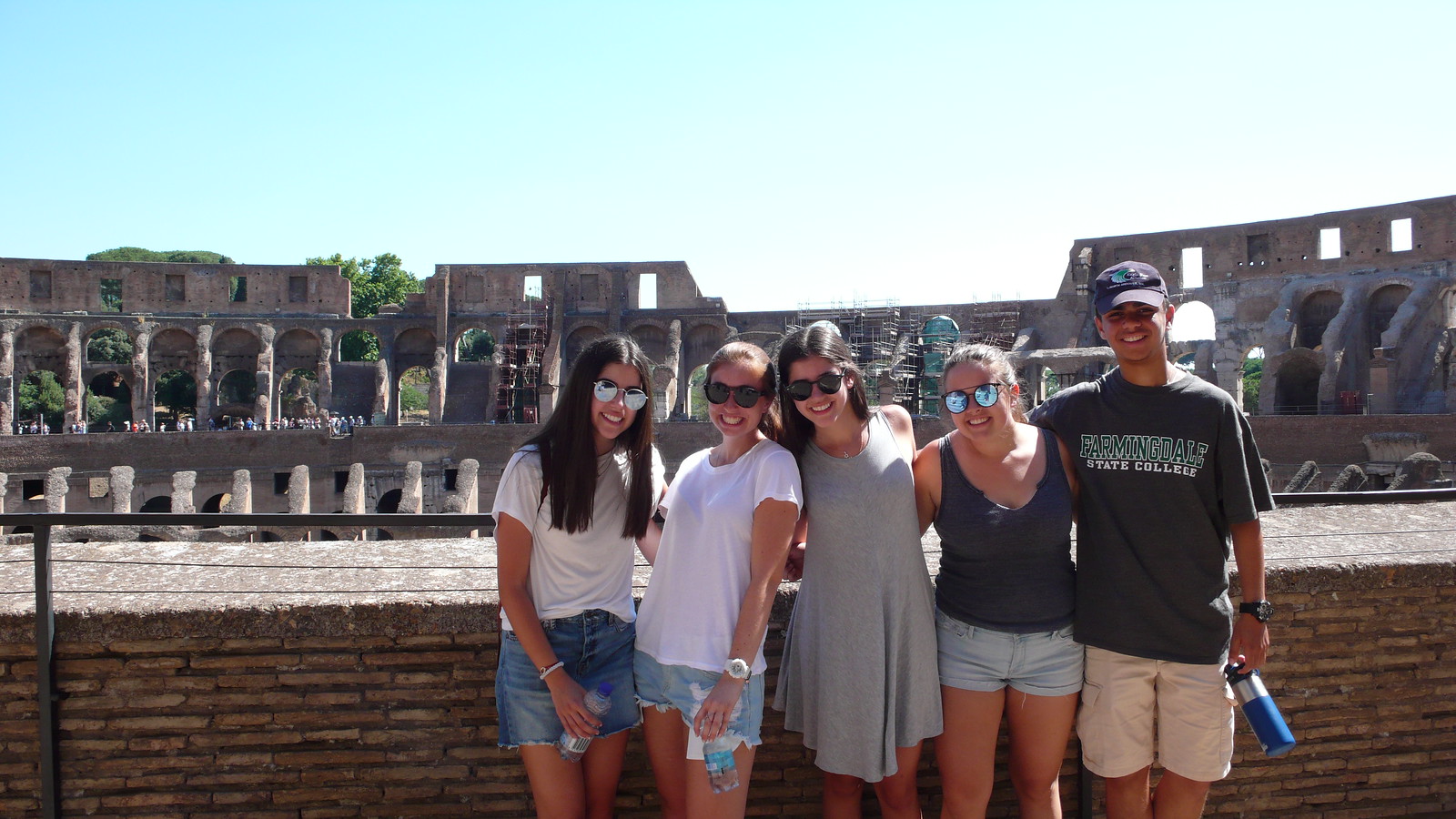 From the mountains to the canals
The scenic drive from Switzerland to Italy was gorgeous!  On the bus ride, we initiated an activity called "five fingers."  Trip members used the bus microphone to retell their favorite memories of our trip so far.  For their thumb. they mentioned something they've liked from the trip so far; they used their pointer finger to give shout outs to their friends; the middle finger was for a challenge or something they weren't crazy about; the ring finger for a promise they intend on keeping when the trip is over; and the pinky finger for something small they appreciated on the trip.  It was great to listen to everyone come up on the mic and tell their heartfelt stories.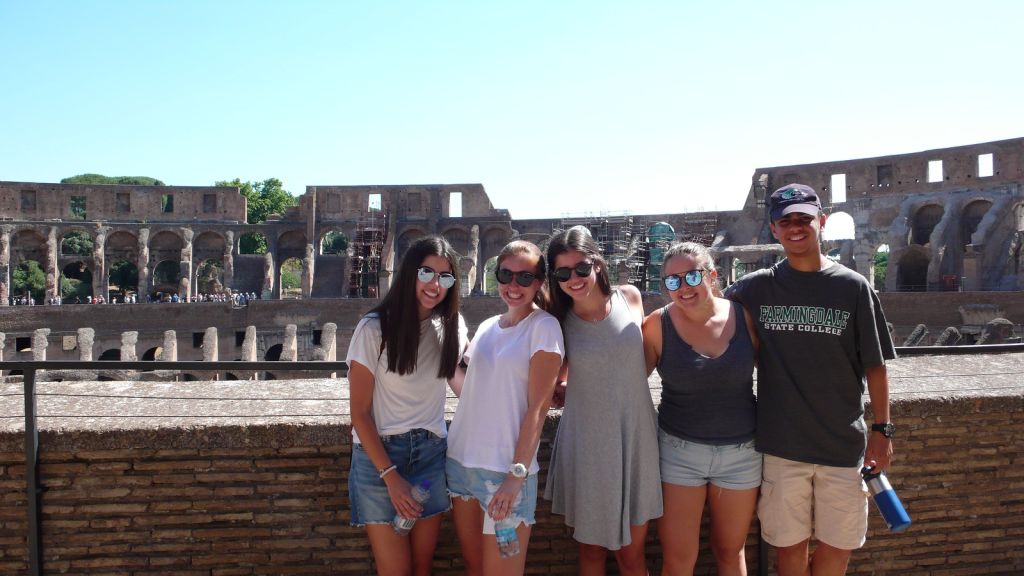 Upon arriving in Venice, we started a game of "Assassini!"  Each trip member was equipped with a clothespin and given a target to "assassinate," trip leaders included!  To assassinate someone, you need to clip the clothespin to your target undetected for 5 seconds.  Should you succeed, your target is eliminated, and you now take their mission.  This continues until all but one person remains, at which point they are crowned champion! The targets were handed out in secret on a boat ride to dinner, where the group enjoyed some great home-style Italian cooking.
Jewish Ghetto
We toured the Jewish ghetto and some remarkable synagogues in the morning.  One synagogue dated as far back as 1528 and had been kept in incredible condition, including the original furniture.  We were respectful, and some of us were even able to translate the Hebrew scripture on the walls.
In the afternoon, it was super fun to watch everyone sneak up on one another with "assassination" attempts on their minds, as we snaked through the narrow streets of Venice.  We enjoyed fresh fruit stands with the best watermelon, and coconut flesh for refreshment.
By day's end, the Assassini winner was announced!  Queen Lily, as she was deemed, was awarded the custom-made trophy which resembled a mini Stanley Cup of tin foil, with photos of the Eiffel Tower, Zermatt, and Châteux Versailles!
Life is my club
Today, we traveled to the beach town of Rimini; a vacation destination for locals and tourists alike.  On the way,we had an Italian lesson so everyone could get around using the basics.  Ciao, per favore, grazie, prego, arrivederci, gabinetto, questo, and pomodoro were among the vocabulary.  It was cool to see them put their new words to use in town!  We then had dinner at an all-you-can-eat-sushi restaurant, where the kids devoured waves of delicious sushi like hungry sharks!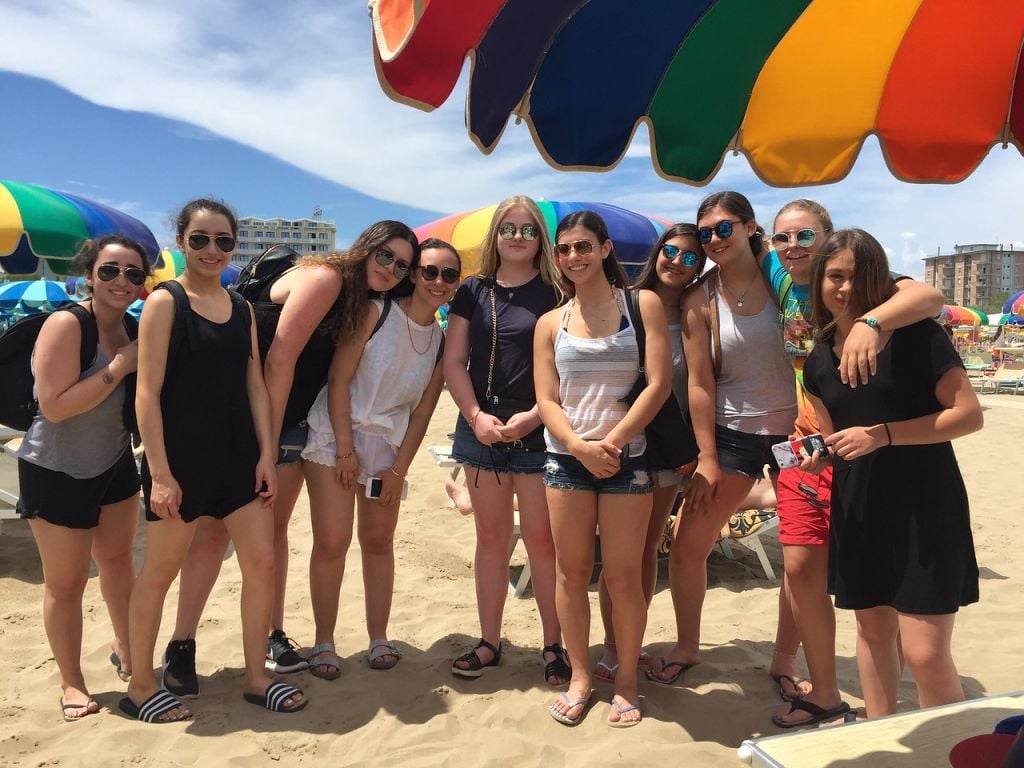 That night, we went to Life disco to dance the night away.  After midnight, the club turned into a foam party, where bubbles poured onto the dance floor from a giant tube!  We made hats, beards, and gave a couple "pies in the face" to each other as we had fun in the bubbles.
Rimini Beach
After our late night, a beach day was definitely in order.  The trip members relaxed in sun chairs, played music from their portable speakers, swam in the ocean, ate pizza, and some even got massages as they laid under the hot Italian sun.  A group of six found a beach side basketball court, where they played a game of 3 vs 3.
For our night activity, we walked down to the beach and laid in tanning chairs near a beach disco. Back at the hotel before bed, some of the boys put on hip hop music and freestyle rapped.  It was a beautiful evening and many of the other trip members hung out in their adjacent balconies to listen to our young aspiring rappers
Rome

Trip members made wishes of returning to Rome and falling in love as they tossed coins into the Trevi fountain.  It was groovy listening to a live Pink Floyd cover band as we observed the Pantheon.
The next day, we had a guided tour of Vatican City and the Colosseum. Our wonderful guide, Aleria, told us all about the history of Rome. We also bartered with street vendors for fashionable items as we made our way to dinner in the charming Trastevere area.
Buon Compleanno!  
In the morning, a small group set out for an unscheduled visit to the ancient ruins of Rome.  They observed old aqueducts, and structures which have stood the test of time.
Happy 18th birthday, Ben!  Ben had his birthday wishes come true with ice cream cake and authentic cannoli from a Sicilian cannoleria.  We equipped him with a Roman leaf crown and swag gear that we were given from the Life club.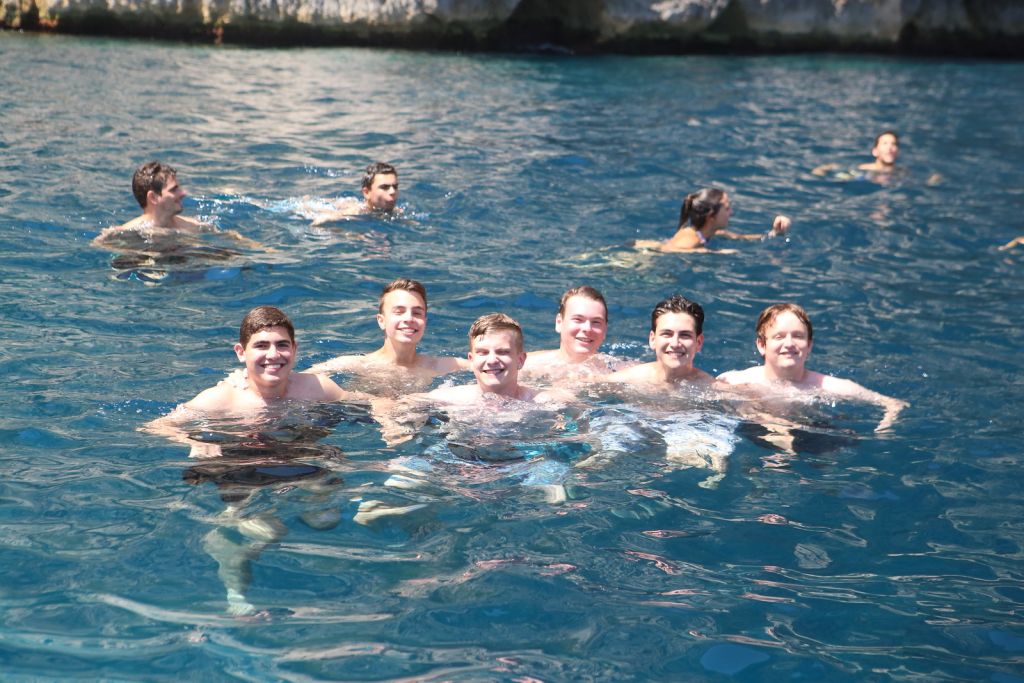 We celebrated at a Roman toga party in the evening where opera singers and an accordion sang to us during dinner.  It was really cool to have the trip members sing back as they broke into Dayenu.
Back to the sea
After some history and touring of Rome, we stopped in Pompeii on our way to Sorrento.  Outside the ruins, our guide described the laid-back lifestyle of southern Italy that we were about to experience; less stress, less rushing against the clock, and general enjoyment of simple activities.  We took a break with fresh lemonades and orange juice and relaxed for a moment before leaving for the Amalfi Coast.
Positano
We took a boat to Positano where we set up on tanning chairs with umbrellas on an exclusive beach.  Wandering the cliff-side town after 1pm proved interesting, as anyone trying to get something to eat or shop after this time would find that most places were closed.  Sometimes you could still find the staff hanging out in their restaurant socializing, or others would go home for their own lunch, siesta, or just relax until they reopened around 4pm.  Whenever any of our group members experienced something culturally different like this, we called it "getting cultured."  It has become a pretty amusing catchphrase throughout our trip!  Trip members and leaders often teased each other about "getting cultured" whenever the region got the best of us.  Being a large group, we had a pretty strong presence ourselves, so sometimes we joked about the locals getting cultured by us!
During dinner distribution, the boys announced Harry's 'fake birthday' to the wait staff again!  This time, the house musician came over and played a lovely acoustic version of "Happy Birthday," and also some of his hits.  It turned out to be a nice experience as the group enjoyed the music and conversation with the artist!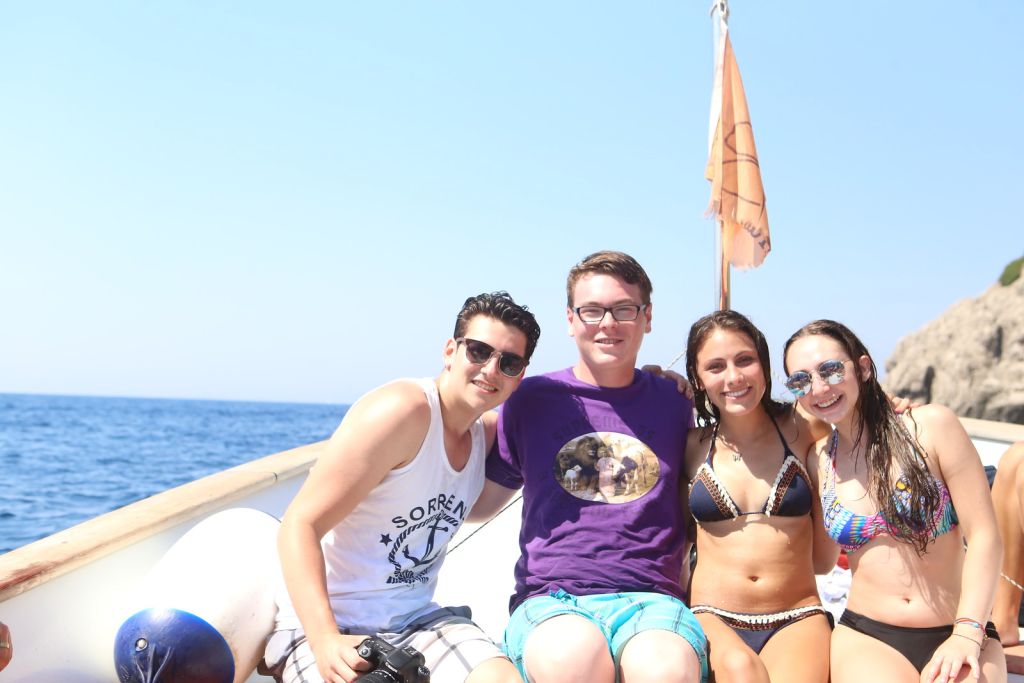 Capri Sun
Did I mention we've been having perfect weather?  On another beautiful sunny day, we took a boat ride to the island of Capri.  The group enjoyed delicious fruit slushies as they explored this town on the side of the mountain.
After lunch, we boarded a private speed boat.  The boat brought us on a tour around the island while visiting grottoes and caverns at the base of the cliffs.  We jammed out to music as we motored through the crystal blue water.  It was fun to hear the kids put on our trip song, "Sunshine" by Matisyahu, and sing along!  We parked the boat a couple times so that we could dive in and have a delightful, refreshing swim!
Back in Sorrento, the gelato streak continues…
Until Next Time,
The Westcoast Blogger
Are you interested in exploring Europe? Explore our 20-day and 28-day European teen tours and start planning your own adventure with Westcoast Connection. It will be the travel experience of a lifetime!