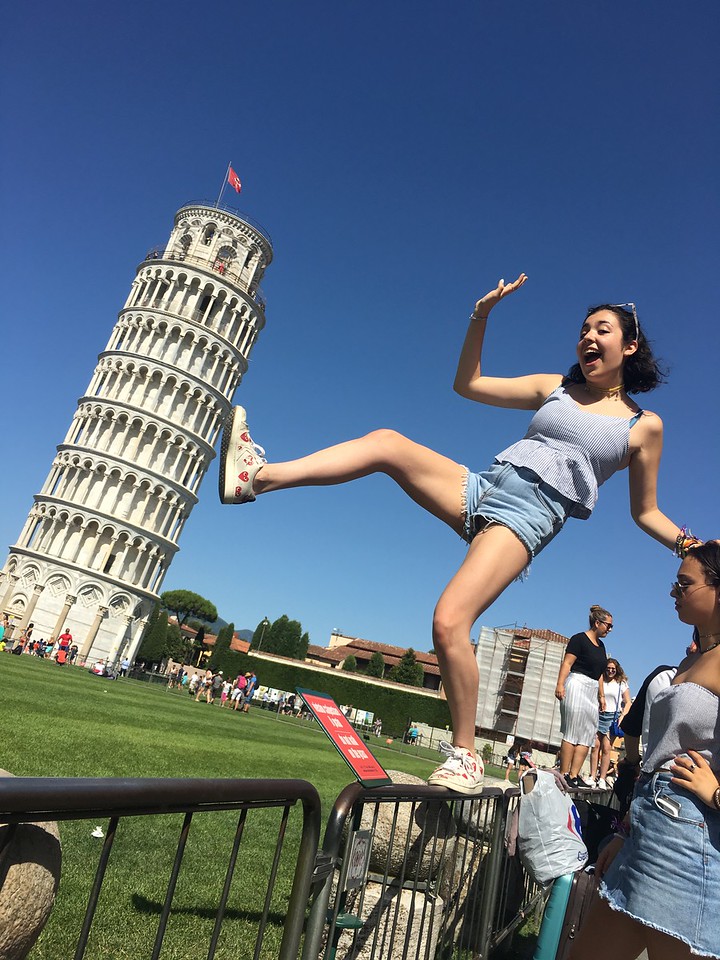 On last Tuesday morning, we visited the leather market and met Massimo, an experienced leather shop owner, who filled us in on all things leather. We were able to look around at some Italian-made designs and practice our haggling skills at the various market stands. After class, some students opted for a visit to the Boboli Gardens, located behind the Palazzo Strozzi. This extensive garden features beautiful green mazes, statues, and fountains. We had such a lovely, relaxing stroll and had the opportunity to watch the sunset over Florence.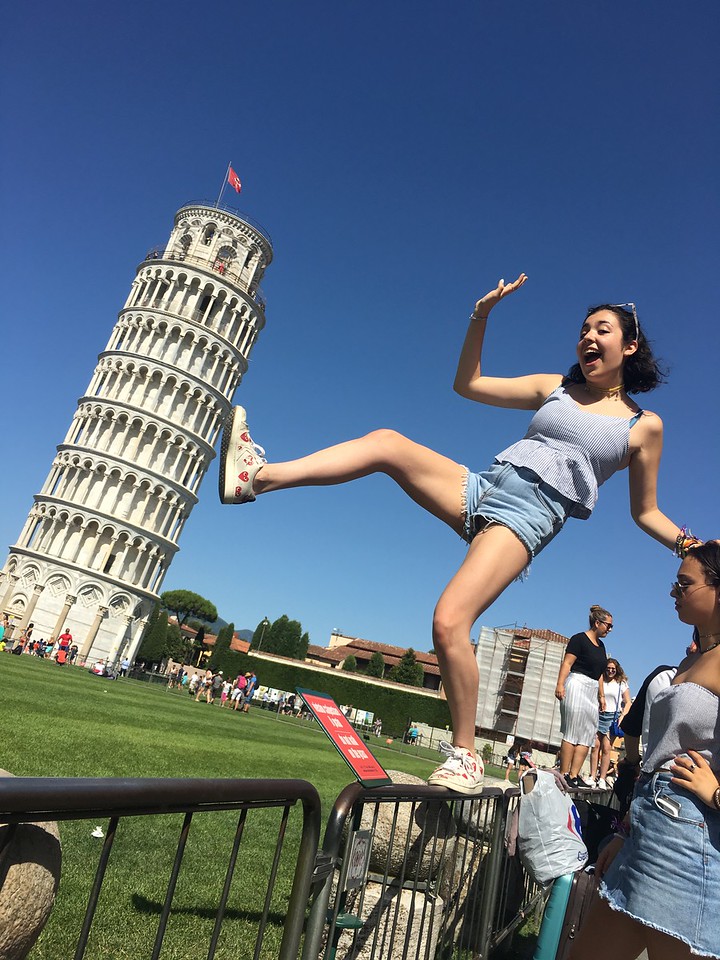 On Wednesday morning, we took a business- and commerce-oriented tour of the city. We walked passed the Arno river and across Oltrarno until we reached a large Bottega (artisan shop). This bottega, which specializes in home décor, is now renowned internationally, despite its humble beginnings. We learned about the business and its employees, and how a small idea was turned into an international venture (all while maintaining the feel of a small artisan boutique). Our guide, Sandra, also shared interesting facts with us along the way about the various boutiques and antique stores that we passed. One comment that stood out revolved around a famous ceramic store in Florence. When it experienced some economic difficulties, it was bought out by no other than Gucci, and is now thriving.
On Thursday, some program members opted for a morning hike and caught incredible views of Florence. Others relaxed with brunch or a morning walk around the city before class.
Friday: Pisa
On Friday morning, we made our long awaited visit to the Galleria dell'Accademia and saw Michelangelo's David! Art history students shared so many interesting facts with the group about it. Our tour guide also provided us with insight into the other pieces of art in the museum, though we were all most impressed by the Academia's main attraction, David.
In the afternoon, we hopped on a bus and made our way to Pisa. After a short walk, we caught our first glimpses of the famous leaning tower. We were super excited to see the tower in person and quickly began taking our (many) funny Pisa tower pictures.
Saturday and Sunday: Venice
On Saturday morning, we boarded our private bus and headed to the magical city of Venice. As soon as we arrived and settled into our hotel, we took a Vaporetto (water bus) into the city. We were all amazed as the boat approached Venezia and we got closer and closer to the beautiful buildings and piazzas. We began our time in Venice at the famous Piazza San Marco and had time to explore the small, maze-like streets of this mysterious and enchanting city. Of course, no Venice visit is complete without an iconic gondola ride so, after lunch, we traveled through the canals on gondolas and were mesmerized by the views and music.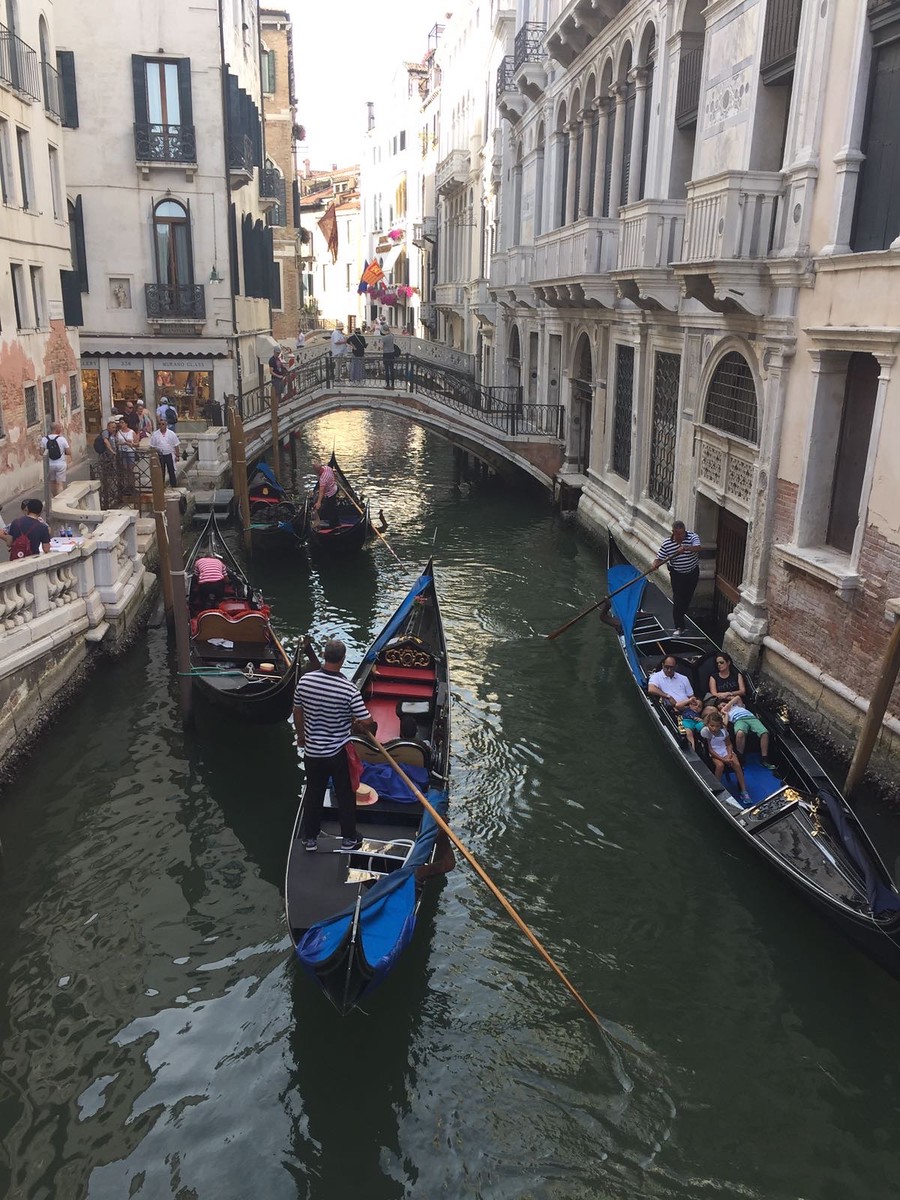 On our second day in Venice, we traveled to the Jewish ghetto and had a guided tour of three different synagogues. Jews of different countries, mainly Germany, France and Spain, established each synagogue. These synagogues were quite different from the ones many of us are used to back home, as they were built in pre-existing Venetian buildings and showcased Italian architecture. Later on, we visited a Murano Glass factory and watched a glass blowing demonstration; the sheer talent and expertise we saw blew us away! In a few short minutes, and while constantly rolling the hot glass, the artisan was able to create a flower vase and horse figurine. Both art pieces were absolutely beautiful! We also had the chance to learn more about the art of glass making and how these pieces are painted and created. After supper in the city, it was already time to wave goodbye to the masquerade-capital and head back to Florence. A la promise, Venezia!
Last week of classes
Can you believe it's already our last week of classes? Neither can we!
On Monday, we met up with a retired soccer player, Fabio, and current national coach who guided us through the museum of soccer. We were lucky enough to get special access to the training fields of the national Italian team, and we even crossed paths with the women's national team! In the museum, we were able to see jerseys, flags and other memorabilia showcasing the history and importance of soccer in Italian culture. A major highlight of the museum was the collection of players' jerseys and the World Cup from the 2006 final Italy-France game. Our soccer-themed day was completed when we had an afternoon soccer match with the university's coach!
On Tuesday evening, competition was in the air with our own edition of MasterChef: Via Ricasoli. Our chefs were divided into teams by residence floors and given a few secret ingredients to work with (pasta, tomatoes, basil, eggplant, parmesan, dried tomatoes). The judges, our program leaders and director, were quite impressed with the meals and presentations our teams cooked up with such little time. Those cooking classes sure are paying off! After heated deliberations, members of the third floor were crowned Florence's new master chefs.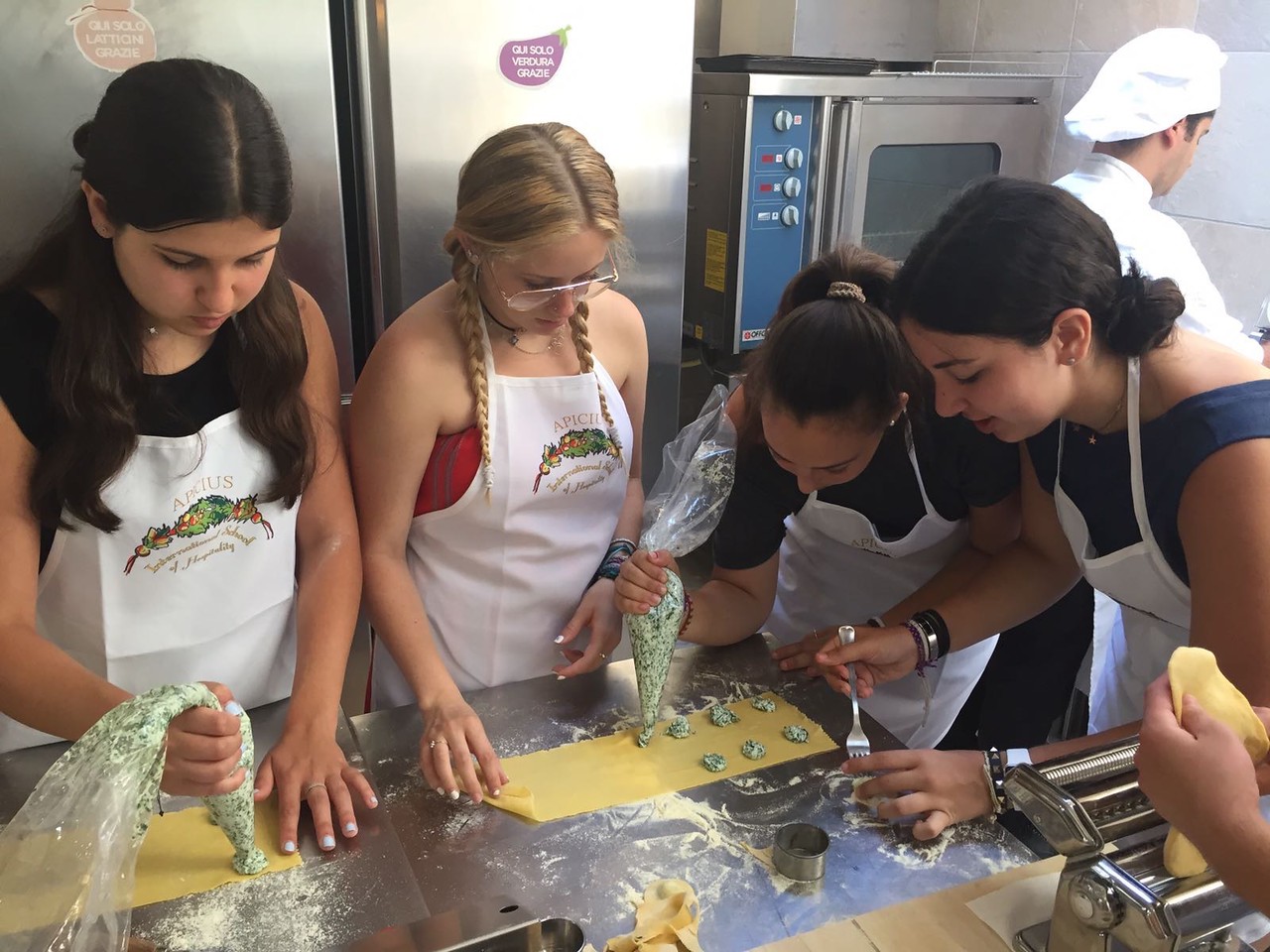 On Wednesday morning, everyone participated in a pasta-making workshop. Alongside a few chefs from the university, we all worked as a team to create two delicious pasta dishes; homemade tagliatelle with tomato and basil sauce, and ricotta- and spinach-stuffed ravioli with a light sage sauce. Check out our pictures from our awesome morning! After all our cooking, we sat down together and enjoyed our dishes family-style. Delizioso!
In class, everyone is wrapping up their final projects and presentations:
– In cooking, students have moved to the advanced kitchen and now take care of the prep as well as the cooking. They've made a delicious typical Italian dessert and homemade pasta!
– In photography, students have printed their best shots and are putting together their final portfolios.
– In fashion, students have completed their hat designs and begun designing their own handbags.
– In art history, students have been presenting their projects to the class.
– In Italian, Brianna continues to learn new vocabulary and is applying it in conversations.
We are all trying to make the very most of our final days in Florence and are getting ready to pack our bags and start exploring Sorrento and Rome next!
Ci sentiamo presto! (Speak soon!)
The Westcoast Blogger
Interested in learning more about our Florence Pre-College Enrichment program? Check out the 21-day and 28-day programs to see what's right for you!