Upon arriving in the Amazon, we settled into our cabanas along the Napo River before the beginning of our service the following morning. We worked alongside the community members to construct a large waste bin along the path entering the village. The process consisted of chopping the bamboo into strips to serve as the foundation, then collecting and shredding palm leaves to weave as the covering.  The next day, we gained more cultural exposure to the indigenous communities by participating in a variety of activities including: mashing yuka to make chicha (a traditional beverage), rolling clay for pottery, and shooting a blowdart.  Through our experiences we were exposed to Quechua, the native indigenous language, and thanked the community by saying "agradiseyki" for their willingness to share their culture. Baños was filled with an abundance of adventurous opportunities, such as whitewater rafting on the Pastaza River!  Our two rafts cruised over the rapids with the help of our guides Marshall and Fernando, who chanted "One, Two!, One, Two!" as our paddles moved forwards and backwards.  After our excursion we enjoyed floating on the river in tubes and many trip members felt like it was the perfect way to relax.
The following day we had a wonderful waterfall excursion where we hiked to Pailón del Diablo, a 260 foot waterfall that impressed us all!  Everyone marveled at its enormous size and great beauty, while several of us ventured to a spot at the top where you can stand behind the falls.  We then crossed a bridge where we witnessed a beautiful double rainbow arching across the falls. Our time in Baños concluded with an evening of karaoke that got all the trip members up on their feet dancing and putting their singing skills to the test, belting out classic songs such as "Bohemian Rhapsody" and "Eenie Meenie".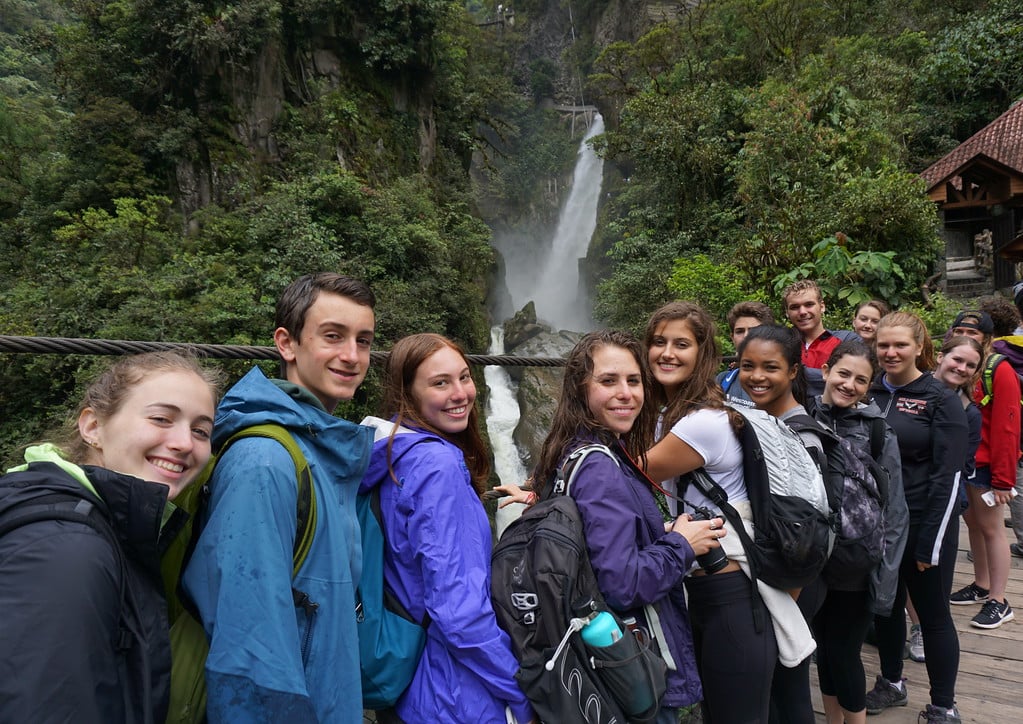 We're looking forward to the exciting adventures that lie ahead at our final destination- the Galapagos Islands!  Hasta la próxima (Until next time!)
The Westcoast Blogger!
Want to explore Ecuador while making a difference in the world? Check out our full 25-day Ecuador & the Galapagos community service itinerary!