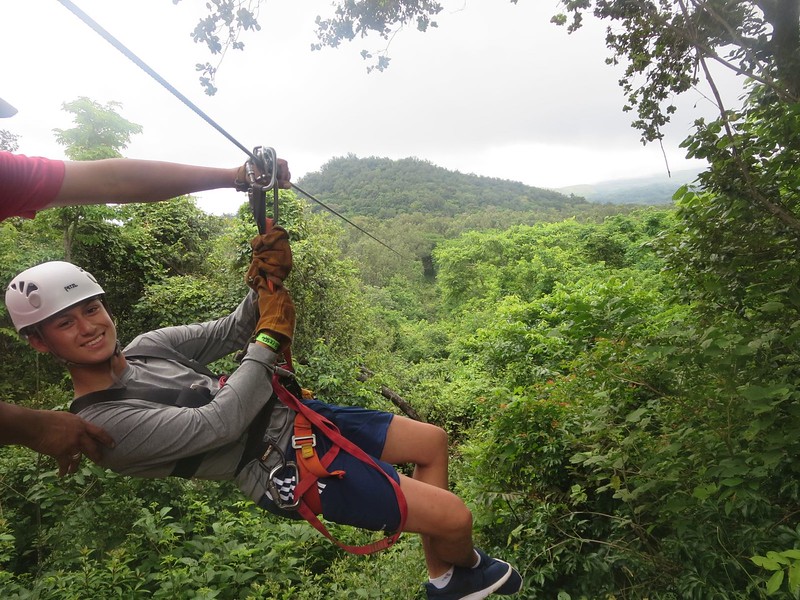 In Costa Rica, there's a language of honking. There's:
– The 'Hello' honk;
 –  The 'Get out of the way' honk;
 – The 'Let me in' honk (aggressive);
 – The 'Let me in' honk (polite);
 – The 'Thank you' honk; and
 – The 'I'm here honk' (for going around corners)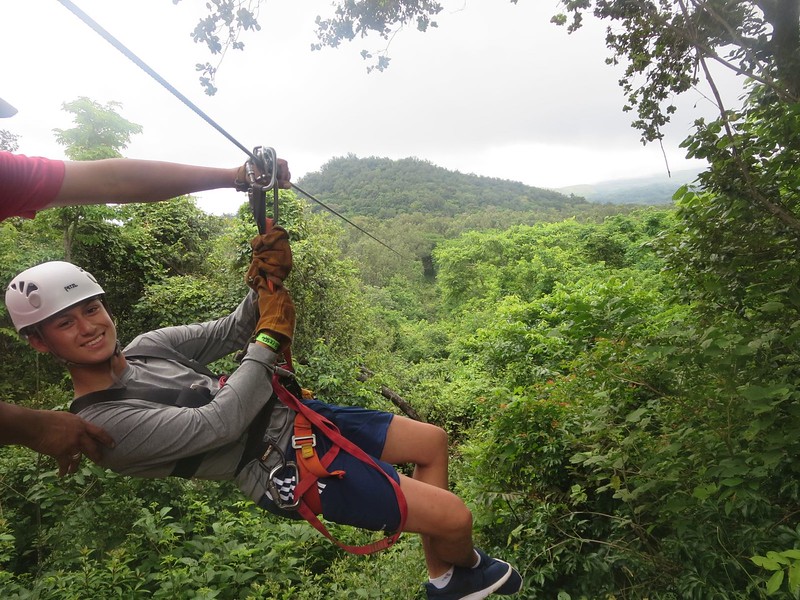 We became familiar with all of these honks on our bus ride from San Isidro to Rincon de la Vieja. We enjoyed the sights on the way, driving through lush green cloud forests and even stopping at the famous Tarcoles Bridge, located in North Puntarenas, where the crocodiles are known to congregate. We stepped off the bus and admired the stark contrast of ecosystems on either side of the river: a dry temperate forest on one side, and a lush rainforest on the other. Walking a little farther along the bridge, we were able to see between 30 and 50 enormous crocodiles. This particular spot is recognized as one of the largest gathering of crocodiles in all of central America, and even from the safe viewing point from above, you can see just how big some of these animals get; some were easily 3-4 meters (12 feet) in length.
Upon arriving at Hacienda Guachipelin, we were greeted with fresh fruit juice and a quick introduction to the beautiful eco-resort. At this ranch-style location, all rooms face a tropical garden and the main reception was the perfect rainforest hangout. It was at this resort that we kickstarted our color war competitions, where our group was divided into three teams and given the opportunity to come up with a team name and cheer. The teams became: Rice and Beans, Habitat for Lupida (#freeLupida), and the Simpson Family. Our first challenge was a race to build the tallest card tower possible, and quick thinking mixed with dexterity put Habitat for Lupida in the early lead; however they were quickly overtaken by Rice and Beans in a game of 'Look Up, Look Down."  When the color wars for the evening were done, everyone split off into smaller groups to play cards, board games, and generally relax before our next day of fun.
After a tasty buffet breakfast, we skipped across the road to the Adventure Center to suit up for some ziplining. Shortly after, we took to the canopy and were filled with nerves and excitement as we looked down from the first platform. The view was spectacular as we sailed through the White River Canyon, formed by water erosion over millions of years. By the time we finished up, it was time for a quick lunch then off to the mud baths at Rincon de la Vieja National Park.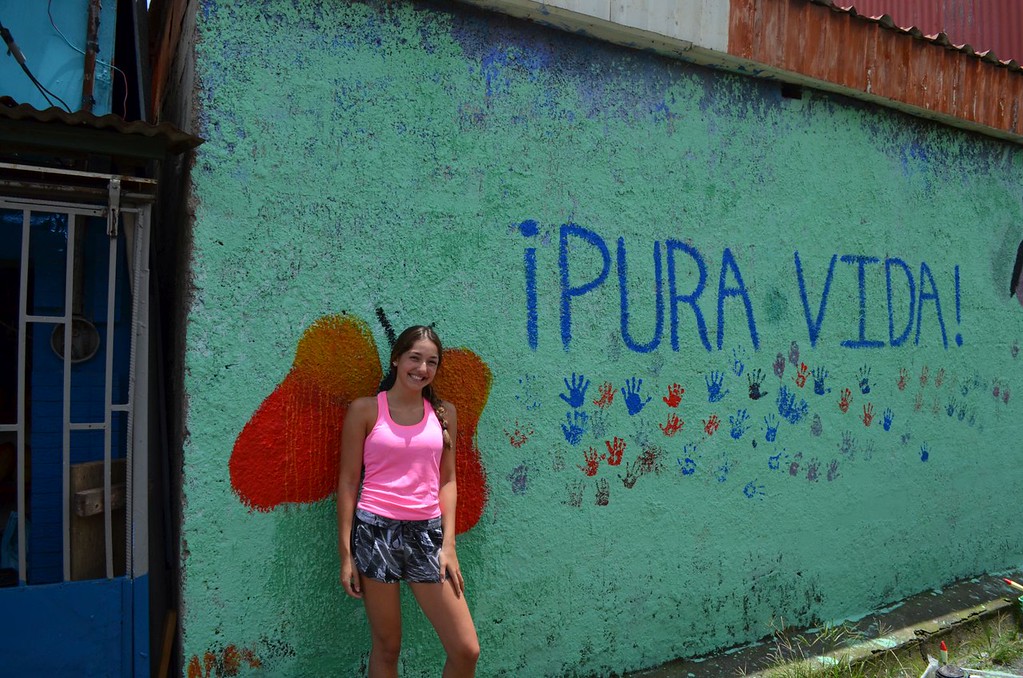 The Rio Negro Hot Springs were exactly what we needed after our work with Habitat for Humanity. A short walk through the forest opened up to a bridge which rewarded us with a stunning view of the river and hot springs from above.  The pools surrounded a smaller center pool where volcanic clay was being warmed for the mud baths. We painted the clay on ourselves (and each other), let it dry, and then waded into the river to wash it off before returning to the hot pools. We had the choice between ten different man-made pools of various temperatures that captured the mineral-rich water naturally heated by the Rincon de la Vieja Volcano. This process rejuvenated our muscles and relaxed our minds in the peaceful atmosphere of the forest.      
Back at the ranch, we continued another round of color war with a game called Pickpocket. The staff would request random items (like something shiny, or blue, or round, or a ticket) and the first team to bring it up to them would win the point. Rice and Beans took home the point for this game.
Alas, our time at the peaceful Hacienda Guachipelin had come to an end, but there was just enough time for a quick hike to the Las Chorreras Waterfalls before getting on the bus and heading to Flamingo. Upon arriving on Costa Rica's Pacific Shores, we continued our relaxing time between services projects by heading to the beach. We spent our afternoon enjoying the sun, swimming and playing a wicked pick-up game of soccer there.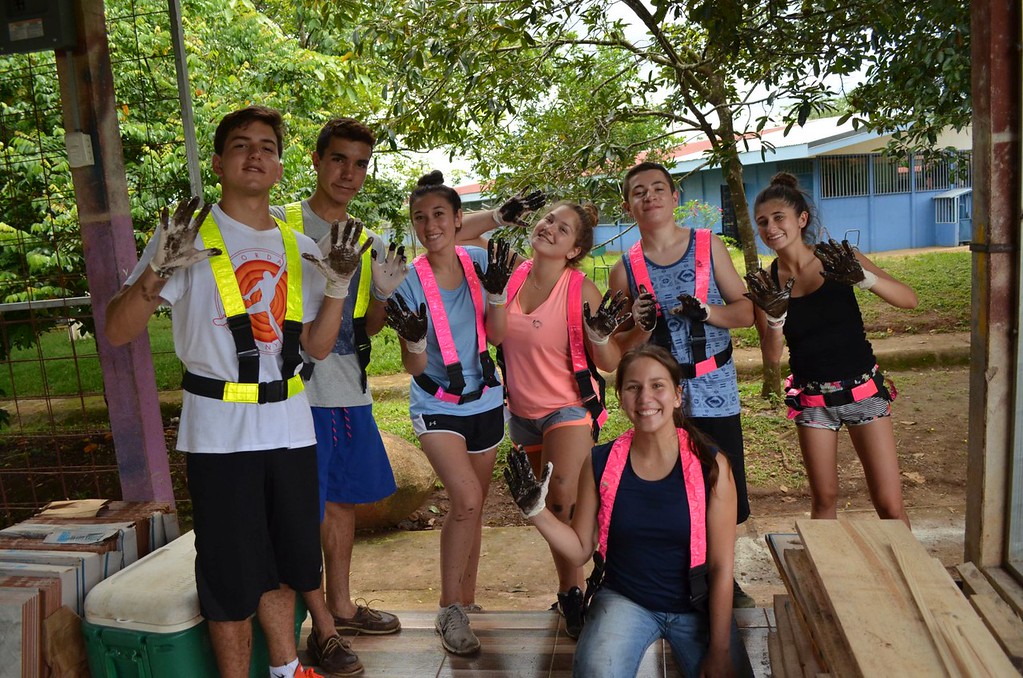 A twenty-minute ride away brought us to a rural farming community, where we would begin our work with Siempre Amigos. Nico, one of the founder, met us at the bus and brought us to the house where we would be working. The charity was started five years ago by three thirteen and fourteen-year-old boys. Originally, they wanted to fix up their school, but soon their passion and determination led to them painting walls and bringing pride to impoverished communities. Now they aim to build 10 houses a year, as well as give some houses a facelift, all while still attending high-school. We were lucky to work with Nico and Martin, two of the three founding fathers of this operation. Over the next three days, we would be working on the home of a man named Don Cleto, an 80-year-old farmer who still works out in the fields. He wakes up every morning at 4am and works until just past noon in order to earn a living. The floor of his house is dirt and when it rains (which it often does during the rainy season here in Costa Rica) the water runs inside and turns his dirt floors to mud. Alongside local contractors, we mixed sand, rocks and cement together to make concrete. We then created a raised concrete floor and outdoor walkway to prevent flooding. We also sanded down the exterior of his house and added a splash of color to it by painting it bright blue and pink.  During our time with Siempre Amigos, we transformed the home of a man who spent his younger life constructing houses for those in his community, despite never being able to afford one himself. Our project with Don Cleto represents much of Siempre Amigos' work in rural Costa Rica, where they focus projects on single parents and aging community members who are identified by the community itself as being in need.
When the work was done for the day, we headed to the beach to relax in the sun and contemplate what we learned during our first day of service with Siempre Amigos. Some of us even got massages from a spa stationed on the beach.
After a second inspiring morning of working with Siempre Amigos on Don's house, we bussed over to Tamarindo to try our hand at surfing. We split into groups of 4-6 and headed out with each of our guides to take on the Costa Rican surf. We were so good at surfing that we were able to make it back for a second attempt the next day! By the end of our second lesson, some of us were looking like professionals and were ready to adopt the 'Pura Vida' surfer attitude.
Pura Vida!
Until Next Time,
The Westcoast Blogger
If a Costa Rican adventure sounds like something you'd like to be a part of, explore our 10-day, 21-day, and 28-day community service tours!