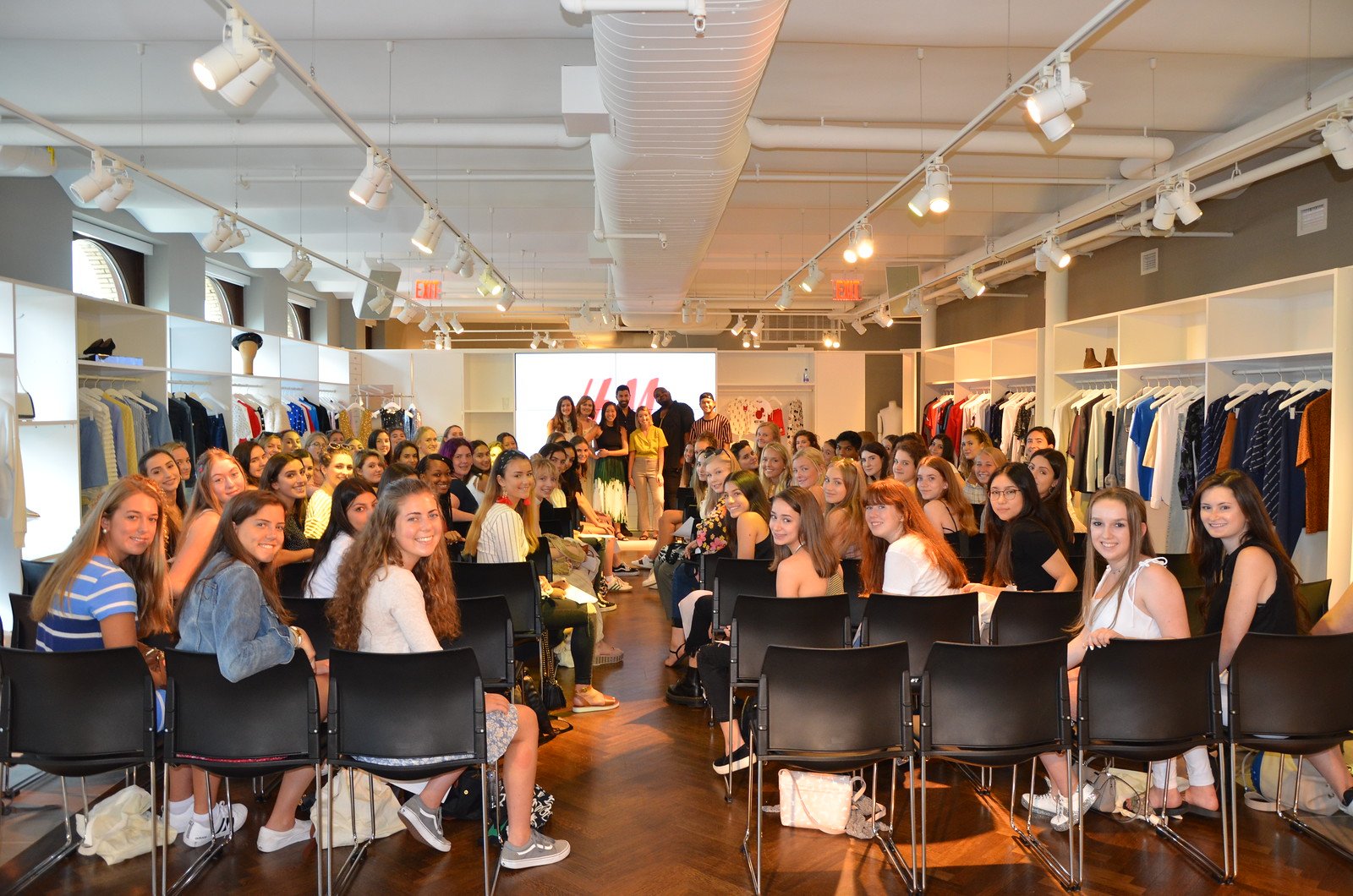 What a fun-and-fashion-filled week we had in New York! On Wednesday, we visited the H&M head office and showroom. The team told us about the brand's Swedish roots and how the company has since grown. One thing that really stood out was how highly H&M valued the environment and how this core value translated into their daily operations. They are the number one producers of fashion items made out of recycled polyester and aim to use only sustainable and recyclable materials by 2030.
That day we ate lunch at a charming food market and were a little star struck when we realized Jesse Tyler Ferguson (from Modern Family) was sitting at the table next to us! In the afternoon, we traveled back to Hearst Tower to hear from a smaller and newer athleisure brand, Terez. It was very interesting to listen to women entrepreneurs talk about their startup company and the different challenges faced by the co-founders. Their story was a testament to the importance of being open to new ideas and adapting to the market. We were also inspired by the brand's adamant belief in their founding values and their goal of encouraging women to express themselves to the fullest. Later, we traveled to the Highline, an old railway that has since been restored into a green space. We loved having some time to relax and take a few pictures. We ended our night with some fun bowling!
On Thursday, we visited the Guess? store and showroom. At the boutique, we heard form the sales team about the importance of visual merchandising and the value of a positive customer experience. In the showroom, we looked at the new collection and different pieces featured in shoots and fashion shows. We spoke with buyers, account executives and public relations managers and learned more about what their job entails and what a day in their life is like.
In the afternoon, we visited the Henri Bendel store and were welcomed with delicious pastries! The participants met a varied panel ranging from jewelry designers to account managers. As we walked back to our hotel that night, many of our trip members were lucky enough to witness the sunset perfectly aligned with one of New York's busiest streets, 42nd Street. This event attracted quite a crowd as it only happens twice every year!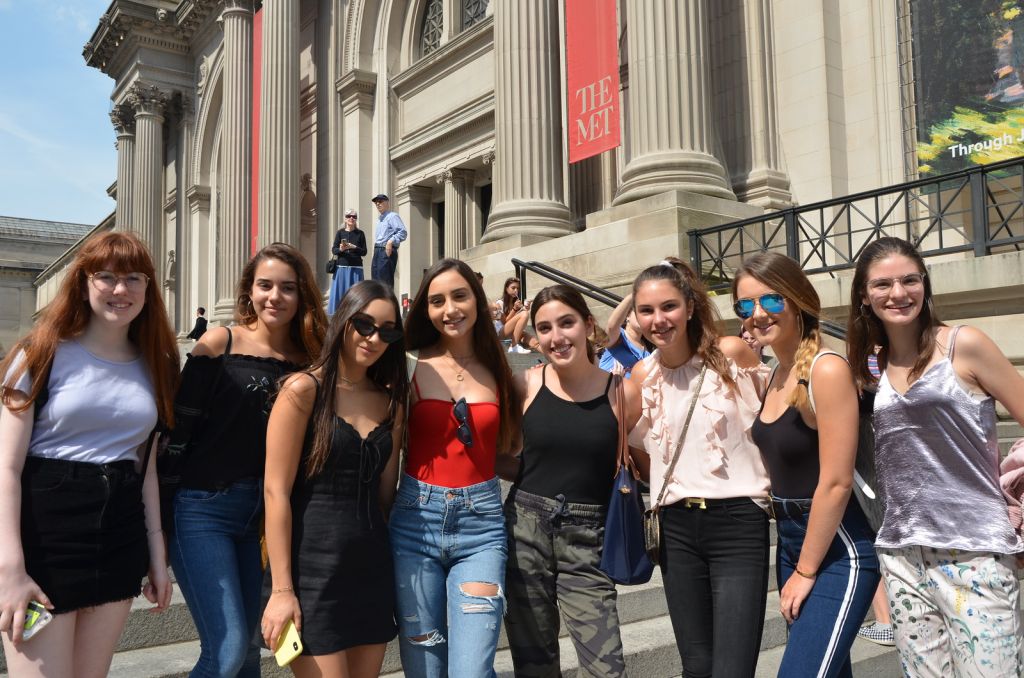 On Friday, we visited a smaller brand, Boy Meets Girl. The founder explained that her first trade show was scheduled on the day of 9/11 and that this event completely changed her values and those of her brand. Boy Meets Girl donated shirts to the victims, their families and the Red Cross. Since then, giving back has been at the heart of the company's mission and they have been heavily involved in various campaigns revolving around inclusivity and human rights. She asked us, "Can a t-shirt create change?" and that got us all thinking about the impact that fashion can have on the world.
Later, we stopped at Grand Central Station for lunch where we tried out the whispering walls and see where the first scene of Gossip Girl was filmed. In the afternoon, we visited the Met for the Heavenly Body exposition, the theme for this year's Met Gala. We saw some pretty incredible dresses and, of course, took the necessary "Met step" pictures.
We started the weekend with a late brunch at Smorgasburg food market and many of us tried their insta-famous ice creams. There is nothing like great food, great company and amazing views of the city to fill a weekend. Later on, we took a ferry to DUMBO (a neighborhood in Brooklyn) for some more awesome views and city strolls. For many, walking the Brooklyn Bridge was the day's highlight! The views were unbeatable and the lovely breeze at the top was awesome. Plus, we can now all proudly say that we walked across the Brooklyn Bridge!
We have already had a busy week meeting with the editors of Seventeen and touring Hearst's Digital Photo Studio – not to mention a lot of singing and even a little dancing. Stay tuned for more…
The Westcoast Blogger
Want to have a fun summer in the Big Apple? Read more about our 14-day FWI Fashion Experience!